Lockdown
One Step!

Transformers Age of Extinction One-Step Changer
Item No.: Asst. A6151 No. A6156
Manufacturer: Hasbro
Includes: n/a
Action Feature: Transforms from car to robot
Retail: $9.99
Availability: June 2014
Other: Not good

PREVIOUS
RSS
NEXT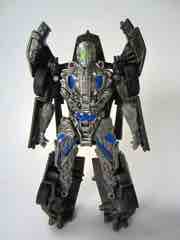 It's exceedingly rare that I get a Transformers toy that I hate - but here we are! This Lockdown seems to have a faulty transformation mechanism. The car sculpt is good, and the robot is pretty nicely sculpted. There's a lot of greeblies, a good amount of paint, and it has no problems standing. So what went wrong? Well, when your entire gimmick is a one-step transformation, it needs to stay transformed. It could just be my sample, but in less than a couple of hours and maybe four transformations, it refused to stay in car mode. I had to put a rubber band around it to stay in car mode just to take photos for this site.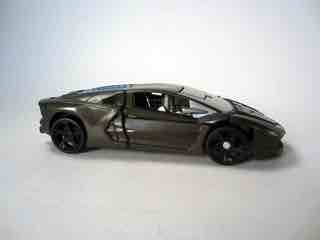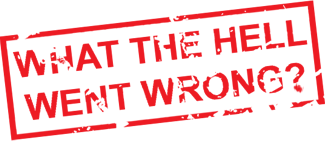 I'm perfectly happy to try out "simple" toys, but there's a catch: the mechanism has to work. For those of you who are long-time readers of my stuff, you may have noticed that I like any toy that works as advertised. When a manufacturer sets out to do something and succeeds, I'm happy, even if it's not necessarily my kind of a thing. Most of the original 1980s Minibots were simple, and I loved Smash and Change Optimus Prime for this new movie too. Lockdown has no features in car mode other than pushing down on the hood and it transforms - and after I opened it, he sure did. He's about 5-inches tall in robot mode, but has no moving parts other than those for transformation. On my sample, the arms squeeze in and so do the legs, and when you squeeze down the hood everything locks in place. For about three seconds. And then it automatically pops back out, thus ruining the "fun" Hasbro intended for this design.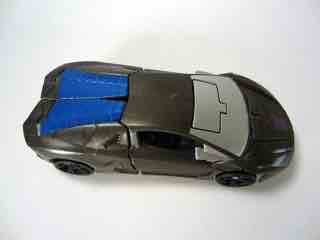 I know people will say buy this for your kids, but please don't. At $10 it's a dubious proposition right off the bat, but the fact that the mechanism on mine failed in minutes makes me want to say "don't bother." Even if the functionality worked, this toy is basically sized like a generously good McDonald's Happy Meal Toy ca. 2003. It seems a tiny bit better than what should go in a box with things you can put in your mouth that vaguely resemble a hamburger and french fries, and in robot mode it has no problems standing around. I'm not sure if this one is going to Goodwill or will stand in the back of a shelf in a closet. On one hand, I don't need it - on another, I'd hate to think some poor kid or mother might be swindled out of a quarter and end up with this toy.
--Adam Pawlus
Sample courtesy Hasbro.
Additional Images


Click here to see more Hasbro figures in Figure of the Day.
Click here to see more Transformers figures in Figure of the Day.

Want to buy this figure? Check Transformers availability at our sponsors:
Entertainment Earth