Bumblebee
Single carded, Animated, note red Autobot symbol

Transformers Universe Legends
Item No.: Asst. 83791 No. 83815
Manufacturer: Hasbro
Includes: n/a
Action Feature: Transforms from Robot to Car
Retail: $4.99
Availability: ca. Early 2009
Other: One of Many Releases

PREVIOUS
RSS
NEXT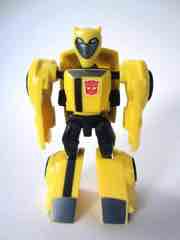 If you're very old, you remember times when things we take for granted now were something you were pining for. From 1985 to 1992, you probably couldn't find a Star Wars toy at a toy store. From 1994 to 1997, G.I. Joe was effectively dead. From roughly 1994 to 2006, you couldn't buy a Bumblebee toy at a store - there were none in production for ages, even during Beast Wars when such a name would've been welcomed and obvious. After Classics Bumblebee and a revival of the franchise with a major movie in 2007, fans got so many Bumblebee figures that it was tough to find anyone that was sitting there going "Oh I hope they make another one." In 2009 there was a good run on the character between the movies and Transformers Animated, which is arguably the highlight of the franchise on television so far. This was one of the more fun versions of that incarnation of Bumblebee, being relatively simple to transform and having a red Autobot symbol rather than silver or gold helping to make it more appealing.
Packaged in robot mode, this 2 1/2-inch tall little guy is an essential purchase if you ask me - Starscream, Optimus Prime, and Prowl also got the mini treatment but several years later this one remains a favorite. The feel of the plastic is good, parts don't pop off easily, and unlike the others it doesn't feel like anything of significance is missing. It feels more solid, it's colorful, and it's just oh so nice. The face is molded in yellow with a grey mouth area, blue eyes, and a nice thick black line around the interior. It makes everything easier to see, with my only complaint being the mouth sort of just blends in with the grey paint. One tiny little line and it'd have been perfect, as it is, it's just merely very good.
This Bumblebee has seven points of articulation, with a head that only pivots up and down. It doesn't swivel - this is very unusual, but for a tiny character like this it's a lot more sensible. The hands are sadly unpainted, but it seems Hasbro reconfigured the character to fit the toy at this price point rather than make fake kibble and bits to make this robot resemble one of the larger toys.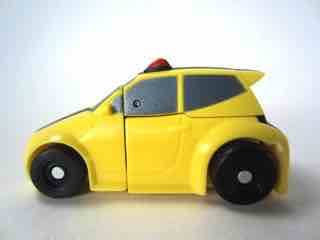 Transformation is a snap - with a twist. Fold down the hips, rotate around the chest (which is fake kibble), and put the legs and arms in place. It's simple, fun, and you won't hate doing it. There's a lot of these toys where there are parts that are annoying, or cause elements to fall off, but not this one.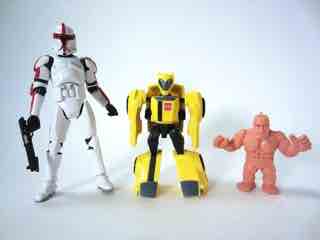 The car looks good, and features a red siren on top. A black stripe runs down the left side of the car, and my only real complaints are that the wheels don't roll better (not unusual for the scale) and that the painted windows have gaps in them for some reason. Other than that, it's a nice little car mode and because of the shiny yellow plastic I actually like it more than the Deluxe and other versions of this character in car mode.
For $8 or less, get it - it's worth it. A slightly different version of this figure with a silver Autobot symbol and even darker face paint was sold as a Target exclusive in a Rescue Ratchet gift set, but I deliberately waited for this one because I wanted that red chest symbol. I think I made the right decision.
--Adam Pawlus
Additional Images

Click here to see more Hasbro figures in Figure of the Day.

Click here to see more Transformers figures in Figure of the Day.

Want to buy this figure? Check Transformers availability at our sponsors:
Entertainment Earth