Ohpromatem
The Woman from Alpha Centauri

Outer Space Men Alpha Phase San Diego Comic-Con Exclusives
Item No.: n/a
Manufacturer: Four Horsemen
Includes: Bent arms, two ray guns
Action Feature: n/a
Retail: $60.00 (sold as a set with Horroscope and Gamma X)
Availability: July 19, 2013
Other: The First Glyos-Compatible Ohpromatem

PREVIOUS
RSS
NEXT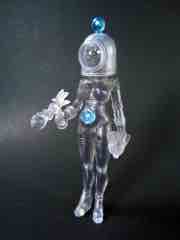 Of all the figures in the line, Ohpromatem may well be the toughest to spell. Three versions of this figure exist, and this clear, smoke one was the first release. It would be followed by an all-white figure plus a fully-painted figure, all of which look pretty awesome for different reasons. As the only translucent version of the mold this figure will probably be of more interest to fans down the road, particularly since most figures received 3 transparent precolors.
The figure basically borrows the body of Terra Firma, the helmet of Metamorpho, and slaps in a new head in there with three faces. A skull, a freaky alien, and a spider do a nice job of providing an antidote to the bosomy, buoyant body from beyond. To have included one pretty face would probably be a dig or a comment on the fleeting nature of beauty, but three creepy faces just means that this is a cool monster with an unrealistic rack, like most female action figures. Other than the likes of Strika or Airrazor from Transformers there aren't a lot of deviations from the sexy lady form for most action figures, so in many respects this figure celebrates conventions despite their being a clear nod to the saucy work of artists from Playboys most toy collectors were too dorky to have ever bothered with in the first place. (Technology!)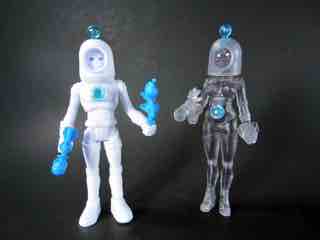 The mechanism works similarly to other three-faced figures in that you twist a knob and presto - new face. The white painted eyes do a good job of providing a point of reference, as the clear smoke plastic does absorb some of the detail at first glance. Paint and opacity help here, so the White Star and Infinity edition figures really sing while this one just looks pretty good. The body works well in these colors, but again, not as well as the others. Everything holds together nicely and she has no problem holding her accessories, so I'd say it's a success.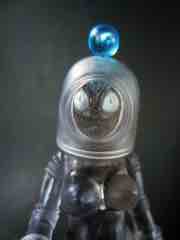 Since not many people were big fans of this line during its 2010-2014 revival, I assume those of you checking this out in the future will be wondering which ones to get, if any. I'd say score a) whatever's cheap, and b) whatever fully-painted ones you can get first. Those are going to make you happy, but figures like this really are a fun way to see the same sculpt in a new light. Depending on your lighting conditions, a figure like this can change its personality drastically. Since her face is where her personality lives, though, this figure loses a few marks in that you can't really connect with her outside of her eyes unless you're in a bright room. For that reason I'd say you should probably make this your last stop in collecting Ohpromatem figures, but that's me. I just really love the painted version the most.
--Adam Pawlus
Additional Images
Additional Outer Space Men 2013 Alpha Phase SDCC Exclusive Images
| | |
| --- | --- |
| | |
| | |
| | Note: at SDCC 2013, the figures were packaged and distributed in the swapped boxes - so Gamma X, Jack Asteroid and Terra Firma came in a box with the characters Ohprometam, Colossus Rex, and Horroscope pictured on the front and vice-versa. |

Click here to see more Four Horsemen figures in Figure of the Day.

Click here to see more Outer Space Men figures in Figure of the Day.

Click here to see more Glyos Compatible figures in Figure of the Day.