Unpainted Test Shot Monarch
Deco-Free

Venture Bros. 3 3/4-inch Scale Action Figure
Item No.: No. 09109ALT
Manufacturer: Bif Bang Pow!
Includes: Nothing
Action Feature: Rotating wings collapse behind figure
Retail: $11.99
Availability: January 2014
Other: Surprisingly Pretty Up Close

PREVIOUS
RSS
NEXT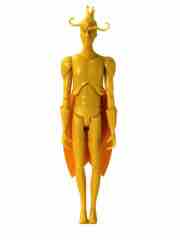 While not named as such on the package, Unpainted Test Shot Monarch's name can be read near the UPC of the tray insert. I consulted on this line, and let me tell you all sorts of ideas come up with how, in this era of increasing labor and materials costs, to give the fans a little something interesting - a preview unpainted limited edition was the idea here, and at an edition size of 500 it's the most limited 3 3/4-inch figure Bif Bang Pow! has released. Heck, it's probably one of the lowest-run non-Glyos figures any licensed toy line has had.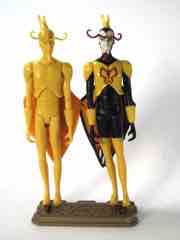 Over the years I've had the pleasure of seeing all sorts of variants, test shots, hardcopies, and prototypes up close and sometimes you can see how a sculpt can be helped, or hurt, by paint. Little details or the right lighting can make a big difference, but most unpainted figures tend to look really, really good - sure, they're the wrong colors, but the orangey yellow figure here is just dynamite. (And yes I'm biased.) The individual teeth, wrinkles on the forehead, and sneer all look exactly as one might hope - you even get the beard, the crown, and the eyebrows.
The only real color on this 3 3/4-inch figure are his orange wings, unpainted but cast from the same color as the painted figure. They wrap around a single peg in the back (shades of Buzz-Off) so you can change his appearance. The skinny build makes posing the figure to keep standing tricky, but it's not impossible. You can also use most action figure display stands as this line was designed to be compatible with modern-era Star Wars accessories. One size fits most.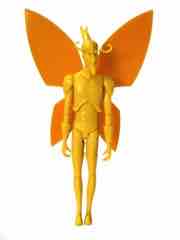 I honestly wasn't sure how much I was going to like the final figure, but it turned out to be a fairly colorful take on one of my favorite cartoon villains. (Seriously, he's right up there with Beast Wars Megatron, Tig Fromm, and the original Skeletor.) The joints all move freely and easily, and so far none of it seems to stick in place. The joints aren't super-stiff, so it's possible gravity could be cruel to this figure over time - be careful in your displays, as always.
I don't have high hopes that more "test shot" figures are going to come to pass, but it's a fun, weird little diversion. With a run this low I doubt customizers will give the world their take on the figure's paint job, but I'd be curious to see it if it happens. (Seriously, send me a link.) I'd suggest snagging the painted one if you're on a budget, but I think this was a completely worthwhile figure and with the Monarch, the must-have, must-make figures of The Venture Bros. in 3 3/4-inch scale are wrapped up nicely. (Collect them all!)
--Adam Pawlus
Additional Images

See more Bif Bang Pow! action figures in Figure of the Day:
Day 3: Venture Bros. The Monarch Action Figure
Day 192: Venture Bros. Dean Venture Action Figure
Day 289: Venture Bros. Jonas Venture Action Figure
Day 297: Venture Bros. Rusty Venture Action Figure
Day 303: Bif Bang Pow! Venture Bros. Dr. Girlfriend Action Figure
Day 308: Bif Bang Pow! Doctor Who Fourth Doctor Action Figure
Day 313: Bif Bang Pow! Venture Bros. Dr. Orpheus Action Figure
Day 362: Bif Bang Pow! Venture Bros. Hank Venture Action Figure
Day 439: Bif Bang Pow! Venture Bros. Phantom Limb Action Figure
Day 490: Bif Bang Pow! Venture Bros. Bloody Brock Samson Action Figure
Day 499: Bif Bang Pow! Venture Bros. Brock Samson Action Figure
Day 666: Bif Bang Pow! Venture Bros. Dean Venture Action Figure
Day 666: Bif Bang Pow! Venture Bros. Hank Venture Action Figure
Day 699: Bif Bang Pow! Venture Bros. Molotov Action Figure
Day 732: Bif Bang Pow! Venture Bros. Dr. Mrs. The Monarch Action Figure
Day 771: Bif Bang Pow! Venture Bros. Brock Samson Action Figure
Day 867: Bif Bang Pow! Venture Bros. Unpainted Test Shot Monarch Action Figure
Day 970: Bif Bang Pow! The Twilight Zone Henry Bemis Action Figure
Day 1,003: Bif Bang Pow! Venture Bros. Monarch Action Figure
Day 1,027: Bif Bang Pow! The Twilight Zone Kanamit (Work Uniform) Action Figure
Day 1,054: Bif Bang Pow! Star Trek: The Next Generation Lieutenant Worf
Day 1,063: Bif Bang Pow! The Twilight Zone Talky Tina Action Figure
Day 1,388: Bif Bang Pow! Peg Pals Batman Armored
Day 1,928: Bif Bang Pow! DC Comics Pin Mate Wonder Woman
Day 2,134: Bif Bang Pow! The Twilight Zone Gremlin

See more Venture Bros. figures in Figure of the Day:
Day 3: Venture Bros. The Monarch Action Figure
Day 192: Venture Bros. Dean Venture Action Figure
Day 289: Venture Bros. Jonas Venture Action Figure
Day 297: Venture Bros. Rusty Venture Action Figure
Day 303: Bif Bang Pow! Venture Bros. Dr. Girlfriend Action Figure
Day 313: Bif Bang Pow! Venture Bros. Dr. Orpheus Action Figure
Day 362: Bif Bang Pow! Venture Bros. Hank Venture Action Figure
Day 439: Bif Bang Pow! Venture Bros. Phantom Limb Action Figure
Day 490: Bif Bang Pow! Venture Bros. Bloody Brock Samson Action Figure
Day 499: Bif Bang Pow! Venture Bros. Brock Samson Action Figure
Day 666: Bif Bang Pow! Venture Bros. Hank Venture Action Figure
Day 699: Bif Bang Pow! Venture Bros. Molotov Action Figure
Day 732: Bif Bang Pow! Venture Bros. Dr. Mrs. The Monarch Action Figure
Day 771: Bif Bang Pow! Venture Bros. Brock Samson Action Figure
Day 867: Bif Bang Pow! Venture Bros. Unpainted Test Shot Monarch Action Figure
Day 1,003: Bif Bang Pow! Venture Bros. Monarch Action Figure

Want to buy this figure? Check Venture Bros. availability at our sponsors:
Entertainment Earth