Scientist
Professor C. Bodin!

LEGO Minifigures Series 11
Item No.: 71002
Manufacturer: LEGO
Includes: 2 erlenmeyer flasks, stand
Action Feature: n/a
Retail: $2.99-$3.99
Availability: September 2013
Other: #11 in a collection of 16

PREVIOUS
RSS
NEXT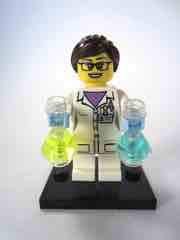 You can tell a lot from someone's toy designs. Playmobil said their people were largely designed with children's drawings in mind, hence no noses or ears. LEGO's Scientist probably stems more from other issues, but I have to say I am impressed how a toy line that's mostly boy-driven has 5 women in a series of 12 figures - sure, one's a sexy German lady with a big pretzel, but you have to cater to the fantasies of adult collectors now and again. (That's a joke.)
What's particularly interesting about the scientist is that unlike a lot of the other lady minifigures, she's not really a female version of an existing male figure. There was a mad scientist a while back, but this is the only proper scientist in the entire line - and it's a good one. She's got glasses (or safety goggles) as well as gloves, a lab ID and a pen in her pocket, plus a pair of flasks. When I first heard that LEGO was doing a girl-driven line, this is actually what I was imagining - more women in the figures, and maybe more diversity in the environments. Well, at least we got more pink bricks, right?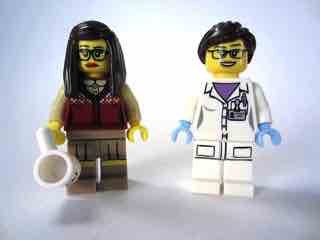 Her deco has a few subtle details flattering the female figure, as you can see some slight indentations on the sides of her torso as well as an outline on the chest region. As such, you're not going to repurpose this for a male scientist, most likely, I don't think. There's some very fine detail in her ID card and shirt collar, plus the buttons and pockets on her pants. There is no deco on the arms or the back of the figure, but there's green and blue stuff in the flasks. I assume it's Mountain Dew and Windex.
All in all it's a great figure and easily one of the more interesting candidates to come out of 2013 - and it was a great year for these little guys, too. The only drawback is that LEGO seems intent on giving us wonderful $3 partial glimpses into bigger and better sets. Where will this figure live? Will she hang out outside a police station? Be rescued by a fireman? It's a character that has to forge an identity on her own because there's no larger environment for her to exist in just yet, although maybe we'll see a fancy laboratory set in City someday for her to work in. Or at the very least a subway or something. Get her now while you can, and worry about what she'll be doing later. Or don't, that's been my philosophy on LEGO purchases for a while and now I don't know where everything is ultimately going to go.
--Adam Pawlus
Additional Images

See more LEGO figures in Figure of the Day:
Day 2: LEGO Minifigures Series 2 Disco Dude
Day 33: LEGO Minifigures Series 1 Super Wrestler
Day 36: LEGO Minifigures Series 2 Mime
Day 38: LEGO Minifigures Series 2 Karate Master
Day 77: LEGO Minifigures Series 1 Ninja
Day 85: LEGO Minifigures Series 1 Spaceman
Day 106: LEGO Minifigures Series 2 Witch
Day 123: LEGO Minifigures Series 1 Robot
Day 130: LEGO Ninjago 2112 Cole Action Figure
Day 136: LEGO Bionicle 8563 Tahnok Action Figure
Day 148: LEGO Minifigures Series 1 Cheerleader
Day 152: LEGO Minifigures Series 1 Crash Test Dummy
Day 161: LEGO Minifigures Series 1 Forestman
Day 174: LEGO Minifigures Series 3 Gorilla Suit Guy
Day 176: LEGO Minifigures Series 3 Mummy
Day 181: LEGO Bionicle 8534 Tahu Action Figure
Day 182: LEGO Minifigures Series 3 Sumo Wrestler
Day 188: LEGO Minifigures Series 3 Tennis Player
Day 190: LEGO Minifigures Series 3 Rapper
Day 195: LEGO Minifigures Series 3 Space Alien
Day 198: LEGO Minifigures Series 1 Deep Sea Diver
Day 215: LEGO Minifigures Series 3 Fisherman
Day 218: LEGO Minifigures Series 2 Weightlifter
Day 220: LEGO Bionicle Stars 7116 Tahu Action Figure
Day 225: LEGO Minifigures Series 3 Baseball Player
Day 239: LEGO Minifigures Series 2 Lifeguard
Day 260: LEGO Minifigures Series 2 Ringmaster
Day 267: LEGO Minifigures Series 3 Tribal Chief (Indian)
Day 275: LEGO Minifigures Series 2 Traffic Cop
Day 347: LEGO Minifigures Series 4 Punk Rocker
Day 358: LEGO Minifigures Series 3 Pilot
Day 368: LEGO Minifigures Series 5 Lizard Man
Day 378: LEGO Minifigures Series 5 Lumberjack
Day 389: LEGO Minifigures Series 5 Evil Dwarf
Day 402: LEGO Minifigures Series 4 Crazy Scientist
Day 414: LEGO Minifigures Series 5 Gangster
Day 422: LEGO Minifigures Series 5 Ice Fisherman
Day 434: LEGO Minifigures Series 4 Artist
Day 452: LEGO Minifigures Series 4 Hazmat Guy
Day 455: LEGO Minifigures Series 7 Computer Programmer
Day 462: LEGO UFO Shell Exclusive Spacecraft
Day 467: LEGO Minifigures Series 4 The Monster
Day 474: LEGO Minifigures Series 6 Intergalactic Girl
Day 489: LEGO Minifigures Series 6 Clockwork Robot
Day 501: LEGO Minifigures Series 6 Classic Alien
Day 522: LEGO Minifigures Series 6 Genie
Day 535: LEGO Minifigures Series 4 Kimono Girl
Day 535: LEGO Minifigures Series 4 Werewolf
Day 633: LEGO Minifigures Series 7 Galaxy Patrol
Day 692: LEGO Minifigures Series 6 Skater Girl
Day 707: LEGO Minifigures Series 3 Elf
Day 721: LEGO Minifigures Series 5 Egyptian Queen
Day 724: LEGO Minifigures Series 10 Sad Clown
Day 730: LEGO Minifigures Series 10 Librarian
Day 730: LEGO Minifigures Series 6 Sleepyhead
Day 825: LEGO Minifigures Series 11 Yeti
Day 831: LEGO Minifigures Series 7 Hippie
Day 837: LEGO Minifigures Series 7 Scientist
Day 871: LEGO Minifigures Series 10 Bumblebee Girl
Day 884: LEGO Minifigures Series 5 Fitness Instructor
Day 884: LEGO Minifigures Series 4 Soccer Player
Day 1,120: LEGO Teenage Mutant Ninja Turtles Mikey's Mini Shellraiser
Day 1,122: LEGO Minifigures Series 8 Vampire Bat
Day 1,533: LEGO Minifigures Series 16 Spy
Day 1,680: The LEGO Batman Movie Catman
Day 2,063: LEGO The LEGO Movie 2 70841 Benny's Space Squad Set
Day 2,071: LEGO Space Police 5981 Raid VPR Set

Want to buy this figure? Check LEGO availability at our sponsors:
Entertainment Earth