70841 Benny's Space Squad
Classic Space for Ten Bones

The LEGO Movie 2 Boxed Set
Item No.: No. 70841
Manufacturer: LEGO
Includes: 68 pieces - most of which are for the 4 figures
Action Feature: Build old toys
Retail: $9.99
Availability: January 2019
Other: Old Fan Catnip

PREVIOUS
RSS
NEXT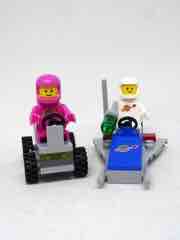 I couldn't pass up 70841 Benny's Space Squad as soon as I found out it existed. We occasionally would get glimpses of classic Space sets through the odd reissue (often with the wrong helmet) or a limited-edition set with that flavor, but aside from the blue Benny we didn't get a lot of classic blue & grey space toys. This one gives us new versions of toys colored like those you may have enjoyed in the 1980s, adding in classic yellow (Kenny) and white (Jenny) astronauts as well as a new color - the pink Lenny.
If you had these as a kid, you're no doubt looking for differences in the figures. Each astronaut is a little bit different than the old ones. The old helmets had some slightly different looks, with most of my vintage ones being more or less aligned in the brow and the chin department. These new ones have a bit of an underbite, although not as large as the modified visor-era helmets you'd get with Futron, Blacktron, and so forth. There's also a tiny indentation on the tops of these new helmets, so a side-by-side comparison with an original lets you know that these new ones are imposters, and not Crater Plate contemporaries. The figure heads have indentations - they're not filled in like the studs on the originals - but the faces and chest logos are pretty close to the originals for Kenny, Jenny, and Lenny. In a display, the only one that would stand out as not being an original (from a reasonable distance) is the pink Lenny. The others are dang close replicas.
So the figures are good. For ten bucks, you'd probably be well-served to get these. A "ray gun" seems to lack some of the markings of the originals with a slightly different muzzle, the minesweeper is retooled to lack the stud on the original, but the wrench is a wrench and the radio is pretty much a radio. How are the builds?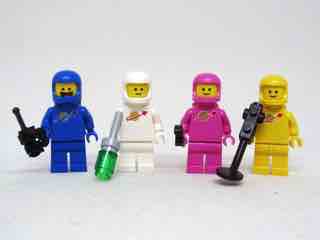 Robot seems new to me. At least, it's similar-but-different from the ones I had in toys as a kid - the yellow and blue chests are nice, and the old "rocket" base I was used to has been replaced by a round disc - a part that, if memory sesrves, was a later entry in this range. It looks appropriately "classic" though, so I'd say you want it.
The small Space Ship reminds me of a lot of older small vehicles, like the Surface Rover. The forked pieces were frequently used, as were wedges with the classic space logo on them - but not in this exact size. That's new and different, and interesting - as is the rocket booster on the back of the seat. With pieces like flat lights and a clip coming out of the side of the chair, it's definitely a modern take on classic space, and I dig it. It's also more complex than my original Surface Rover.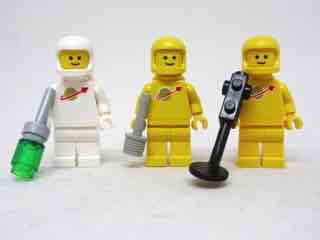 Also nifty is a small Lunar Rover. This is also new, but you've potentially seen a lot of grey rovers just like it. Back in the day we didn't get rounded disc pieces on the bottom of the wings or plates, so that's a new entry here. Some had gas tanks on the front, or big bulbous wheels, or claw arms, or other gizmos. This one has two clips on the back for accessories, standard tires, a step on the sides, and some clear square lights - which seemed pretty uncommon in the early 1980s. It's another cool, quasi-new, vaguely old vehicle that you would have lost your mind if LEGO sold it to you in a polybag for five bucks.
In the old days, I believe the figure packs got you like six figures for six bucks. But today you get four figures and a few vehicles for $10 - as price per piece goes, it's not an improvement. It's significantly cheaper than buying the originals, and I can't imagine any child of LEGO from the 1980s not getting excited after getting an eyeful of this small set. It's a good, cheap thrill and a better value than some blindbags. Here's hoping we get Classic Castle in this format some day - a tiny fort and a couple knights would be fun! Until then, go get this work of retro goodness.
--Adam Pawlus
Additional Images

See more LEGO figures in Figure of the Day:
Day 2: LEGO Minifigures Series 2 Disco Dude
Day 33: LEGO Minifigures Series 1 Super Wrestler
Day 36: LEGO Minifigures Series 2 Mime
Day 38: LEGO Minifigures Series 2 Karate Master
Day 77: LEGO Minifigures Series 1 Ninja
Day 85: LEGO Minifigures Series 1 Spaceman
Day 106: LEGO Minifigures Series 2 Witch
Day 123: LEGO Minifigures Series 1 Robot
Day 130: LEGO Ninjago 2112 Cole Action Figure
Day 136: LEGO Bionicle 8563 Tahnok Action Figure
Day 148: LEGO Minifigures Series 1 Cheerleader
Day 152: LEGO Minifigures Series 1 Crash Test Dummy
Day 161: LEGO Minifigures Series 1 Forestman
Day 174: LEGO Minifigures Series 3 Gorilla Suit Guy
Day 176: LEGO Minifigures Series 3 Mummy
Day 181: LEGO Bionicle 8534 Tahu Action Figure
Day 182: LEGO Minifigures Series 3 Sumo Wrestler
Day 188: LEGO Minifigures Series 3 Tennis Player
Day 190: LEGO Minifigures Series 3 Rapper
Day 195: LEGO Minifigures Series 3 Space Alien
Day 198: LEGO Minifigures Series 1 Deep Sea Diver
Day 215: LEGO Minifigures Series 3 Fisherman
Day 218: LEGO Minifigures Series 2 Weightlifter
Day 220: LEGO Bionicle Stars 7116 Tahu Action Figure
Day 225: LEGO Minifigures Series 3 Baseball Player
Day 239: LEGO Minifigures Series 2 Lifeguard
Day 260: LEGO Minifigures Series 2 Ringmaster
Day 267: LEGO Minifigures Series 3 Tribal Chief (Indian)
Day 275: LEGO Minifigures Series 2 Traffic Cop
Day 347: LEGO Minifigures Series 4 Punk Rocker
Day 358: LEGO Minifigures Series 3 Pilot
Day 368: LEGO Minifigures Series 5 Lizard Man
Day 378: LEGO Minifigures Series 5 Lumberjack
Day 389: LEGO Minifigures Series 5 Evil Dwarf
Day 402: LEGO Minifigures Series 4 Crazy Scientist
Day 414: LEGO Minifigures Series 5 Gangster
Day 422: LEGO Minifigures Series 5 Ice Fisherman
Day 434: LEGO Minifigures Series 4 Artist
Day 452: LEGO Minifigures Series 4 Hazmat Guy
Day 455: LEGO Minifigures Series 7 Computer Programmer
Day 462: LEGO UFO Shell Exclusive Spacecraft
Day 467: LEGO Minifigures Series 4 The Monster
Day 474: LEGO Minifigures Series 6 Intergalactic Girl
Day 489: LEGO Minifigures Series 6 Clockwork Robot
Day 501: LEGO Minifigures Series 6 Classic Alien
Day 522: LEGO Minifigures Series 6 Genie
Day 535: LEGO Minifigures Series 4 Kimono Girl
Day 535: LEGO Minifigures Series 4 Werewolf
Day 633: LEGO Minifigures Series 7 Galaxy Patrol
Day 692: LEGO Minifigures Series 6 Skater Girl
Day 707: LEGO Minifigures Series 3 Elf
Day 721: LEGO Minifigures Series 5 Egyptian Queen
Day 724: LEGO Minifigures Series 10 Sad Clown
Day 730: LEGO Minifigures Series 10 Librarian
Day 730: LEGO Minifigures Series 6 Sleepyhead
Day 825: LEGO Minifigures Series 11 Yeti
Day 831: LEGO Minifigures Series 7 Hippie
Day 837: LEGO Minifigures Series 7 Scientist
Day 871: LEGO Minifigures Series 10 Bumblebee Girl
Day 884: LEGO Minifigures Series 5 Fitness Instructor
Day 884: LEGO Minifigures Series 4 Soccer Player
Day 1,120: LEGO Teenage Mutant Ninja Turtles Mikey's Mini Shellraiser
Day 1,122: LEGO Minifigures Series 8 Vampire Bat
Day 1,533: LEGO Minifigures Series 16 Spy
Day 1,680: The LEGO Batman Movie Catman
Day 2,063: LEGO The LEGO Movie 2 70841 Benny's Space Squad Set
Day 2,071: LEGO Space Police 5981 Raid VPR Set

Want to buy this figure? Check LEGO availability at our sponsors:
Entertainment Earth