Enterprise Star Trek Discovery Special U.S.S. Enterprise NCC-1701 Die-Cast Metal Vehicle
Special Size Discovery Enterprise #1

Enterprise Star Trek Die-Cast Metal Vehicles
Item No.: No. 92569
Manufacturer: Eaglemoss Collections
Includes: Stand, magazine
Action Feature: n/a
Retail: $74.99
Availability: April 2019
Other: Bigger, Boxed

PREVIOUS
RSS
NEXT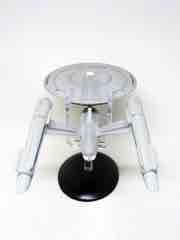 While the initial solicitations bad this at 8 1/2-inches, the final U.S.S. Enterprise NCC-1701 was 10-inches long. XL Disco craziness. Much like historical reenactments, Star Trek tends to update its film based on modernized entertainment tech - so we increasingly get redesigns of uniforms, starships, and species to fit the HD era rather than the era where color was a pretty big deal. Some purists hate it, some fans dig it, and a lot of fans probably have no idea there's much change happening. The new version of the Enterprise is really gorgeous, and Eaglemoss' first XL ship from Discovery does a good job taking the preliminary concepts and giving us what may well be the first collectible of this refit of the ship.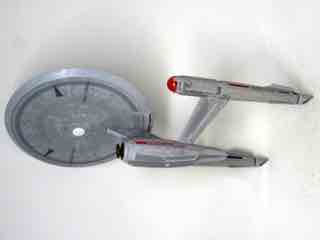 As unhelpful as this is, that magazine may be more valuable than the ship itself, explaining how the redesign worked and showing off used and unused concepts. They convey what the various elements are, giving close-ups of ports, panels, and colored squares that serve more functions on the show. Elements of the ship that fans knew were there but we never quite saw are extrapolated out, giving people like me who don't own the blueprints an idea of what this new version of the ship added, changed, and why. They also explained they tried to nod to the various incarnations - like "The Cage," the Refit from The Motion Picture, and the regular series version - while also making it work in the context of Discovery. Clearly, a thankless job if ever there was one.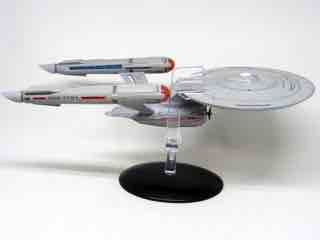 The downside of the magazine is you can see where it comes up short much more easily with reference right at your fingertips. The back of the nacelles are amazing in the pictures, but when you see the moderately sized Enterprise you'll see they're not quite that detailed in their ABS and die-cast metal form. It's still better than a lot of other Enterprise models I have, but that's what you get when you put a consumer item next to a rendering of a prop for a 4K TV show. I love the various etchings on the sauver and how all the panels are differing shades of grey, plus the bridge and everything look like they are where they should be. I especially like the shuttle bay being easier to see than on the other models I've got here. The clear red on the nacelle caps are a plus, but they and the blue on the sides aren't quite as vibrant as on TV or in the renderings. Perhaps lights would make a difference, but I'm sure it'd increase the cost too.
The set includes a stand that clips around the saucer, making it a bigger version of what we've seen for other Eaglemoss releases. It's too big to go with my Discovery ship, but it still looks darned good on my grab-bag shelf of sci-fi stuff. I am unsure how much the ship changed - if at all - from the renderings used to make this vehicle to its appearances in the second season, but it gives me a better idea of just how much work went into modernizing it. The back of the saucer is a bit more like a pizza slicer than the round smooth dish of the original. The nacelles have been rotated and given more elements on the sides. It looks like something new while also being something very old, which is probably the weird paradox all legacy sci-fi properties are going to have to deal with since everything is going to be rebooted, redesigned, and sequelized long after we're all gone. I like this refit better than the Kelvin series, but that's me - perhaps your tastes will differ. I'm glad I got this one, and unless they re-refit it for a Captain Pike show I'll probably just be happy having this version in my collection and moving on. I don't doubt we could see a deluxe deco one or one twice the size with four times the decoration, but this is a good size for those who just want one good ship on their office desks. Recommended if the price doesn't spook you.
--Adam Pawlus
Additional Images

See more Eaglemoss figures in Figure of the Day:
Day 1,949: Eaglemoss Collections Movies Star Trek U.S.S. Defiant NCC-1764 Special Glow in the Dark Issue Die-Cast Metal Vehicle
Day 1,962: Eaglemoss Collections Star Trek U.S.S. Defiant NX-74025 Best Of Issue Die-Cast Metal Vehicle
Day 1,975: Eaglemoss Collections Discovery Star Trek U.S.S. Discovery NCC-1031 Die-Cast Metal Vehicle
Day 2,094: Eaglemoss Collections Enterprise Star Trek Discovery Special U.S.S. Enterprise NCC-1701 Die-Cast Metal Vehicle

See more Star Trek figures in Figure of the Day:
Day 54: Playmates Classic Star Trek Spock Action Figure
Day 57: Playmates Classic Star Trek Dr. McCoy Action Figure
Day 61: Playmates Classic Star Trek Scotty Action Figure
Day 71: Playmates Classic Star Trek Uhura Action Figure
Day 81: Playmates Classic Star Trek Sulu Action Figure
Day 89: Playmates Classic Star Trek Captain James T. Kirk Action Figure
Day 105: Playmates Classic Star Trek Chekov Action Figure
Day 149: Playmates Star Trek Combat Action Worf
Day 488: Playmates Star Trek: The Next Generation Lieutenant Commander Data in First Season Uniform Action Figure
Day 675: Mattel Hot Wheels Star Trek U.S.S. Enterprise
Day 731: Playmates Star Trek: The Next Generation Counselor Deanna Troi Action Figure
Day 755: Playmates Star Trek: Deep Space Nine Quark Action Figure
Day 762: Playmates Star Trek: The Next Generation Lt. Commander LaForge as a Tarchannen III Alien Action Figure
Day 767: Playmates Star Trek: The Next Generation Captain Picard in Duty Uniform Action Figure
Day 772: Playmates Star Trek: The Next Generation Klingon Warrior Worf Action Figure
Day 986: Playmates Star Trek: The Next Generation Dathon Action Figure
Day 991: Playmates Star Trek: The Next Generation Ambassador Spock Action Figure
Day 1,048: Playmates Star Trek: Deep Space Nine Chief Miles O'Brien Action Figure
Day 1,054: Bif Bang Pow! Star Trek: The Next Generation Lieutenant Worf
Day 1,061: Playmates Star Trek: The Next Generation Q Action Figure
Day 1,173: Playmates Star Trek: Deep Space Nine Morn Action Figure
Day 1,181: Playmates Star Trek: Deep Space Nine Commander Gul Dukat Action Figure
Day 1,271: Playmates Star Trek Grand Nagus Zek Action Figure
Day 1,309: Playmates Star Trek Elim Garak Action Figure
Day 1,317: Playmates Star Trek: The Next Generation Lieutenant Worf in Starfleet Rescue Outfit Action Figure
Day 1,331: Playmates Star Trek: The Next Generation Captain Scott Action Figure
Day 1,359: Playmates Star Trek: The Next Generation Vorgon Action Figure
Day 1,701: Playmates Star Trek: The Next Generation Ferengi Action Figure
Day 1,819: Playmates Star Trek: The Next Generation Mordock the Benzite Action Figure
Day 1,854: Playmates Star Trek: The Next Generation Lieutenant (J.G.) Geordi LaForge Action Figure
Day 1,887: Playmates Star Trek: The Next Generation Lieutenant Natasha Yar Action Figure
Day 1,902: Playmates Star Trek: The Next Generation Cadet Wesley Crusher Action Figure
Day 1,923: Playmates Star Trek: The Next Generation Lieutenant J.G. Worf in First Season Uniform Action Figure
Day 1,927: Funko Pop! Movies Star Trek Beyond Captain Kirk (Survival Suit) Pop! Vinyl Figure
Day 1,936: Playmates Star Trek: The Next Generation K'Ehleyr Action Figure
Day 1,945: Mega Construx Heroes Star Trek: The Next Generation Captain Picard Action Figure
Day 1,949: Eaglemoss Collections Movies Star Trek U.S.S. Defiant NCC-1764 Special Glow in the Dark Issue Die-Cast Metal Vehicle
Day 1,962: Eaglemoss Collections Star Trek U.S.S. Defiant NX-74025 Best Of Issue Die-Cast Metal Vehicle
Day 1,974 Playmates Star Trek: The Next Generation Lieutenant Barclay Action Figure
Day 1,975: Eaglemoss Collections Discovery Star Trek U.S.S. Discovery NCC-1031 Die-Cast Metal Vehicle
Day 2,005: Playmates Star Trek: Deep Space Nine Odo Action Figure
Day 2,020: Playmates Star Trek: The Next Generation Commander Sela Action Figure
Day 2,094: Eaglemoss Collections Enterprise Star Trek Discovery Special U.S.S. Enterprise NCC-1701 Die-Cast Metal Vehicle
Day 2,354: Playmobil 70548 Star Trek U.S.S. Enterprise NCC-1701 Playset
Day 2,642: Super7 Star Trek: The Next Generation Armus ReAction Figures