Big Building Robot
Inspired by the movie Big

Imaginext Series 12 Blind-Bagged Collectible Figures
Item No.: Asst. CDX99 No. FXR60
Manufacturer: Fisher-Price
Includes: Hammer of Harley Quinn
Action Feature: n/a
Retail: $2.99
Availability: April 2019
Other: Look for #60 on upper-left of the foil packet on the back

PREVIOUS
RSS
NEXT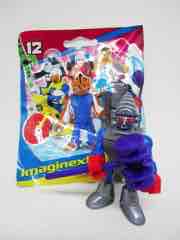 There aren't a lot of toy lines that collectors would look at and also be aimed squarely at kids anymore. In the 1990s, collectors would tend to buy the kid line - there was no distinction. As such the modern collector fancies himself too good to shop on the preschool aisle, but never let it be said I considered myself too good for anything. This Big Building Robot is in the toddler aisles of some Wal-Marts as the blind bag line is slowly evaporating from American retailers - many Targets, Walmarts, and other stores phased them out completely.
The non-transforming robot is a spectacular reuse of parts to get it to a decent recreation that's distinctly different from the Tom Hanks vehicle Big. The hammer is recolored from Harley Quinn. The arms and legs are reused from the Series 1 Robot figure [FOTD #796]. The new head and torso don't make you think to even consider to check for recycled parts. It just goes to show how clever Fisher-Price/Mattel have been at making something weird for kids that appeals to older fans and can be developed on a budget. Imaginext is diminishing in its retail stature, but they're still putting out great stuff.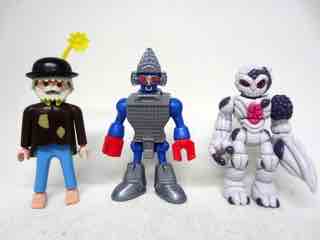 The 3-inch figure has a big hammer with a carved-in "pow" graphical hole on the side, which is arguably just as good as any accessory. The head matches the one in the movie somewhat closely, with similar colors and proportions plus added "ears" made of some sort of radar antenna-looking things. It's probably not unlike some "third party" toys wherein you can tell the inspiration, but it doesn't infringe with the specific idea since there were numerous changes in the layout and functionality. The figure has rotating red claw hands, ball-jointed shoulders, an articulated hip with joined legs, and a jointed neck. The detailing is pretty good, with lots of windows in the building and a pretty funny main door on the codpiece.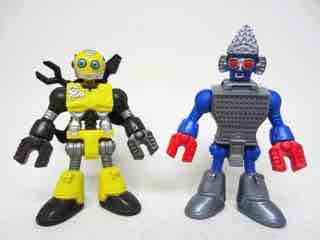 After all these years, Imaginext settled into a standard figure format which seems to work fairly well as kids grow out of them and seemingly new kids aren't quite as interested in them as "My First Action Figure Line." It takes a little more work to find them, but the figures are worth the asking price and the playsets tend to be worth picking up, too. With less Imaginext out in the wild and figures getting more and more fun and esoteric, I assume we won't be seeing this kind of stuff forever. While I long for a Masters of the Universe-ish Imaginext wave, I don't assume we'll get one any time soon - so go get your Big Robot, Clawtron, and other oddities while you can. They can play nice with Batman and Pheyden and maybe some Playmobil too.
--Adam Pawlus
Additional Images

See more Fisher-Price figures in Figure of the Day:
Day 79: Fisher-Price Adventure People Alpha Star Astronaut Action Figure
Day 233: Fisher-Price Imaginext Space Station Toy Set
Day 404: Fisher-Price Imaginext Dinosaur Ankylosaurus
Day 528: Fisher-Price Imaginext Dinosaur Raptor
Day 643: Fisher-Price Adventure People Alpha Star Alien Creature
Day 766: Fisher-Price Imaginext Collectible Figures Diver
Day 796: Fisher-Price Imaginext Collectible Figures Robot
Day 830: Fisher-Price Imaginext Collectible Figures Mummy
Day 842: Fisher-Price Imaginext Space Ion Scorpion
Day 847: Fisher-Price Imaginext Space Ion Crab
Day 853: Fisher-Price Imaginext Space Alpha Blade
Day 954: Fisher-Price Imaginext Dinosaur Dimetrodon
Day 2,002: Fisher-Price Imaginext Series 10 Collectible Figures Spaceman & Alien
Day 2,014: Fisher-Price Imaginext Series 11 Collectible Figures X-Ray Man & Dog
Day 2,018: Fisher-Price Imaginext Series 11 Collectible Figures Radiation Man
Day 2,024: Fisher-Price Imaginext Series 11 Collectible Figures Triple Threat Snake
Day 2,032: Fisher-Price Imaginext Series 11 Collectible Figures M.U.S.C.L.E. Men
Day 2,036: Fisher-Price Imaginext Series 6 Collectible Figures Chicken Suit
Day 2,092: Fisher-Price Imaginext Series 11 Collectible Figures Fishbot
Day 2,096: Fisher-Price Imaginext Series 12 Collectible Figures Big Building Robot
Day 2,099: Fisher-Price Imaginext Series 12 Collectible Figures Clawtron
Day 2,100: Fisher-Price Imaginext DC Super Friends Batman & Swamp Thing Action Figures
Day 2,101: Fisher-Price Imaginext Series 7 Collectible Figures Buster of Ghosts
Day 2,102: Fisher-Price Imaginext Pirates Shark Minisub Figure with Vehicle
Day 2,103: Fisher-Price Imaginext Jurassic World Dr. Malcolm & Dimetrodon Action Figures
Day 2,104: Fisher-Price Imaginext Egypt Mummy Guards Action Figures
Day 2,108: Fisher-Price Imaginext Series 9 Mystery Figures Grim Reaper
Day 2,122: Fisher-Price Imaginext Series 6 Collectible Figures 4 Arm Alien
Day 2,133: Fisher-Price Imaginext Series 7 Collectible Figures Headless Horseman
Day 2,194: Fisher-Price Imaginext Series 9 Mystery Figures Yeti Snowboarder
Day 2,227: Fisher-Price Imaginext Series 9 Mystery Figures Shark Pirate
Day 2,239: Fisher-Price Imaginext DC Super Friends Slammers Arctic Sled with Mr. Freeze Set
Day 2,249: Fisher-Price Imaginext DC Super Friends Slammers Batmobile with Batman Set
Day 2,257: Fisher-Price Imaginext DC Super Friends Surround Sound Batcave Playset
Day 2,306: Fisher-Price Imaginext 20th Anniversary Figures Jett Cosmoblast
Day 2,312: Fisher-Price Imaginext 20th Anniversary Figures FP-636
Day 2,318: Fisher-Price Imaginext 20th Anniversary Figures Shackles McMatey
Day 2,420: Fisher-Price Imaginext Series 8 Collectible Figures Woodland Mystic
Day 2,424: Fisher-Price Adventure People Astro Knight Action Figure
Day 2,449: Fisher-Price Imaginext Series 12 Collectible Figures Explorer
Day 2,452: Fisher-Price Adventure People Clawtron Action Figure
Day 2,455: Fisher-Price Adventure People Firestar I Vehicle with Pilot Action Figure
Day 2,457: Fisher-Price Adventure People Opticon Action Figure
Day 2,460: Fisher-Price Adventure People X-Ray Woman Action Figure
Day 2,464: Fisher-Price Imaginext Series 9 Mystery Figures Invisible Man
Day 2,468: Fisher-Price Imaginext Monsters Figure Pack
Day 2,487: Fisher-Price Imaginext Lightyear Hyperspeed Explorer XL-01
Day 2,522: Fisher-Price Imaginext Toy Story 4 Bunny & Buzz Lightyear
Day 2,542: Fisher-Price Adventure People X-Ray Man Action Figure

See more Imaginext figures in Figure of the Day:
Day 233: Fisher-Price Imaginext Space Station Toy Set
Day 404: Fisher-Price Imaginext Dinosaur Ankylosaurus
Day 528: Fisher-Price Imaginext Dinosaur Raptor
Day 766: Fisher-Price Imaginext Collectible Figures Diver
Day 796: Fisher-Price Imaginext Collectible Figures Robot
Day 830: Fisher-Price Imaginext Collectible Figures Mummy
Day 842: Fisher-Price Imaginext Space Ion Scorpion
Day 847: Fisher-Price Imaginext Space Ion Crab
Day 853: Fisher-Price Imaginext Space Alpha Blade
Day 954: Fisher-Price Imaginext Dinosaur Dimetrodon
Day 2,002: Fisher-Price Imaginext Series 10 Collectible Figures Spaceman & Alien
Day 2,014: Fisher-Price Imaginext Series 11 Collectible Figures X-Ray Man & Dog
Day 2,018: Fisher-Price Imaginext Series 11 Collectible Figures Radiation Man
Day 2,024: Fisher-Price Imaginext Series 11 Collectible Figures Triple Threat Snake
Day 2,032: Fisher-Price Imaginext Series 11 Collectible Figures M.U.S.C.L.E. Men
Day 2,036: Fisher-Price Imaginext Series 6 Collectible Figures Chicken Suit
Day 2,092: Fisher-Price Imaginext Series 11 Collectible Figures Fishbot
Day 2,096: Fisher-Price Imaginext Series 12 Collectible Figures Big Building Robot
Day 2,099: Fisher-Price Imaginext Series 12 Collectible Figures Clawtron
Day 2,100: Fisher-Price Imaginext DC Super Friends Batman & Swamp Thing Action Figures
Day 2,101: Fisher-Price Imaginext Series 7 Collectible Figures Buster of Ghosts
Day 2,102: Fisher-Price Imaginext Pirates Shark Minisub Figure with Vehicle
Day 2,103: Fisher-Price Imaginext Jurassic World Dr. Malcolm & Dimetrodon Action Figures
Day 2,104: Fisher-Price Imaginext Egypt Mummy Guards Action Figures
Day 2,108: Fisher-Price Imaginext Series 9 Mystery Figures Grim Reaper
Day 2,122: Fisher-Price Imaginext Series 6 Collectible Figures 4 Arm Alien
Day 2,133: Fisher-Price Imaginext Series 7 Collectible Figures Headless Horseman
Day 2,194: Fisher-Price Imaginext Series 9 Mystery Figures Yeti Snowboarder
Day 2,227: Fisher-Price Imaginext Series 9 Mystery Figures Shark Pirate
Day 2,239: Fisher-Price Imaginext DC Super Friends Slammers Arctic Sled with Mr. Freeze Set
Day 2,249: Fisher-Price Imaginext DC Super Friends Slammers Batmobile with Batman Set
Day 2,257: Fisher-Price Imaginext DC Super Friends Surround Sound Batcave Playset
Day 2,306: Fisher-Price Imaginext 20th Anniversary Figures Jett Cosmoblast
Day 2,312: Fisher-Price Imaginext 20th Anniversary Figures FP-636
Day 2,318: Fisher-Price Imaginext 20th Anniversary Figures Shackles McMatey
Day 2,449: Fisher-Price Imaginext Series 12 Collectible Figures Explorer
Day 2,464: Fisher-Price Imaginext Series 9 Mystery Figures Invisible Man
Day 2,468: Fisher-Price Imaginext Monsters Figure Pack
Day 2,487: Fisher-Price Imaginext Lightyear Hyperspeed Explorer XL-01
Day 2,522: Fisher-Price Imaginext Toy Story 4 Bunny & Buzz Lightyear