Bumblebee
Face Debut in America

Transformers Generation One Reissue Minibots
Item No.: Asst. E2046 No. E2795
Manufacturer: Hasbro
Includes: Tech Specs
Action Feature: Transforms from Robot to VW Bug
Retail: $7.99
Availability: December 2018
Other: New to USA Head

PREVIOUS
RSS
NEXT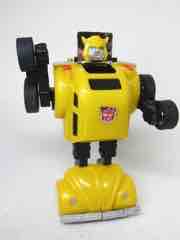 Getting the original Bumblebee was a big deal - the Autobots and Decepticons on the TV show The Transformers tended to skew big early on, so getting a show character - let alone a major one - was quite a get. The toy didn't match the TV character's face until 2004, when an Encore reissue in Japan retooled the face so you could get it to look more like you remember, rather than how it actually was.
It's a simple toy - the head, arms, and legs tuck in to the torso to give you a pretty convincing Choro Q Volkswagen Beetle. The car has some interesting departures in deco from the 1984 original - the bumpers are silver, the lights are painted, and depending on when you got it it doesn't have a rubsign anymore. In other words, it's the same as the 2008 Encore release.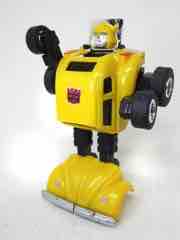 The robot stands nicely, and you can pose the arms at the shoulders. It's a weird robot, with wheels on the arms and big car boots. Let me assure you, this was awesome and magical in 1984. Today, we've had a few versions of the character with nifty folding bits, elbow joints, and such amazing things as a jointed neck. This one is basically a simple statue, and it's worth noting the tires smell significantly differently from the original toy. I love the new head - this is its US debut. It has blue eyes, a nose, and a mouth. The original 1984 toy didn't have the horns in the same design, plus it had a face plate and a visor which would be retconned as a "battle mask" in fiction.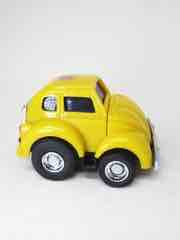 The deformed car mode is a wonder with rolling rubber wheels. It also rolls better than most Transformers toys since the 1990s - there are exceptions, but that's one area that has consistently suffered. The Generation 2 Go-Bots (later Robots in Disguise/Car Robots Spy Changers) would have remarkable rolling wheels, but collector-level figures or anything with decent robot articulation generally doesn't roll remotely well.
I like the black windows and the general construction of the toy, and what's amazing is that for $8 it doesn't seem too far off from what I would expect of a toy in 2018. A $5 toy is a simple, tiny gun with a couple of joints. A $10 toy is a couple of small cars with acceptable articulation. With these old minibots, the deco is generally good and details like Bumblebee's rubber tires, a little paint, and a license, it's not at all odd for it to be a decent $8 toy. The packaging is no slouch either, although I do miss Hasbro's prettier English-only cardbacks. Considering the size of the Canadian market, I don't get why they don't just ship Canada some European packaging and do something that looks more like the all-English 1980s packaging for the USA. But that's me. If you want a Bumblebee, $8 is a deal.
--Adam Pawlus
Additional Images

Click here to see more Hasbro figures in Figure of the Day.

Click here to see more Transformers figures in Figure of the Day.

Want to buy this figure? Check Transformers availability at our sponsors:
Entertainment Earth