Desert Rat
Is it weird to play with your friends?

Toy Pizza Mold Debut
Item No.: n/a
Manufacturer: Toy Pizza x Onell Design x ?
Includes: Mauser Pistol, Mask Head, Wrapped Head
Action Feature: Pops apart because Glyos
Retail: $20.00
Availability: February 2019
Other: Blanks Also Available

PREVIOUS
RSS
NEXT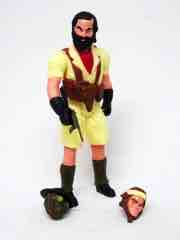 Toys are a weird business. If you're a fan, you might meet the makers and designers of your favorite toys - often before they become famous. The Desert Rat LRDG Version from Toy Pizza mastermind Jesse DeStasio is Onell Design Matt Doughty. I met Matt maybe 10 or more years ago at Comic-Con in San Diego when he was carrying around what I believe was an early version of Pheyden - I may be misremembering - before he built his empire of customization and toys adult collectibles with other makers. Interestingly, this isn't even the first concept for Matt Doughty as an action figure - Mel Birnkrant came up with Midshipman Matt Meteor, which seems like it may never be an actual release. But we have the Desert Rat! I'm jealous of the name, too.
Jesse's 3 3/4-inch figures started off as pizza-themed Sentai heroes, but have expanded to armored troopers, knights, anime/manga mecha heroes, and now some sort of desert adventurer. The bearded head is modeled off Mr. Doughty, with a gas mask face with a hat or a wrapped head as other options. This is a good figure. Any toy that makes me run back in my archives and grab other toys is inspiring and fun, and for whatever reason I was inspired to run back and pick out some old Kenner Star Wars mini-rigs. As I type this, the Desert Rat is piloting a CAP-2 on my desk.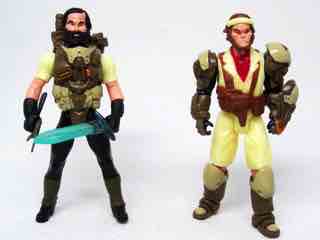 I love the design, but the joints are a smidgen loose for a Glyos figure. The shoulders, wrists, and hips are a little wobbly - but he stands just fine. Parts swap nicely with the Rift Killers and Knights out there, but the cuts are in different positions. The gloves on Desert Rat's hands are lower, while the other figures have swivel joints higher on the forearms. You can swap them, but the positioning may seem a little off on other figures' bodies.
Desert Rat's articulation is really nicely done. I don't mean "he has a ton of joints!" - which he does. The rat has 10 points of articulation, which makes him merely pretty good in the world of Glyos where the debut figure Pheyden has 12 joints. What Desert Rat does well that a number of other action figures won't is sit, stand, and fit in a number of vehicles. The legs don't bend to that perfect 90-degree angle we got on most old Kenner figures, but it's close enough where he's sitting in my Droids Side Gunner without a fuss. The arms are posed tighter toward the body, so he can fit in a lot more of the random vehicles I tested - and I find this to be a bonus on any toy. As of now there are no 3 3/4-inch scale Glyos-specific vehicles, but at least he's at home in and around a lot of old Kenner toys. Also - and this is a weird thing to notice - a lot of the new 3 3/4-inch figures from smaller companies have weird, squared-off butts when the figures sit. (Early ReAction figures are a prime example.) Desert Rat doesn't look like he's smuggling a brick in his butt when he sits, and that's a sign of good design.
I was surprised to see a hidden pizza slice on the arms of the Desert Rat - they're small and subtle. Desert Rat also wears a belt covered in pouches, not unlike Matt Doughty's signature creation Pheyden. It's a sturdy figure, but pops apart more easily than most Glyos figures. I think the pegs are a fraction of a millimeter smaller, as the limbs fit nicely on other figures but seem a tiny bit loose here. I love how the pose is closer to old Kenner toys with the legs closer together, allowing him to pilot a number of my old toy vehicles.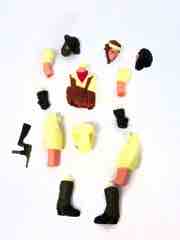 This is a perfectly good figure in its own right, but not as imaginative or weird as the sci-fi Rift Killer, the sentai Knights of the Slice, the armored-up Jump Armor figures, or the decked-out Knights. It's just a bulked-up dude in shorts. He's also someone I've known for years, and I'm shoving him inside some of my favorite childhood toys. It isn't the first time this has happened - there are a number of G.I. Joe and Star Wars figures modeled after toy designers, plus a couple of Masters of the Universe - but it never stops being weird. Thankfully so far I have not been in a position to become a toy myself, so for now I'll just continue to be delighted and weirded out that this exists.
I'd say get yourself a Desert Rat if you can. The figure probably could've used a few more minutes in the oven, because it's good but the aforementioned wobbles around the pegs show that there may be room for tiny improvements. The Rift Killer is dang near perfection - Desert Rat is only merely better than most other toys I've bought recently.
--Adam Pawlus
Additional Images

See more Toy Pizza figures in Figure of the Day:
Day 1,522: Toy Pizza Knights of the Slice Integer Knight Action Figure
Day 2,073: Toy Pizza Desert Rat LRDG Version Action Figure
Day 2,088: Toy Pizza Mikros Set BLT Version Action Figures
Day 2,114: Toy Pizza Regen Capsule Carrying Case with Lime Material Boy Action Figures
Day 2,118: Toy Pizza Forest Capsule Carrying Case
Day 2,123: Onell Design Glyos Rift Renegade Construct
Day 2,129: Toy Pizza Rift Killer Cola Action Figure
Day 2,160: Toy Pizza Chakan the Forever Man Glow Version Action Figure
Day 2,176: Toy Pizza Zoner Capsule Silver Vehicle Mode
Day 2,186: Onell Design CyMa Queen Kirallius
Day 2,187: Toy Pizza Meteor II Action Figure
Day 2,305: Creative Beast Beast of the Mesozoic Glow-in-the-dark Dinosaurs Zuniceratops Action Figure
Day 2,519: Toy Pizza Knights of the Slice Frankenslice Crowkin Action Figure
Day 2,531: Onell Design Glyos Rift Killer Grayvec Action Figure
Day 2,551: Toy Pizza Zoner Capsule GITD Vehicle
Day 2,555: Cappy Space Guardian Diver Action Figure
Day 2,571: Toy Pizza Noir Knight and Apotheosis Capsule Set
Day 2,607: Toy Pizza Green Ghost Capsule Carrying Case

Click here to see more Glyos Compatible figures in Figure of the Day.