Autobot Topshot and Flak
WFC-S6

Transformers Generations War for Cybertron Siege Micromasters
Item No.: Asst. E3420 No. E3558
Manufacturer: Hasbro
Includes: 2 figures
Action Feature: Transforms from Robot to Blasters to Combat Vehicles
Retail: $9.99
Availability: November 2018
Other: Half of the Battle Patrol

PREVIOUS
RSS
NEXT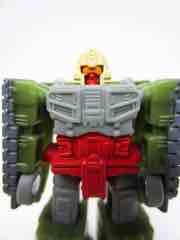 I was a little excited to see Micromasters on the docket, but I didn't get many as a kid - Transformers was ancient by the time of the first big downsizing and characters like Autobot Topshot and Flak never made the TV show or comics in any meaningful way. With no faction symbols they were a little more generic, but surprisingly sturdy - the new ones are not as sturdy but they have added blaster modes. The originals are a little more colorful and have less of a range of motion, but are functionally very similar in most respects.
If you have the originals or if you lack any love for the format, you should skip this set. I think they're neat, but truth be told I don't know what to do with them. They're fun to futz with, but when placed next to the orange Deluxe and Voyager toys they come up pretty short in more ways than one.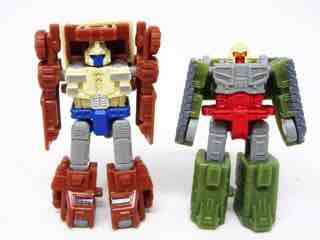 Flak is the reason I was excited for this set - the original toy has a good reputation and its a nifty vehicle. Transformation is simple, and the figure has added ball joints at the shoulders and hips as well as swivel knees. This is a mixed blessing - the hips can pop off the knob during transformation.
The robot stands about 2-inches tall, with a surprisingly ornate head. There's a painted orange visor, a red face, and a painted cream-colored helmet. The chest is now grey instead of that creamy yellow color, but we have painted treads and a painted Autobot symbol in missile system mode. The wheels turn a little bit, and the launchers are compatible with those fire blast accessories packed with the Battle Masters. It's a neat diorama piece, and it was painted blue as "Cratermaker" as part of a Target exclusive boxed set.
You can combine him and his partner into a decent gun for larger figures, but it's not a particularly impressive weapon. It's one of the best Micromasters weapon modes, so keep that in mind.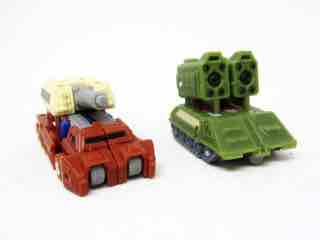 Topshot seems like a fine upgraded with slightly more saturated colors and a lot more paint. Hips and shoulders are on ball joints, and for reasons I don't know they gave him a jointed neck. It's unlikely you'll be able to move it with just your fingers, especially if you're a full-grown person with sausage digits in your 30s or 40s. He has no problem standing and a couple of grey planks under the feet keep the figure a little more stable.
The transformation here is a bit more involved with rotating waist, flipping panels, and some massaging to get the foot planks in place. Also the cannon has a 3mm peg on which you can place those fire blast accessories. The rolling wheels are a nice touch, too. As with Flak, the ball joints might pop apart during transformation - and it's the same basic mold also used for Fireline as well as retools Red Heat and Wheel Blaze. Some minor deco differences hide the fact there are a ton of shared parts between this military vehicle and the fire trucks.
If you just want to get a single set to try this format out, this is a good one. If you like it, there are plenty more to enjoy - and if you don't, at least they don't take a lot of room up on your shelves. You can put them between - or perhaps inside - other figures. I assume they'll go nice with Omega Supreme's base mode, but for now they're getting underfoot on my Siege shelves.
--Adam Pawlus
Additional Images

Click here to see more Hasbro figures in Figure of the Day.
Click here to see more Transformers figures in Figure of the Day.

Want to buy this figure? Check Transformers availability at our sponsors:
Entertainment Earth