Gobon Renegade Hunter
Silver Gobon with New Head, Cape

Glyos System Series
Item No.: No. n/a
Manufacturer: Onell Design
Includes: New Renegade head piece, cloth cape/poncho
Action Feature: Pops apart
Retail: $14.00
Availability: July 28, 2019
Other: Construct is right

PREVIOUS
RSS
NEXT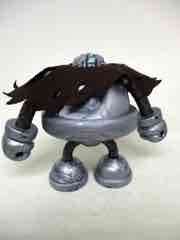 I'm kind of amazed that the Gobon Renegade Hunter exists as a production figure. Custom Corps figures were shown in 2010 - it seemed almost unthinkable that one would actually get mass-produced for all of us, and here we are. For "existing figure with new parts," this upgraded Gobon is a pretty good deal. I have had this mold in other colors for a while and reissuing silver totally makes sense. (I would also like to see more clear ones.) The construction is the same as it ever was, with removable feet, hands, arms, legs, a 3-piece body, and 2 heads... plus a bonus head this time. You have five faces from which to choose with this release, meaning if you only buy one Gobon mold it may as well be this one.
Matt Doughty's "Renegade" figure concepts have been floating around in art and as custom figures for years, and it's hard to know if an idea has come and gone or was just sitting around for the right time. We lucked out here. This figure stands about 3-inches tall and also 4-inches wide, and plugging in the arms was a freaking fight with this one - they were unusually tight pieces.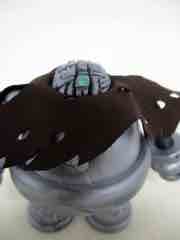 The figure drops panel lines, but adds fully painted arms and legs in the mix. Your silver figure has a darker silver limb set, plus a Gendrone tampo on the chest which may be obscured by the tattered rags. (A robot in ripped-up clothes is a good look.)
The reason you probably want this figure are for the new head and rags. The poncho/shirt/coat is packed with holes, and you can thread the arms through them if you like - I think it looks a little better over it, and that seems to be how it was photographed for the Onell Store. Mine curls up a bit, and obviously you'll want to take care of it. These capes can rip if you're a kid who isn't careful with things.
There are three heads here. One is inside the body, with one face and a big mean mouth. A second head is bagged with the figure, with two eyes on one side and a single rectangular one on the other side. These aren't anything new, but a scarred-up renegade head is a stunner. Loaded with sculpted markings, one side has an eye and an R2-D2-esque cheek ornament. If that weren't enough, spin it around for another face with a single R2-D2-like eye, but painted green. You've got options here, and if you customize figures there's a lot you can do with this design. With the poncho, it totally changes the figure's personality - it's a great cheat that completely changes Gobon's silhouette and personality.
The sturdy figure can stand and sit, but is quite top-heavy. Over time, an improperly balanced figure may dive off your shelves, but I've only had the problem happen a couple of times over the past decade with my several other Gobons. Just be careful to not lean the figure forward or back too far, and you'll be fine.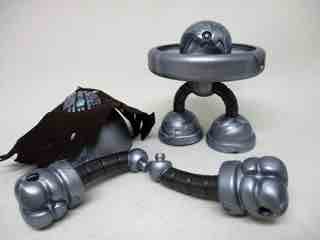 I'd recommend it - if you have a Gobon, this is a strong refresh. If you don't, it's a Gobon with bonus parts. It's a cool-looking robot and I don't think I have anything else that looks much like it outside its wave mates, so I'm a fan. I hope to see this figure with other strange paint applications, damage deco, or some sort of weird energy patterns in the future! I'd love to see what else is coming now that we're seeing more cloth parts and new heads these days.
--Adam Pawlus
Additional Images


Click here to see more Onell Design figures in Figure of the Day.
Click here to see more Glyos Compatible figures in Figure of the Day.