Mikros Set BLT
Three-Pack Micronauts Homage of Brick, Lime, and Teal

Toy Pizza 3-Pack
Item No.: n/a
Manufacturer: Toy Pizza
Includes: 3 figures, 3 bonus heads, sticker
Action Feature: Pops apart because Glyos
Retail: $45.00
Availability: April 2019
Other: Blanks Also Available

PREVIOUS
RSS
NEXT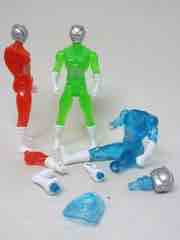 I was very excited to get the Mikros Set BLT Version from Toy Pizza. Micronauts have been an influence on Onell Design and Glyos figures for years, and we've seen tributes both subtle and overt. This may be the most overt. Jesse DeStasio and friends took the classic Knights of the Slice figure, cast it in clear, painted the hands and feet white, added a chest tampo, and painted the heads silver. It turned out nicely - and I'm a little surprised we didn't see one of the other 3 3/4-inch The Other Space Men or Power Lords or other collections do it a few years ago. Now that they're here, it's worth noting they sold out very quickly and a second wave went up for pre-order about a week after for August delivery. That window is also now closed.
Jesse's 3 3/4-inch figures started off as pizza-themed Sentai heroes, and we've seen them mutate into knights, adventurers, space warriors, and other kinds of characters. No girls yet - but one is in the works. Every figure has a hidden pizza motif in it somewhere, which adds to the '90s-ness if it all given the basic figure design was heavily influenced by the Japanese Sentai Invasion of the 1990s - and much of what has come before. Micronauts were hot stuff in the 1970s, around and before Star Wars toys changed the licensed toy world. Revivals in the USA have largely fallen flat, but the look is classic and remakes and tributes tend to be gorgeous. This set is no exception.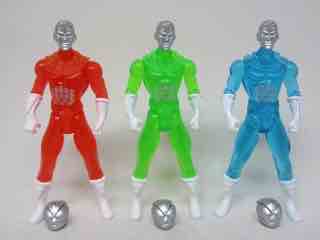 It's almost pointless to advise you to buy this one since it sold out - and so did the next one. But guys, it's so good. I hope they do more, there's also a subscription-only purple one that was made in pretty small numbers and I will likely never own. But - the design is strong, and it turns out that translucent colors with some opaque painted parts look superb here. These figures are a little tall for 3 3/4-inch scale guys, but will fit nicely with a variety of similarly scaled toys so whip out your old Kenner vehicles to try here. I did. "Brick" is really more orangey than red, or at least mine seems that way. Lime and Teal are largely as advertised.
This is not a new mold, but it's a new enough presentation that I got super excited to buy three at once in a set. Each figure has two heads - one helmeted, one not - with the helmets being molded in color to match the bodies and painted in silver. The human heads may be molded in color - I can't tell when I hold them up to the light.
The figure is covered in hidden pizza things - the helmets have a slice on the top, each arm and leg has pizza slice armor, there's a pizza slice codpiece, and the neck armor is a whole dang pizza. Another slice is in the chest tampo - and maybe I forgot a couple. Each figure is largely undecorated, but there's a slathering of white paint on the hands and feet. It's a little thick - I would rather have seen them molded in color, but that would undoubtedly raise the price a bit. And who knows, maybe a blank white figure will come up again soon so you can swap hands and feet to your liking.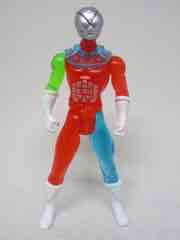 Each figure sports about 10 meaningful points of articulation and parts can be swapped with other Toy Pizza / Knights of the Slice / Glyos action figures. Customizers used to make some wonderful special edition figures, but the runs tend to be smaller and I see fewer and fewer customs on the various boards these days. Now, you tend to get these for their factory appearances - but some nice ones pop up on Instagram here and there.
A set of chrome accessories were sold along with the set, but at $8 per bag of chrome parts I had to pass. Not because I didn't like it, but because I'd have wanted three packs of them. Team Toy Pizza have offered a ton of wonderful suits, capes, cloaks, and other add-ons for these guys so you have the ability to make unique one-off figures. While I would've loved to have had shiny mirror-finish silver heads, these matte silver ones are also quite nice - and priced well enough to make me happy to have made the purchase. There are dozens of colorways of these guys on eBay and elsewhere, but they tend to not go up for sale very often. If you see something you like from these guys, you should probably pounce on it - they sell out fast and don't get marked down.
If someone offers you this set, get it.
--Adam Pawlus
Additional Images

See more Toy Pizza figures in Figure of the Day:
Day 1,522: Toy Pizza Knights of the Slice Integer Knight Action Figure
Day 2,073: Toy Pizza Desert Rat LRDG Version Action Figure
Day 2,088: Toy Pizza Mikros Set BLT Version Action Figures
Day 2,114: Toy Pizza Regen Capsule Carrying Case with Lime Material Boy Action Figures
Day 2,118: Toy Pizza Forest Capsule Carrying Case
Day 2,123: Onell Design Glyos Rift Renegade Construct
Day 2,129: Toy Pizza Rift Killer Cola Action Figure
Day 2,160: Toy Pizza Chakan the Forever Man Glow Version Action Figure
Day 2,176: Toy Pizza Zoner Capsule Silver Vehicle Mode
Day 2,186: Onell Design CyMa Queen Kirallius
Day 2,187: Toy Pizza Meteor II Action Figure
Day 2,305: Creative Beast Beast of the Mesozoic Glow-in-the-dark Dinosaurs Zuniceratops Action Figure
Day 2,519: Toy Pizza Knights of the Slice Frankenslice Crowkin Action Figure
Day 2,531: Onell Design Glyos Rift Killer Grayvec Action Figure
Day 2,551: Toy Pizza Zoner Capsule GITD Vehicle
Day 2,555: Cappy Space Guardian Diver Action Figure
Day 2,571: Toy Pizza Noir Knight and Apotheosis Capsule Set
Day 2,607: Toy Pizza Green Ghost Capsule Carrying Case

Click here to see more Glyos Compatible figures in Figure of the Day.