Frankenslice Crowkin
Chakan body, Bugwing sword, Sincroborg hands and legs, crow head

Toy Pizza Action Figure
Item No.: n/a
Manufacturer: Toy Pizza with bonus Onell Design parts
Includes: Alternate hand, sword
Action Feature: Some assembly required
Retail: $20.00
Availability: January 2023
Other: A synthesis of previously unknown parts

PREVIOUS
RSS
NEXT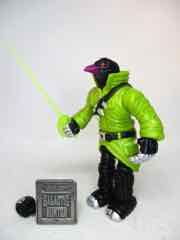 "The Quest for the Lime" drop included some newish and mishmash figures, like Frankenslice Crowkin. Using Onell Design and Knights of the Slice elements, this 3 5/8-inch figure isn't as big as his KOTS peers but is bigger than most Onell Design figures. Weird animal figures tend to be a lot of fun, especially when they avoid being too cartoony or too realistic. This one looks almost like an action figure you might've seen in the 1980s.
I hadn't picked up a Frankenslice figure before, and I can say it's charming enough that I might pick up another. Everything fits together well once you get the parts warmed up, and the open hand adds a little personality to an otherwise hard-to-read crow. The mishmash of styles really delivers on the promise fo the whole interchangeable world of Glyos promise, showcasing how it would've been nice to see everything you collect allow for this level of swapping. Alas, it is not meant to be - but at least you can get a crow cyborg mutant wearing Chakan's jacket and no pants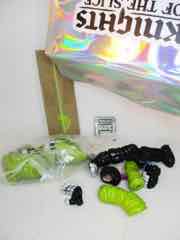 Indie toy prices have been on the rise, so a $20 figure made from leftover parts isn't a terrible buy. (I picked up some glow capsules at the same time.) Crowkin's silver fingers and toes go well with the silver buckles and knives on his coat, plus they more or less match his feathers. The sculpting of the hands and legs really do clash with the head and torso, but if you want to see the whole thing as a cyborg? It works.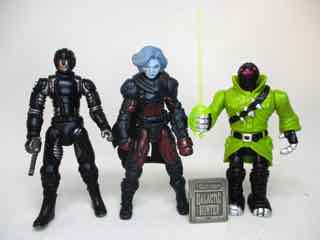 This is my first Crow Head figure, and I was delighted by the glossy finish on the feathers. His purple beak and red eyes are just different enough to pop a bit, and you can see the mouth continue just a bit beyond the beak. It's a nice little weirdo. The included two-part sword has a removable piece, and it's worth noting the clear green blade is quite pointy. Don't give it to your kids. It's not unlike the sort of thing you might impale a cherry with in a cocktail.
It's weird, but it's fun - and that's more or less what you want out of a line like these. It's also worth noting he's a bag of parts, so it's up to you to bring him to life. The downside is that some of the parts are very tight fits, so getting the coat arms plugged in to the torso and the lower torso into the upper torso required me to boil some water to soften those parts up. But after that, everything was good.
--Adam Pawlus
Additional Images

See more Toy Pizza figures in Figure of the Day:
Day 1,522: Toy Pizza Knights of the Slice Integer Knight Action Figure
Day 2,073: Toy Pizza Desert Rat LRDG Version Action Figure
Day 2,088: Toy Pizza Mikros Set BLT Version Action Figures
Day 2,114: Toy Pizza Regen Capsule Carrying Case with Lime Material Boy Action Figures
Day 2,118: Toy Pizza Forest Capsule Carrying Case
Day 2,123: Onell Design Glyos Rift Renegade Construct
Day 2,129: Toy Pizza Rift Killer Cola Action Figure
Day 2,160: Toy Pizza Chakan the Forever Man Glow Version Action Figure
Day 2,176: Toy Pizza Zoner Capsule Silver Vehicle Mode
Day 2,186: Onell Design CyMa Queen Kirallius
Day 2,187: Toy Pizza Meteor II Action Figure
Day 2,305: Creative Beast Beast of the Mesozoic Glow-in-the-dark Dinosaurs Zuniceratops Action Figure
Day 2,519: Toy Pizza Knights of the Slice Frankenslice Crowkin Action Figure
Day 2,531: Onell Design Glyos Rift Killer Grayvec Action Figure
Day 2,551: Toy Pizza Zoner Capsule GITD Vehicle
Day 2,555: Cappy Space Guardian Diver Action Figure
Day 2,571: Toy Pizza Noir Knight and Apotheosis Capsule Set
Day 2,607: Toy Pizza Green Ghost Capsule Carrying Case

Click here to see more Glyos Compatible figures in Figure of the Day.