Ghost Rider with Motorcycle
One Vehicle Is Better than None

Marvel Legends 375 Action Figure
Item No.: Asst. F2648 No. F6544
Manufacturer: Hasbro
Includes: n/a
Action Feature: n/a
Retail: $24.99
Availability: February 2023
Other: The first/only vehicle in this line

PREVIOUS
RSS
NEXT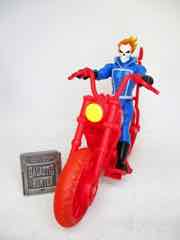 While this entire line calls itself "action figures," Ghost Rider with Motorcycle is the only one with wheels that you can zip around a table. It's expensive for an under-decorated vehicle, but there are lots of nice little details like red clear tires, painted skulls, and metal pins that are actually pretty good about getting those wheels to spin. Unlike most action figures, this one is fun and does not merely look as if it should be fun. Hasbro has largely moved beyond vehicles because figures tend to be better sellers, but what's Ghost Rider without some sort of bike or car? ...actually he's still pretty awesome, but Hasbro's decision to reinvent the old Fleetwood toy as a "what if?" Kenner product was a good call for kids or fans, although I am concerned it might not be a runaway hit with the world at large. For guys my age who are me, this is just what I wanted to see in something labeled "Kenner."
The packaging is absolutely beautiful, and wasteful. This is the only "Kenner" Marvel toy with plastic-free packaging. Inside the box you'll find a generous quantity of empty space - you could fit 3 or 4 bikes and figures in it - and there's no carded figure inside. The bike and figure are wrapped in paper, which are held in place by cardboard and tape. It's a gorgeous box that looks like those fifth-panel boxes a lot of us got as kids - it's stunning The art and graphic design are fantastic. For an item that most likely will only be sold online, having a bigger-than-necessary box in the era of "plastic-free packaging" seems particularly wasteful as it would seen good to keep as much material - regardless of what it is - out of a landfill. Also, remember that packaging isn't free - you pay for it, and if there's less of it, you may be awarded a chance to pay a little less.
Click here to check availability at Entertainment Earth.
If this figure were sold alone for about $12, it'd sell quickly. You'd be disappointed it didn't have an accessory with it, but a cool flaming skull guy figure for under $15 is something that pushes all the right buttons for an impulse purchase - but it's still a somewhat generic figure with a cool head.
Johnny Blaze looks great. The arms and legs are recycled from dozens of existing figures. The torso and head are new. The skull head goes above and beyond anything we saw out of Hasbro or Kenner in most of the 20th century, as any sort of clear plastic molded to opaque plastic - like light piping - didn't really come into play until the 1990s. This figure has a skull with clear flames molded in, with painted details giving a subtle fade to the flame and painted eyes and a painted nose. There are lots of toothy details and little lines carved in the bones, and it looks way better than anything you'd have seen back then It's very much a modern head design, but against the backdrop of a screamingly 1970s toy bike, that's probably just fine.
The torso is weird. It's a flat chest with a new collar and new belt - but with a gray outline painted to look like the packaging art on one of the old Fleetwood Ghost Rider bikes. I think Kenner would have sculpted the detail - it's cheaper - but maybe they were just aiming to recapture that weird card art. He has a blue suit with black gloves for reasons I don't know. Possibly to evoke the "blue is sometimes black" coloring of the comics, because the early comic appearances seemed to be mostly black, and the toys seemed to be mostly blue. The comic character's gloves weren't nearly as long either, but given the entire point of this line seems to be to reuse as much tooling as possible I won't poo-poo that.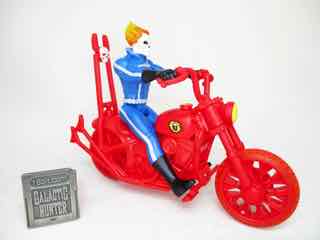 As far as I can tell, the bike is all-new and not a reuse of anything from an existing line like Indiana Jones. It's bright red like the old Fleetwood toy, but with a lot of changes - some of which were a surprise. The wheels now have red translucent tires instead of black tires! The skulls on the side of the bike are little tampo prints rather than stickers. There's a big raised skull on the back, plus there's a yellow design on the gas cap and yellow paint on the lamp in front. Other than that, it's bare bones - this is as cheap as it gets, folks, but it's good. The kickstand does a nice job holding the bike up, and the wheels tend to roll freely. If the front one doesn't spin too well at first, you can push out the sides a tiny bit and it rolls really well. I'd go as far as to say the wheels here roll better than any of the Transformers toys in recent years.
Sculpted detail is pretty good, and I have to wonder if this is intended to be reused somewhere. Hasbro could easily put this out in not-goofy colors as a convention item, because you can see a bunch of pipes, pedals, and surprisingly good detailing in the tire and wheels. It's a decent little bike masquerading as a cheap toy, but I haven't seen much exclusive retro Kenner Marvel outside of Pulse.
I had no problems getting other, smaller Marvel figures to sit on it. Toy Pizza's figures also fit pretty well thanks to similar proportions and articulated wrists - so if you have a Knights of the Slice collection, it may be worth giving them a ride on your new hog.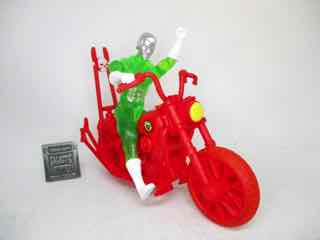 Since Hasbro's Kenner's Marvel line is a few years in and remains quite small, I'd suggest picking this one up at or below retail price - heck, if it gets expensive, $30 isn't too outlandish for it. It should be cheaper, but it's a weird toy with limited interest. I'm surprised it isn't a convention exclusive, I wouldn't be surprised to see units dumped on clearance at some point... but down the road I bet people are going to want this. I have no idea if it'll be expensive, but 3 3/4-inch figure fans of a certain vintage are going to want this.
--Adam Pawlus
Additional Images

Click here to see more Hasbro figures in Figure of the Day.
Click here to see more Marvel figures in Figure of the Day.