Starscream
Made in Vietnam

Transformers Authentics Alpha-Class Figure
Item No.: Asst. E0694 No. F6759
Manufacturer: Hasbro
Includes: 2 cannons, 2 wings
Action Feature: Transforms from Jet to Car
Retail: $9.99-$11.99
Availability: April 2023
Other: Voyager Robot at Core Prices

PREVIOUS
RSS
NEXT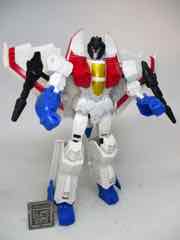 Despite the smaller version being one of the debut Bravo-class toys, this Alpha-Class (Voyager-sized) Starscream didn't hit the market until pretty recently - I found it at a grocery store on April 30 of this year. It's pretty big, it has decent paint, and it's kind of weird. I was expecting an upsized version of the existing smaller toy, and what I got had some design choices I've never seen before.
On the whole older fans don't buy these. That's what makes collecting them fun - you can drive around to hunt for them and eventually find them somewhere without a lot of competition. Are they amazing? No. But a Voyager-class toy is $35 now and this was twelve bucks. That makes it interesting.
Click here to check availability at eBay.
The 7-inch robot mode is pretty amazing for the price - but not perfect. What impresses me is that this is clearly a toy designed with the idea of "what can we make at this budget" as a central design principle, and it proves you can do a lot. There are some weird bones though - the arms and legs are held in with thin black rods that are a little wobbly, so posing him and getting him to stand takes some getting used to, and getting a neat pose out of him is a bit of a challenge. But the joints are all there - ball-jointed hips, knee joints, elbow joints, you can get a lot out of this guy. The problem is that the plastic rods in the knees and the black bits at the shoulders give him some wobble that limit the stability of this toy. I bet with some more time in the oven, it could be a lot better - but it's plenty good and clever for the price.
The boxed toy shows graphics of Starscream with a silver nose, but the final toy is black. He still has a painted chest, eyes, and face, showing just how much you can do by molding the toy in color and not relying on stickers or paint. You even get blue feet with rocking ankles, which is pretty amazing given what this toy costs. There are a lot of parts here and they all hold together pretty well with a sculpt with loads of vents and little details. It isn't the most amazing Starscream ever, but it holds up nicely to some of the more stylized "evergreen" ones in Authentics, the Combiner Torso from Power of the Primes, and to some extent Cyberverse toys. It's really neat to see how this size class of toys is developing.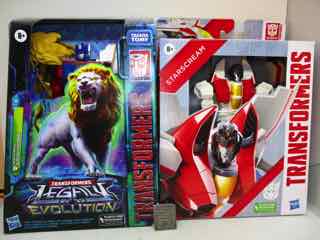 Transformation is easy, the legs sort of collapse on themselves, you pull the shoulders down and fold in the arms, and the wings do the wing thing while the cone backpack flips over the head You've seen a lot of toys like it.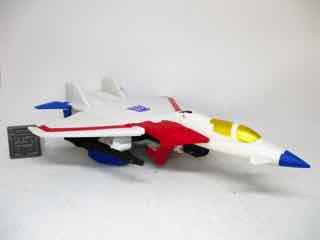 The jet holds together well and is painted fairly nicely. One big Decepticon symbol on the back replaces the usual wing ones, but you get some red painted stripes to make it look decent. The cannons are cast in black, and there are some molded blue bits with a gold canopy. Other than the arms being a bit wobbly, it's roughly as good as any other Starscream jet mode at a fraction of the cost.
This is a good toy for the price. I bet it could be better - there are so many parts here and so much articulation that it shows Hasbro is capable of making pretty excellent cheap toys, and elects to go and do higher-end things. This could be a satisfactory-but-not-great toy for kids, but I'd say the same of the collector toys. Everything Hasbro does is pretty good, but there are always a few quibbles that keep it from being the perfect, best-ever, last toy you'll ever buy of a character. Maybe it's too complex. Maybe it's not complex enough. If nothing else, toys like this specific Starscream give insights to what Hasbro could be doing in an alternate reality where they actually make toys that kids can afford that are fun and somewhat impressive. Given we're being charged for a 4-inch Spider-Man that has about the same articulation and deco, Starscream here may exist primarily just to show us how more expensive toys are failing to live up to their potential.
--Adam Pawlus
Additional Images

Click here to see more Hasbro figures in Figure of the Day.
Click here to see more Transformers figures in Figure of the Day.

Want to buy this figure? Check Transformers availability at our sponsors:
Entertainment Earth