Silver Surfer
Norrin Raddical

Marvel Legends 375 Action Figure
Item No.: Asst. F2648 No. F2673
Manufacturer: Hasbro
Includes: Surfboard-like craft
Action Feature: n/a
Retail: $9.99-$12.99
Availability: 2021
Other: Surprisingly, not Iceman in silver

PREVIOUS
RSS
NEXT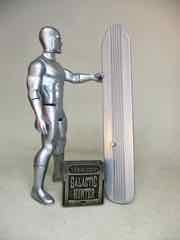 About 10 years ago Hasbro did a Marvel Universe 3 3/4-inch figure of this guy with tons of articulation, but thanks to inflation and retro styling this new Kenner-branded Silver Surfer costs about the same. They did a better job on it than they had to do, but it did skimp out on something Kenner (and also Hasbro) were excellent at - vac-metal silver deco. Back in the 1970s and 1980s, Kenner gave us C-3PO and the Death Star Droid, while Hasbro had Destro's head and countless accessories on Transformers. Shiny things were awesome, and frequent - and surprisingly durable in many cases. Sadly, this one was just painted silver, like so many sad blue Snaggletooth boots. It's still neat, though.
I missed the Saban cartoon on Fox in the 1990s and only just recently checked it out, but the character is utterly famous thanks to his striking appearance and numerous crossover appearances on other Marvel shows. Also, countless parodies, most of which features a riff on Galactus. And Transformers would certainly enjoy borrowing the planet-eater-with-a-herald concept with Unicron and his pals like Galvatron or Hook, Line, and Sinker. But what matters to you is this figure, and he's pretty good. Sadly he's not vac-metal, but he does has his surfboard so I can at least say "if you like the idea of paying for a Kennery guy, he's worth it." Also the packaging artwork is really beautiful stuff, with bright colors, a wonderful blue border, plus stars, planets, and comets in the background. If I get another crack at this guy on the cheap I might want to keep a carded one. All of the figures in this line have good art, but this one is outright impressive.
Click here to check availability at Entertainment Earth.
If you bought toys in the 1980s or 1990s, you no doubt have one (or many) figures that use the body of another, existing figure with new accessories and an often ill-fitting new head. That's sort of what this is - the head seems the tiniest sliver too big for the body, and a bit of the neck connected to the head spills out over a tiny bit of neck on the body. Spider-Man and Iceman, who share the same body, don't have that problem. But, I have to say I'm happy they gave him a new head - despite its boxy, Kryten-like appearance they could have just shrugged and painted Iceman silver, and called it a day.
The body is closer to what Kenner was doing as the 1980s went on, only a little more defined - there are more abs in the Marvel Legends 375 line than Kenner's Super Powers Collection, but it's not as rippled and intimidating/body shame-inducing as the Marvel Universe guys were in the late 2000s to mid 2010s. The arms and legs are defined pretty well, the face is stoic, and the eyes are painted far better than need be to be "Kenner." Here, we get white painted eyes with a black outline on top - it helps them pop a bit, but I wager the original gangsters at Kenner would have painted the whole thing silver and stopped.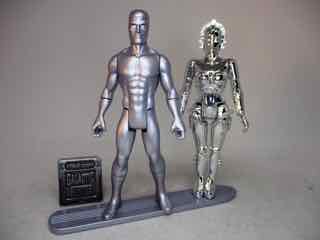 As one of just shy of a dozen figures to share the body, the figure embraces its destiny as something done on the cheap by not giving the figure unique "surfer" open hands or anything special - if you have Iceman or Ant-Man, they're basically the same except the head. There's nothing wrong with that, because a lot of comic heroes have very similar idealized body types and generally wore costumes without a very distinctive silhouette other than a head, a cape, or some weapon. The Silver Surfer stands out because of his board - it's big, it's painted silver, and its foot peg matches "modern" smaller 3 3/4-inch Hasbro/Kenner figures, rather than the bigger peg of the 1970s-1990s. It's a sturdy, simple design without the wider front of other figures, so it's jsut a generally nice board with some lines sculpted on it. Since the figure has no waist joint it's hard to make him look like he's surfing so much as flailing, but that's part of the charm of these guys. Back in the day, Han stuffed his legs through the Tauntaun's back, and Leia swung her legs right in front of her to drive a Speeder Bike. Only in nostalgia can you do something cheaply or corny and fans will say "well if you did a better job, it would be wrong."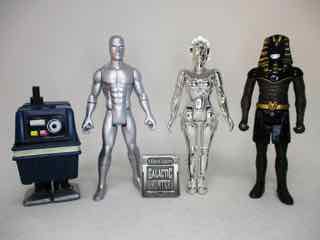 Given how Super7's Silver Maria from Metropolis [FOTD #2,454] is one of the best dang silver retro figures ever, I really do wish Mr. Radd was similarly enhanced. But there's always time for that later - for now, you can look at this figure and appreciate the solid silver structure and how it reflects Hasbro's generic-enough-to-be-useful body sculpt. We'll probably never get a Galactus, or a Norrin Radd repaint, nor any of his foes or galactic neighbors, but that's probably fine. If it wasn't a front-of-mind character for Marvel readers in the 1980s, or a star of a network TV show at the time, I can't imagine the old Kenner would have bothered. If you're happy with your existing Silver Surfer you won't need a new one, but if you're like me and never wound up getting one? This is fun, this scratched the itch. If I wind up finishing this line, and it ends, it's still a great sampler platter of the best that late 20th century, pre-collector speculation Marvel that won't occupy a room of your house. Maybe a couple of shelves, tops.
--Adam Pawlus
Additional Images

Click here to see more Hasbro figures in Figure of the Day.
Click here to see more Marvel figures in Figure of the Day.