Pheyden Bio Phantom
Clear White Plastic with Pink Highlights

Glyos Action Figures
Item No.: n/a
Manufacturer: Onell Design
Includes: n/a
Action Feature: n/a
Retail: $10.00
Availability: December 16, 2022
Other: Ghostly

PREVIOUS
RSS
NEXT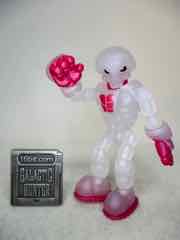 Clear white? Why not! Pheyden Bio Phantom is a color of plastic we don't see in toys very much. We've had milky blue Game Boy Advance systems and all sorts of clear colorless plastic, but other than Ahsoka's white lightsabers I have a hard time pointing to other action figures using this unique color. Pheyaos, Glyans, and Manglord figures were also released in these colors - plus some appropriate accessories.
For variant hunters, there's also an unpainted "stowaway" version of the figure that was given away in some orders - I saw one pop up on eBay for $40 earlier this year.
Click here to check availability at eBay.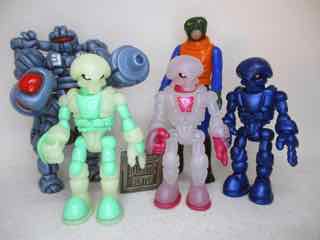 If you've read about Pheyden before, this is another one - the distinctive colors make it exciting and fresh, but you know the drill of why the 2 3/4-inch figure is what it is. You can pop him apart at each of his 12 joints, and swap pieces with other figures. There aren't any accessories or alternate heads in this release.
The figure reminds me of some sort of fish eggs or a frosty glass - it looks familiar and reminds me of food. What makes this one unique are metallic pink painted elements on his fingers, soles, and chest - plus the neck. It does a good job making the figure's body parts look distinct and not like one big mass of frozen milk, while allowing you to see whatever light passes through the figure. Both the paint and the plastic shine considerably well, so be sure to take it in a well-lit area at least once if you ever snag one off eBay or a trading forum.
The construction is sturdy and it does a really good job of pulling off the magic trick of being surprisingly present and easy to scope out most of the painted details. While the belt seems to fade into the clear plastic, the arms, legs, and chest have plenty of grooves that pop even in low light. It manages to make a familiar figure look alien once more, which makes this one stand out in a massive line-up of over a hundred - or maybe a couple of hundred - Pheyden action figures from the same molds. I don't think Batman even got this much recolor love, so it's good to see that there's still ways to do more than a MKII of an existing colorway here after all these years.
--Adam Pawlus
Additional Images


Click here to see more Onell Design figures in Figure of the Day.
Click here to see more Glyos Compatible figures in Figure of the Day.