Vision
The Avengers - Earth's Mightiest Heroes

Marvel Legends 375 Action Figure
Item No.: Asst. F2648 No. F2667
Manufacturer: Hasbro
Includes: Cape
Action Feature: n/a
Retail: $9.99-$12.99
Availability: Spring 2021
Other: No Wanda, Just Vision

PREVIOUS
RSS
NEXT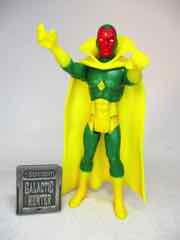 Sometimes the figures are a real surprise, but Vision just made sense. The figure came out early in 2021, when the WandaVision show debuted and, if memory serves, was being shuffled around a bit as to which would be the first streaming show on Disney+. It was weird, it was fun, and it was probably the most fun to make from watching it - so naturally, the retro figure line had to build on it. Wanda never saw release, but for all we know she could have been in one of the waves that never made it out. The android Vision is built off the skinnier Spider-Man buck, adding a new head and a cape to give us all a pretty dang good figure. It's not my idea of a perfect Vision, but it's dang close.
Click here to check availability at Entertainment Earth.
Click here to check availability at eBay.
The figure does a good job of matching the gorgeous packaging illustration, which fudges some details in the yellow section of his torso and boots. And gloves, probably. It more or less matches the idea of a figure being made from an existing mold, as the gloves and boots are molded in yellow plastic and align with where the cuts already were. As such you don't get the pointy bits. The torso has the markings pretty much as you remember them, except the undershorts don't really look like a separate element, and the black vertical stripes are missing from the "Kener" figure. Otherwise? Good stuff.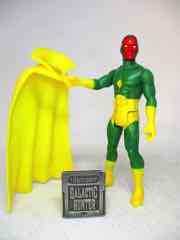 At 3 3/4-inches tall, our hero has a cape that just barely stretches over the head and rests in place quite nicely. Vision stands without much fuss, and comes complete with jointed neck, wrists, shoulders, and hips. You can take the cape off if you really want, but be careful - stretchy doesn't mean indestructible. I bet this would tear with frequent play from kids. I could also see it rubbing paint off the red face's nose - Vision's head and body are molded in green, and covered in quality thick red and yellow paint. This particular incarnation adds white eyes and the expression is really pretty great. I like it - it looks a lot like the old comic art and seems just a little evocative of the movie version. That's tough to pull off, and they did it on the cheap.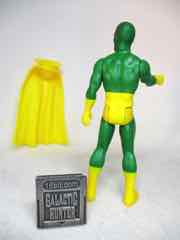 If you want a Vision figure, this is a pretty good Vision figure. I assume this whole line, in a few years, is going to be something people look back on and scramble to catch up on - and this is one of the better figures. I love the big collar on the cape, plus the bright colors are incredibly striking. I guess the big question is if a bunch will get dumped on closeout shelves or not - if not, this might get expensive later. If it goes the other way and you can get him cheap (especially at or under $5) buy two. Keep one in the package, it's just gorgeous.
--Adam Pawlus
Additional Images

Click here to see more Hasbro figures in Figure of the Day.
Click here to see more Marvel figures in Figure of the Day.