Crashbar
A new character!

Transformers Legacy Evolution Deluxe
Item No.: Asst. F2990 No. F7195
Manufacturer: Hasbro
Includes: 2 blasters, 2 pipes, wheel throwing star/shield
Action Feature: Transforms from robot to motorcycle, can be taken apart
Retail: $24.99
Availability: March 2023
Other: A new character!

PREVIOUS
RSS
NEXT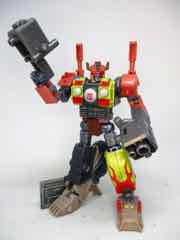 This is a fun one. Crashbar looks like a few other Junkions, and he'll fit in with any Junkion-color toys you may have. This motorcycle draws inspiration from Wreck-Gar and his ilk, particularly the 2010 version, but what's nice is this one isn't fragile. You can rotate the handlebars, and they don't snap off! How wonderful.
What makes this figure particularly exciting is the Evo-Fusion gimmick that lets you take apart the robot or the bike modes. You can take apart Scraphook [FOTD #2,529] in either mode and mix and match. It's sort of like Glyos meets Transformers, and unlike the previous Weaponizers/Fossilizers/etc., this one works. You can transform them without popping them apart, and you can swap limbs without having to worry about lopsided or mismatched parts. Kids would love this if it were a feature on kid-driven toys and not fan/collector-aimed guys. If you are thinking about getting Crashbar, get Scraphook - or another Legacy Evolution Junkion - to go with it.
Click here to check availability at Entertainment Earth.
Click here to check availability at eBay.
The robot mode is pretty by the book in that you can recognize its familiar elements The head has a nice mustache and soul patch, plus a horned helmet! The chest has little headlights and a nice Autobot symbol. The arms have spikes and so do the feet, with the motorcycle front and back becoming the legs. The arms just sort of tuck in there, and a wheel behind the right leg pops out and can be used as a throwing star or shield weapon.
Articulation is good, with rocker ankles, rotating wrists, a swivel waist, and pretty much everything you would hope for in a deluxe toy of the current era. I dislike all the price increases, but with a figure like this you see where the money goes. He's got five accessories. The arms and legs pop off safely. There are lots of paint apps here. I assume some fans will just see this as another iteration on what we've been getting for the past four or five years - and it is - but this would have blown our minds in the 1990s or 1980s. The sculpted vents, the fake robot abs, clearly whoever sketched out this design really loves their robot toys. The red "glasses" shine nicely, and there's painted silver forearm detail too. The bike flames stand out nicely on the left leg, as do the red spikes. They could have skipped some of these details and it would have been a perfectly nice toy, but there's enough going on here where I have to say - and this is rare - I can't really complain about any of it. This is one of the better toys in recent years.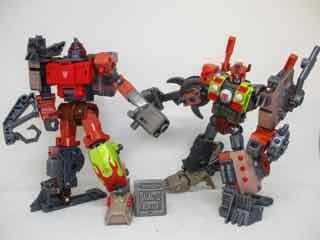 Transformation is pretty simple, but I still like to use instructions to make sure things don't snap. There are some clever bits and a lot of tabs and slots - some are confusing as to which goes where, as there are more than one option - but it isn't as frustrating as some recent toys.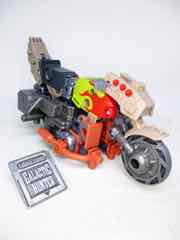 The motorcycle is a little funky, but it still stands up without trouble and it has a lot of bits to work in there. The pipes from the back and blasters peg in to help keep it together - that's a clever idea - and the wheels spin well enough for a toy like this. It looks like Wreck-Gar's cousin, but the real fun comes from popping him apart and slapping those motorcycle chunks on a car. It's goofy, but giving imaginative construction play to a toy like this is a lot of fun. Sure, we had it before with little bases and dinosaur skeletons, but I think it works much better with these two guys - I'm excited to see what other molds we'll get and if it will still work. It might be limiting the kinds of designs we get, but if they're as good as these I think I'm OK with that.
Given how many main characters return to these toy lines, new characters that are familiar, but new, are a welcome rarity. Junkions are in short supply, so expanding the roster gives people who are getting bored with yet another Blurr or new versions of guys that you can get on eBay for a reasonable price a reason to stick with the line a few more years. Sure, he may not be an on-screen Junkion from the 1986 movie - but at least he isn't 2010 Wreck-Gar again. (Admittedly, he's pretty close.) If you see this and go "oh that looks cool," let me assure you that it is and it's worth giving him a shot.
--Adam Pawlus
Additional Images

Click here to see more Hasbro figures in Figure of the Day.
Click here to see more Transformers figures in Figure of the Day.

Want to buy this figure? Check Transformers availability at our sponsors:
Entertainment Earth