Spider-Woman
To Know Her Is to Fear Her

Marvel Legends 375 Action Figure
Item No.: Asst. F6681 No. F6695
Manufacturer: Hasbro
Includes: Web wings "backpack"
Action Feature: n/a
Retail: $11.99
Availability: March 2023
Other: Final wave with Doctor Doom and Power Man/Luke Cage

PREVIOUS
RSS
NEXT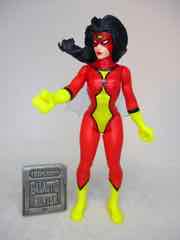 Much like Doctor Doom, Spider-Woman was part of the final wave and isn't as good as she could be. As of my writing this I haven't opened Power Man yet, but I can say that despite being mostly recycled (and good) parts that Spider-Woman just isn't that great doing what a good retro figure should do - stand, and not fall apart.
As far as I can tell, her torso, boots, head, and web wings are new. The arms and upper legs are old. I assumed this was going to be a "she gets the job done" review, but the extra weight on her back and head combined with the new boots make it a challenge to keep her standing. Most of these figures can just be put on a flat surface and they stand - you have to be careful with this one, and from where I sit, that's work. Not fun. I grabbed Firestar and Invisible Woman, and they can even lean back some and remain standing - maybe there's something about Jesica Drew's shoes preventing her from standing.
Click here to check availability at Entertainment Earth.
Click here to check availability at eBay.
What attracted me to this line of figures - aside from the Kenner-ness - was that they did a lot of stuff in the style of the Bronze Age, or more specifically, like I saw on Spider-Man and His Amazing Friends cartoons. Spider-Woman starred in a cartoon in 1979 too, and this is how she looked - black hair, red suit with yellow boots and gloves, and web wings. The hair is incredibly dynamic and totally not what we would have ever seen in an action figure of that era. Trust me, I've looked - nothing in G.I. Joe, Adventure People, Star Wars, or their ilk have a wind-swept mane off to the side like this. It looks great in the packaging, but does seem a bit odd on a shelf of toys.
While I decried the constant reuse of existing limbs on other women in this line, the reuse of heels got even more exhausting. I give points to Hasbro for making new, flat feet for Spider-Woman but they don't seem to have been sculpted to properly balance the figure. I freely admit I would be complaining if they gave her the same heels again, and instead now I'm complaining because she has to hunch over to stay standing. I can't win, and apparently, neither can Hasbro. I'm glad they tried something different, though.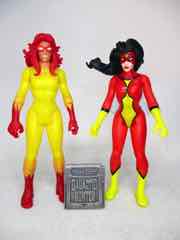 Her accessory is a new clear set of web wings that plug in her retooled torso like a backpack. It's clever, but they come out pretty easily. I appreciate the attempt to create the detail, but back in the day Kenner would have most likely represented the detail with a thin vinyl cape or no wings at all. The way Hasbro executed this detail looks great for a carded collectible, but it isn't much to enjoy when we're talking toys. It just adds more weight to the figure's back and contributes to balancing problems. I might try dipping her in some boiling water to see if it has any impact on how her legs are posed and her ability to keep standing, but as-is, I was a little let down.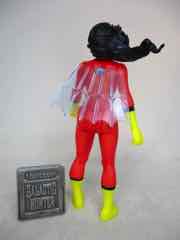 I'm always a little sad when a line - especially a retro line - comes to an end. The "Kenner" Marvel guys started off as kind of a disjointed group before congealing into a pretty satisfying group of teams - some of which were completed! The series of figures ultimately stands on its own as a decent line of figures for the asking price. If Spider-Woman is any indication, it was a good time to end. With Doom's hands falling off and Jessica's loose web wings and posture problems, this is probably about where I would have started thinking about tapping out. In the 1980s, toys weren't perfect (broken thumbs, o-rings) but they were generally fun and pretty easy to stand and play with - that went really sideways in the 1990s, and now you'll spend more time trying to get modern figures balanced so they won't fall over than you will actually playing with them. As a carded collectible, this figure is perfect. She's not bad on a display shelf if she's supported. I don't love it as a toy - but hey, it's not like we're going to see many more of these.
--Adam Pawlus
Additional Images

Click here to see more Hasbro figures in Figure of the Day.
Click here to see more Marvel figures in Figure of the Day.