Rift Killer Cola
Toy Pizza Con Exclusive

Toy Pizza Action Figure
Item No.: n/a
Manufacturer: Toy Pizza with development by Mechazone
Includes: Case
Action Feature: n/a
Retail: $18.00
Availability: July 15, 2019
Other: Winner of the Pepsi Challenge

PREVIOUS
RSS
NEXT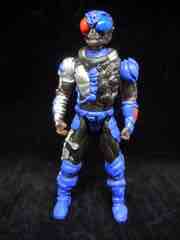 I don't own too many Toy Pizza figures, but I like the 3 3/4-inch figures a bunch. The Rift Killer Cola Action Figure enough to want the mold again - cola-colored clear brown plastic is wrapped in silver, red, and a couple of shades of blue that may recall Pepsi and RC Cola packaging. It also provides a nice counterbalance to the Nuka T-51 Power Armor [FOTD #2,061] as far as continuing the cola wars goes.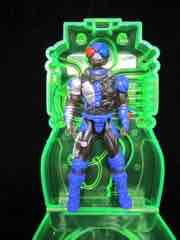 It seems most of the figures from Toy Pizza aren't content to share the same paint masks - which is nice. The figure is covered in amazing sculpted details that are easy to ignore when they're all the same color, so a slightly different paint job can drastically alter the texture of the figure. Your eye may see the armor, the pizza motifs, various cords or weapon-like elements, or something else entirely. It's really quite brilliant how these things turn out when everything is painted just right.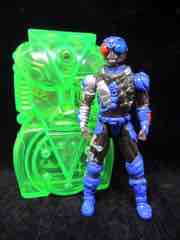 The figure has no weapons, but is compatible with a number of other accessories you may already have in your toy drawers. While he sadly does not come with a soda bottle, he does look like a can a bit - the silver elements remind me of an aluminum can, while everything else feels like the label and other packaging elements. This figure is a nutrition label away of being $2 by a check-out register. I'm very fond of any figure that looks vaguely like a foodstuff I purchase, and I can only imagine if we got a "Jolt" figure some day!
There are lots of these out there, and each seems to speak to people for different reasons. A special toy reference here, a movie character there, and sometimes it's just a nice color that is appealing for no good reason. I just find this one admirable - it's a great all-purpose sci-fi design and it fits in with your old 3 3/4-inch vehicles, mini-rigs, playsets, or other goodies. It's a shame there's no retail line for you to run out and buy, so keep an eye on the Toy Pizza shop next time they have a new one of these.
--Adam Pawlus
Additional Images

See more Toy Pizza figures in Figure of the Day:
Day 1,522: Toy Pizza Knights of the Slice Integer Knight Action Figure
Day 2,073: Toy Pizza Desert Rat LRDG Version Action Figure
Day 2,088: Toy Pizza Mikros Set BLT Version Action Figures
Day 2,114: Toy Pizza Regen Capsule Carrying Case with Lime Material Boy Action Figures
Day 2,118: Toy Pizza Forest Capsule Carrying Case
Day 2,123: Onell Design Glyos Rift Renegade Construct
Day 2,129: Toy Pizza Rift Killer Cola Action Figure
Day 2,160: Toy Pizza Chakan the Forever Man Glow Version Action Figure
Day 2,176: Toy Pizza Zoner Capsule Silver Vehicle Mode
Day 2,186: Onell Design CyMa Queen Kirallius
Day 2,187: Toy Pizza Meteor II Action Figure
Day 2,305: Creative Beast Beast of the Mesozoic Glow-in-the-dark Dinosaurs Zuniceratops Action Figure

Click here to see more Glyos Compatible figures in Figure of the Day.