Octillion Octopus
Japanese name "Red Octo"

Battle Beasts Series 2
Item No.: #36
Manufacturer: Hasbro
Includes: Octo Anchor spear weapon, second randomly-selected figure
Action Feature: n/a
Retail: approx. $3.99
Availability: ca. 1987
Other: This sample has a "Water" rubsign

PREVIOUS
RSS
NEXT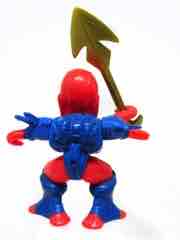 While I had no idea what his name was as a child, Octillion Octopus was a figure I couldn't live without. It's an octopus! In primary colors! With a friggin' spear and multiple arms! How could I not get this?
Molded in red, it matches the hues of Cthulhu-Nautilus pretty closely minus the metallic finish - funny thing was, I was hoping to ask for that figure in Octillion's colors, and it just plain started close enough. Works for me! The armor is spiky in some spots and rounded in others, evoking a weird sense of not-much-protection. It has a tube for a mouth - a common element in Japanese representations of the octopus, see Nintendo's game Octopus and also the Octorocs in Zelda games - and big black eyes. The skin is molded in red, and you'll find a lot of suction cups on the arms and legs. The tentacles can curl around the included spear weapon, and the figure has no problems standing. It is jointed at the shoulders.
At 2-inches tall, there's not a ton of action in this figure, but it came out at a moment of change in the action toy business. By 1987, the figure-with-vehicle paradigm was transitioning to the "micro" format, and before we had ultra-mini cars and playsets we had 2-3-inch figures with vehicles. 2-packs of figures in this scale were commonplace, and in the USA Battle Beasts got three chariots and three playset/base/vehicle sets. Figures were sold in 2- or 8-packs with a "Fire/Wood/Water" game not unlike "Rock/Paper/Scissors," but like most "game" figures what really mattered were the cool figures. Takara and Tomy both had awesome style in those days, with weird one-color robotic eyes on many of their toys that resulted in striking and clean designs for creatures and robots while American designers were givng "gross" toys a try with the likes of MadBalls. The mini action figure and vehicle format also encompassed Legions of Power, StarCom, M.A.S.K., Air Raiders, Dino-Riders, and many others that your inability to remember confirms just how viable the format wound up being.
I really loved these toys as a kid, because for a couple of bucks you got a few figures - the same as the case with M.U.S.C.L.E., a format which has proven popular in modern indie toymaking circles. To date nobody has really aped the two-joints-and-a-heat-sticker format of Battle Beasts well. Revivals of the brand name in the USA from Diamond Select Toys (Minimates) and Takara-Tomy in Japan (Beast Saga) were met with the same low interest as the original 1980s line - we got a few waves, and then they went to clearance. Until recently the original Hasbro toys were pretty cheap - at the beginning of the decade you could get any rubsign figures from the first three series with a weapon for about $3-$8 with a few outliers reaching $10. Today, $10 with a weapon is usually where they start - but maybe you can luck out and get it in a lot or as part of a small collection. I still love this little guy and couldn't dream of parting with it. Heck, I'd love to make more.
--Adam Pawlus
Additional Images

Click here to see more Hasbro figures in Figure of the Day.
See more Battle Beasts figures in Figure of the Day:
Day 82: Diamond Select Battle Beasts Minimates SDCC Gold Alligator Action Figure
Day 373: Diamond Select Battle Beasts Minimates Case Red Alligator Action Figure
Day 374: Hasbro Battle Beasts Sawtooth Shark Action Figure
Day 375: Hasbro Battle Beasts Wolfgang Walrus Action Figure
Day 376: Hasbro Battle Beasts Diving Duckbill Action Figure
Day 377: Hasbro Battle Beasts Spark Shark Action Figure
Day 390: Diamond Select Battle Beasts Minimates C2E2 2012 Red Vorin
Day 391: Hasbro Battle Beasts Anarchy
Day 395: Diamond Select Battle Beasts Minimates C2E2 2012 Grey Vorin
Day 417: Hasbro Battle Beasts Run Amuck Duck
Day 436: Hasbro Battle Beasts Horny Toad
Day 450: Diamond Select Battle Beasts Minimates SDCC 2012 Vorin & Zik
Day 451: Hasbro Battle Beasts Sledgehammer Elephant
Day 460: Diamond Select Battle Beasts Minimates SDCC 2012 Gold Vorin
Day 463: Diamond Select Battle Beasts Minimates C2E2 Exclusive Black Alligator
Day 451: Hasbro Battle Beasts Pillaging Polar Bear
Day 577: Hasbro Battle Beasts Slasher Seahorse
Day 610: Diamond Select Battle Beasts Minimates Gruntos the Walrus & Tate Reynolds
Day 639: Hasbro Battle Beasts Triple Threat Snake
Day 674: Hasbro Battle Beasts Hare Razing Rabbit
Day 720: Diamond Select Battle Beasts Minimates Shadow Merk
Day 723: Hasbro Battle Beasts Pillager Pig
Day 914: Hasbro Battle Beasts Rainbow Sam
Day 972: Hasbro Battle Beasts Pixilated Pointer
Day 1,084: Hasbro Battle Beasts Sir Sire Horse
Day 1,278: Hasbro Battle Beasts Hardtop Tortoise
Day 1,291: Hasbro Battle Beasts Tanglin Pangolin
Day 1,306: Hasbro Battle Beasts Eager Beaver
Day 1,313: Hasbro Battle Beasts Bodacious Bovine
Day 1,756: Diamond Select Independent Comic Book Minimates Battle Beasts Ruminant and Spyrnus
Day 1,815: Diamond Select Battle Beasts Minimates Stealth Vorin
Day 1,827: Hasbro Battle Beasts Sabre Sword Tiger
Day 1,890: Hasbro Battle Beasts Battling Deer Stalker Chariot
Day 1,905: Diamond Select Battle Beasts Minimates Antalor and Nychirix
Day 1,906: Hasbro Battle Beasts Killer Carp
Day 2,024: Fisher-Price Imaginext Series 11 Collectible Figures Triple Threat Snake
Day 2,074: Hasbro Battle Beasts Octillion Octopus