SDCC 2012 Vorin & Zik
Comic-Con 2012 Exclusive Twin Pack

Battle Beasts Minimates SDCC 2012 Exclusive
Item No.: n/a
Manufacturer: Diamond Select
Includes: Shield, sword, sheath
Action Feature: n/a
Retail: $8.99
Availability: July 2012
Other: Redeco 5 of 8 (known so far)

PREVIOUS
RSS
NEXT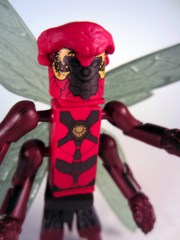 Before I got Vorin & Zik in my hands, I thought what we were getting was old molds with new paint-- I was wrong. While mostly cobbled together from existing parts, Diamond actually gave Vorin a new torso mold so it isn't the same as the previous 4 one-color promotional versions of the figure. And for this, I am happy. This item was a Diamond Select Toys exclusive, which means it was available to their clients-- so some online stores had these for preorder, and a few other stores at the show had them at their booths. I like this. I'd like to see Hasbro and Mattel do this, mostly because I think it does a bang-up job to discourage scalping and flipping at the show, plus it makes things easier for the rest of us.

Since the debut of Battle Beasts Minimates in 2010, Diamond has given us exactly 2 molds. There are 10 figures, but only 2 wholly original molds, so the company has been doing some pretty amazing things with paint and has been rather generous with the promotional one-color (and painted) figures. Zik debuts in this set, and as far as I can tell he isn't in the comic book as of yet. The figure recycles some existing bits and pieces and includes no weapon, but there's a fair amount of detail here. The arms have painted bug detail rather than newly-sculpted limbs, although the black paint on the brown limbs wasn't initially super-obvious. The wings are a translucent green, while much of the rest of the figure comes from some other unusual Minimates. The four-armed long torso is pretty uncommon, and the wings all snap into a backpack. There's a tail too, and about 22 or so points of articulation. For a block figure, that's pretty amazing.

The people behind the line mentioned that Zik was done for the set as other characters weren't necessarily far enough along yet, so this may be the only Minimates figure in this line to have the normal, classic Minimates head and not significant sculpted bits beyond the little hat. Treasure it. (Or don't, whatever.) It's a pretty nifty figure but it needs a spear or something. I'll go find one somewhere, and I wouldn't mind seeing another beast or two with the olde-tyme blocky construction.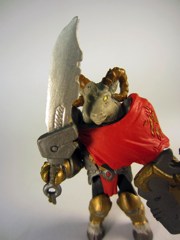 Meanwhile, Vorin manages to impress, mostly because it has a new torso. The previous Vorin figures all had exposed chest armor, while this one has a cape draped over his torso which tweaks the range of movement on his arms a bit. Beyond that, he's pretty similar to the previous Vorins with 12 points of articulation, a sword, a shield, and a sheath backpack for his sword.
As the first-ever painted Vorin, he's now the benchmark by which all future Vorin figures will be judged. (By the end of 2013, we'll probably see about 8 of not 9 or 10 depending on how NYCC goes.) The new sculpt really makes this one more interesting, but the same claw/flame brooch over the cape remains with a new gold pattern on his left shoulder. The sword has multiple colors of paint, as does the shield, and the golden armor looks really snazzy. His yellow eyes are similar to the original vaguely robotic 1980s Battle Beasts and the materials seem a little stronger than previous releases. The joints are stiffer, the sheath pegs in stronger, and the deco is, well, more varied. Many colors usually trumps one color.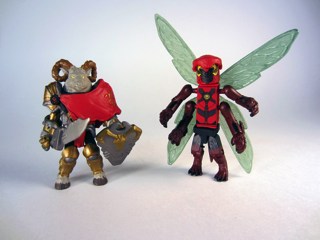 Since this is the first (and only) fully-painted figure set released this year so far, I'm going to suggest that you get it. Especially if it's $9 or so. The same mold was also revealed to be shared with Stealth Vorin, although the standard production version shown at Comic-Con uses the same mold as the first four promotional figures. Zik, as a new character, is also worth your time. I don't care if you say you don't like Minimates. (Really, I don't, I like these figures.) The set is a lot of fun and I'd have paid $9 just to finally get a painted Vorin. Zik's a great bonus and has some really nice sculpted and painted details. Having said that I'm hoping they give Vorin a rest in 2013, unless they plan on doing a vintage-inspired blue version (or go all out and do them in every color Crayola makes). Or maybe Battle-damaged... there's a proud tradition in battle damage.
--Adam Pawlus
Additional Images

See more Diamond Select Toys figures in Figure of the Day:
Day 76: Diamond Select Toys Black and White Wolfman
Day 82: Diamond Select Battle Beasts Minimates SDCC Gold Alligator Action Figure
Day 373: Diamond Select Battle Beasts Minimates Case Red Alligator Action Figure
Day 390: Diamond Select Battle Beasts Minimates C2E2 2012 Red Vorin
Day 395: Diamond Select Battle Beasts Minimates C2E2 2012 Grey Vorin
Day 450: Diamond Select Battle Beasts Minimates SDCC 2012 Vorin & Zik
Day 460: Diamond Select Battle Beasts Minimates SDCC 2012 Gold Vorin
Day 463: Diamond Select Battle Beasts Minimates C2E2 Exclusive Black Alligator
Day 610: Diamond Select Battle Beasts Minimates Gruntos the Walrus & Tate Reynolds
Day 720: Diamond Select Battle Beasts Minimates Shadow Merk
Day 1,324: Diamond Select Toys Aliens vs. Colonial Marines Figure Set
Day 1,756: Diamond Select Independent Comic Book Minimates Battle Beasts Ruminant and Spyrnus
Day 1,815: Diamond Select Battle Beasts Minimates Stealth Vorin
Day 1,905: Diamond Select Battle Beasts Minimates Antalor and Nychirix

See more Battle Beasts figures in Figure of the Day:
Day 82: Diamond Select Battle Beasts Minimates SDCC Gold Alligator Action Figure
Day 373: Diamond Select Battle Beasts Minimates Case Red Alligator Action Figure
Day 374: Hasbro Battle Beasts Sawtooth Shark Action Figure
Day 375: Hasbro Battle Beasts Wolfgang Walrus Action Figure
Day 376: Hasbro Battle Beasts Diving Duckbill Action Figure
Day 377: Hasbro Battle Beasts Spark Shark Action Figure
Day 390: Diamond Select Battle Beasts Minimates C2E2 2012 Red Vorin
Day 391: Hasbro Battle Beasts Anarchy
Day 395: Diamond Select Battle Beasts Minimates C2E2 2012 Grey Vorin
Day 417: Hasbro Battle Beasts Run Amuck Duck
Day 436: Hasbro Battle Beasts Horny Toad
Day 450: Diamond Select Battle Beasts Minimates SDCC 2012 Vorin & Zik
Day 451: Hasbro Battle Beasts Sledgehammer Elephant
Day 460: Diamond Select Battle Beasts Minimates SDCC 2012 Gold Vorin
Day 463: Diamond Select Battle Beasts Minimates C2E2 Exclusive Black Alligator
Day 451: Hasbro Battle Beasts Pillaging Polar Bear
Day 577: Hasbro Battle Beasts Slasher Seahorse
Day 610: Diamond Select Battle Beasts Minimates Gruntos the Walrus & Tate Reynolds
Day 639: Hasbro Battle Beasts Triple Threat Snake
Day 674: Hasbro Battle Beasts Hare Razing Rabbit
Day 720: Diamond Select Battle Beasts Minimates Shadow Merk
Day 723: Hasbro Battle Beasts Pillager Pig
Day 914: Hasbro Battle Beasts Rainbow Sam
Day 972: Hasbro Battle Beasts Pixilated Pointer
Day 1,084: Hasbro Battle Beasts Sir Sire Horse
Day 1,278: Hasbro Battle Beasts Hardtop Tortoise
Day 1,291: Hasbro Battle Beasts Tanglin Pangolin
Day 1,306: Hasbro Battle Beasts Eager Beaver
Day 1,313: Hasbro Battle Beasts Bodacious Bovine
Day 1,756: Diamond Select Independent Comic Book Minimates Battle Beasts Ruminant and Spyrnus
Day 1,815: Diamond Select Battle Beasts Minimates Stealth Vorin
Day 1,827: Hasbro Battle Beasts Sabre Sword Tiger
Day 1,890: Hasbro Battle Beasts Battling Deer Stalker Chariot
Day 1,905: Diamond Select Battle Beasts Minimates Antalor and Nychirix
Day 1,906: Hasbro Battle Beasts Killer Carp
Day 2,024: Fisher-Price Imaginext Series 11 Collectible Figures Triple Threat Snake
Day 2,074: Hasbro Battle Beasts Octillion Octopus

Want to buy this figure? Check Minimates availability at our sponsors:
Entertainment Earth