Mystron
The Man from Hollow Earth

Outer Space Men Infinity Edition
Item No.: n/a
Manufacturer: Four Horsemen
Includes: Two-piece helmet, alternate arms, Gargoyle gun, bat wing staff, devil tail, wings
Action Feature: n/a
Retail: $50.00 (sold as a set with Alpha 7, Electron+, and Commander Comet)
Availability: January 2012
Other: Also sold in a $26 bundle with Commander Comet

PREVIOUS
RSS
NEXT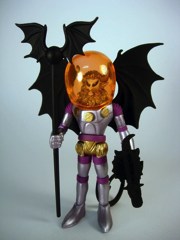 While I sometimes complain that some Outer Space Men figures felt a little light in terms of value, Mystron is not one of them. He's packed with parts and pieces, and has a paint job that should knock your socks off. Just take a look at the head close-up shots. That gold paint looks better than pretty much any other gold action figure I've bought in years, including releases from Hasbro and Mattel. It's gorgeous. He wears an equally gorgeous silver and purple suit, with gold highlights. One of the three bolts on his chest is removable, too, a fine example of making the figure more customizable (and adding cost) when it clearly wasn't necessary.
The level of contrast in his face is amazing. You've got chaos in his beard surrounding a plain white face, and the white of his face is set against black voids for his eyes, which in turn hold shiny gold peepers through which he views the galaxy. While the concept of "Hollow Earth" doesn't ring as true to me as Pluto or Mars, the figure has a preposterous amount of personality, with pants to match. Seriously, look at the puffy gold shorts. It's all fantastic.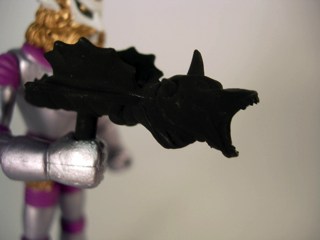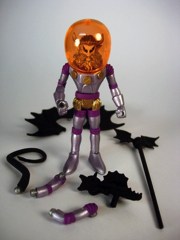 The figure's sculpt is the same, unmatched quality you've come to expect from the line and the accessories are no different. A new gun was developed by series creator Mel Birnkrant, after gargoyles he saw which were inspired by events which transpired when he was a-courtin' his lady. The black paint is a weird texture, which looks (but isn't) velvety. It's hard to describe, so yeah, go look at the picture. His wings and bat staff are similarly painted, plus a new tail is included so you can make him just look a little more devilish. You know, if the horns, the beard, and the fact that he lives "down there" weren't enough for you.
In light of recent price increases by Hasbro and Mattel, these figures look better all the time. What would you rather have, a $9 Battle Droid based on a 2002 mold, or a $13 fully-painted, incredibly-detailed space alien from an unreleased late-1960s concept? Sure, the orange helmet feels a little fragile, but you're an adult and you can be careful. Also, he's suffered a few nosedives off my shelf (stands, anyone?) and so far nothing has broken. The articulation is the same great Glyos construction I've written about in other reviews so you should know what to expect: greatness. Even the packaging art is spectacular. I appreciate that the wings and tail are removable so you can fit him in 3 3/4-inch scale vehicles, plus you can swap parts with other figures from the line. Modern action figures for collectors don't get much better than this. Hasbro may have these beat in terms of cost and the overall range of motion, but I defy you to find anything that looks this cool for the price.
--Adam Pawlus
Additional Images

Click here to see more Four Horsemen figures in Figure of the Day.

Click here to see more Outer Space Men figures in Figure of the Day.

Click here to see more Glyos Compatible figures in Figure of the Day.