Verexxan Armorvor
Orange fur, Grey armor, Red visor

Glyos Action Figures
Item No.: n/a
Manufacturer: Onell Design
Includes: n/a
Action Feature: Alternate helmet head, backpack
Retail: $8.00
Availability: October 20, 2012
Other: The Grey Repaint

PREVIOUS
RSS
NEXT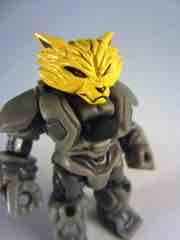 Our pal the Verexxan Armorvor seems to be built off the same basic color layout as the Venjorun Armorvor from earlier this year, except it's grey rather than red... with a few other changes. His eyes are red, his accent color is still a grey, and the furry part of his head is a pale orange rather than a bright white.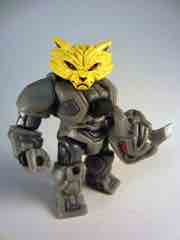 There are over six flavors of the 2 1/2-inch release, all of which build on the armored space wolf concept. While that may sound like a dull premise, the interesting reality here is that these have all been speedy sell-outs, meaning that some of the figures are tough to find on the secondary market. The Veraxxan version was limited to one per person, so (unsurprisingly) it hasn't been super-common on the secondary market.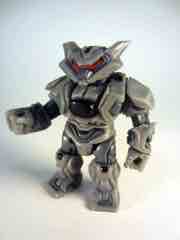 As usual, the figure is made of about about 17 parts including the alternate heads and removable Black Core. (Some people don't know the black thing in the chest pops off. Allow me to assure you, it does.) The parts are swappable with your other Glyos figures, which I assume you know, but it is usually worth repeating because hey, someone's stumbling on this as their first exposure to these things.
For eight bucks, it's really a great figure. But you'll never see this one for that, so eh, yeah. These figures are frequently customized, but I don't know if people are going to (and I mean this with love) ruin the figure for some custom project. If they do, well, I guess that means yours is better trade fodder. The orange fur is a nice touch, and the overall look fit in well with its quasi-Halloween launch window. It's got a nice "fire on top of ash" vibe going here, and the grey really brings out the detail nicely.
So after these last few batches, I'm sure we've barely scratched the potential for this mold and we'll have dozens more in the coming years. I hope we see some other creatures in this suit, though, because it's a really solid concept and a great update to the mini-figures of the Battle Beasts tradition. I never expected to have quite so many wolves, but hey, I never expected to see a lot of things. Nicely done. Get an Armorvor if opportunity and fortune permits.
--Adam Pawlus
Additional Images


Click here to see more Onell Design figures in Figure of the Day.
Click here to see more Glyos Compatible figures in Figure of the Day.