Stealth Armorvor
Clear as a Clear Bell

Glyos Action Figures
Item No.: n/a
Manufacturer: Onell Design
Includes: n/a
Action Feature: Alternate helmet head, backpack
Retail: $8.00
Availability: September 5, 2012
Other: Obligatory clear redeco. Designed by Matt Doughty, sculpted by Jason Frailey, prototyped by Marty Hansen, and beloved by all.

PREVIOUS
RSS
NEXT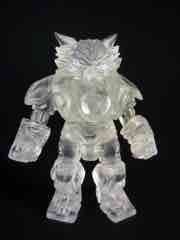 The third Armorvor to sell out is the clear, unpainted, colorless Stealth Armorvor. While I personally am not too keen on clear figures, Onell Design seems to have a plastic that really shines if lit properly. I haven't seen a lot of discoloration either, so it's (so far, at least) easy to see this as quality stuff. Many fans buy clear figures not to keep, but to customize by dying them red or green or some other color and you can find some really spiffy designs on the October Toys Forums and elsewhere.
As a redeco of the previous 2 1/2-inch release, it's nice. I dig black repaints as a rule, especially with the added greenish coloring. The original red Venjorun Armorvor is one of the best figures of 2012 in terms of raw surprise and fun. The clear redeco is, well, a clear redeco. It looks good, the quality of materials is good, but clear plastic can suck all the personality right out of a figure. Of course, it's a "stealth" figure so it being invisible is sort of the point.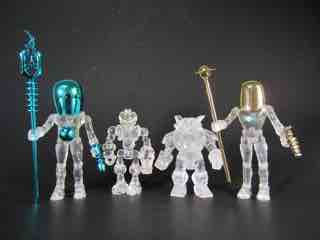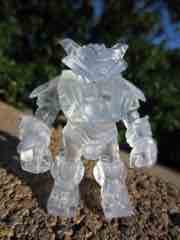 Since the Armorvor have been portrayed in the Onell Design animation and comics as something of a hungering, unstoppable power-made menace it makes sense that eventually they would have the ability to turn invisible to stalk their prey. It worked for Predator and it should work for these guys. Everything from the black (now clear) core to the alternate head is present, including the swell backpack. The mold seems to be showing no signs of degradation, and it's my hope (and expectation) Onell reissues these later.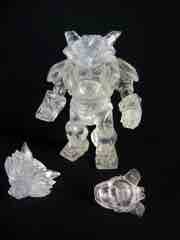 For eight bucks, it's a fun toy and pretty good custom fodder. While the red and black ones are the most fun to futz with from the first three (as I write this in October, there are only 3 Armorvor figures) I found that the most fun I had with it was with a small LED flashlight and other clear plastic. If you put a yellow or a red light through him, he glows in really cool ways. Not that I want to see Onell integrate expensive electronics into the toys, but if they ever did a backpack with multi-colored LEDs on the back it adds a shocking amount of personality to the figure.
I see this figure more as raw materials for a customizer than the coolest thing for a collector to track down, but I had to have it because I just love the design so much. If you grab some custom GodBeast heads, you'll probably wish you had some customizing skills as well. It's a great figure design and a good base for a custom, but the short supply may keep too many of these from showing up for sale on the secondary market.
--Adam Pawlus
Additional Images

Click here to see more Onell Design figures in Figure of the Day.
Click here to see more Glyos Compatible figures in Figure of the Day.