Dr. Orpheus
Series 5

Venture Bros. Retro Action Figures
Item No.: ???
Manufacturer: Bif Bang Pow!
Includes: 2 layers of removable cloaks
Action Feature: n/a
Retail: $19.99
Availability: July 2011
Other: Limited to 3,000 pieces

PREVIOUS
RSS
NEXT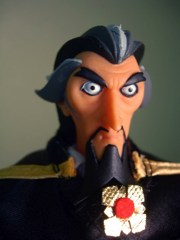 Watch out, it's a Dracula! Dr. Orpheus is a rare ray of sincerity in the wildly cynical Venture Bros. TV show, and I should also be sincere right off the bat-- be careful when futzing with his cloak. The ornament under his beard is glued on and popped off basically right as I touched the velcro, so be prepared to do some fixing if you play with this one a lot.
...as always, I consulted on this line, so do keep that in mind when reading this very objective and in no way self-promoting and also fanboyish review.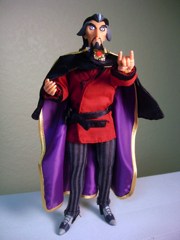 As usual, the level of detail is pretty much what you want-- the Mego look and feel was particularly important with Orpheus, who actually called out "Mego doll" toys to his partners in the Order of the Triad. The 8-inch action figure captures the cheapness in some spots but lavishes detail in others-- the c.shtml is not quite what you might hope for, but the two cloaks being easily removed to reveal his outfit underneath was quite nice. Also, he has the vertical stripes-- to draw the eyes down-- as well as appropriate footwear.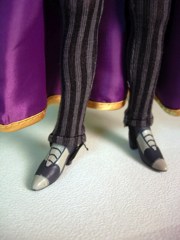 The head sculpt and left hand are clearly new sculpting, as are the boots/feet, and I think they did a bang-up job replicating the 2D drawings in the 3D world. I also think his eyes could have benefitted from slightly more decoration, the card art shows some shadows under his eyes and they're also a little less round and a little more stern. So it's close... but I think anyone with a paint brush might be able to bring Byron Orpheus just a little closer to what may constitute "perfection." Still... it's pretty good. There's a lot of cloth bits on this figure compared to the rest of the line, and this one seems quite lavish by comaprison.
It's not perfect but as the only Dr. Orpheus toy-- there's also a bobble head-- I'd say this is the best of the bunch so far. The head does need some work, and the jewel for his neck was certainly disappointing to have flake off in my hand mere seconds after snapping the photos for this review, but I think that can be fixed with the right kind of glue. Maybe. As soon as I figure out which kind it is. For you carded collectors, this should be added to your stash immediately. If you open your figures, well, be careful, and don't be stingy with the paint. There's a lot to like about this figure, but the problem with that is that it means there's more that may need a little extra attention once you crack him open. I wouldn't make this your first purchase in the line, but due to the popularity of the character you may as well make him #3 or so.
--Adam Pawlus
Additional Images

See more Bif Bang Pow! action figures in Figure of the Day:
Day 3: Venture Bros. The Monarch Action Figure
Day 192: Venture Bros. Dean Venture Action Figure
Day 289: Venture Bros. Jonas Venture Action Figure
Day 297: Venture Bros. Rusty Venture Action Figure
Day 303: Bif Bang Pow! Venture Bros. Dr. Girlfriend Action Figure
Day 308: Bif Bang Pow! Doctor Who Fourth Doctor Action Figure
Day 313: Bif Bang Pow! Venture Bros. Dr. Orpheus Action Figure
Day 362: Bif Bang Pow! Venture Bros. Hank Venture Action Figure
Day 439: Bif Bang Pow! Venture Bros. Phantom Limb Action Figure
Day 490: Bif Bang Pow! Venture Bros. Bloody Brock Samson Action Figure
Day 499: Bif Bang Pow! Venture Bros. Brock Samson Action Figure
Day 666: Bif Bang Pow! Venture Bros. Dean Venture Action Figure
Day 666: Bif Bang Pow! Venture Bros. Hank Venture Action Figure
Day 699: Bif Bang Pow! Venture Bros. Molotov Action Figure
Day 732: Bif Bang Pow! Venture Bros. Dr. Mrs. The Monarch Action Figure
Day 771: Bif Bang Pow! Venture Bros. Brock Samson Action Figure
Day 867: Bif Bang Pow! Venture Bros. Unpainted Test Shot Monarch Action Figure
Day 970: Bif Bang Pow! The Twilight Zone Henry Bemis Action Figure
Day 1,003: Bif Bang Pow! Venture Bros. Monarch Action Figure
Day 1,027: Bif Bang Pow! The Twilight Zone Kanamit (Work Uniform) Action Figure
Day 1,054: Bif Bang Pow! Star Trek: The Next Generation Lieutenant Worf
Day 1,063: Bif Bang Pow! The Twilight Zone Talky Tina Action Figure
Day 1,388: Bif Bang Pow! Peg Pals Batman Armored
Day 1,928: Bif Bang Pow! DC Comics Pin Mate Wonder Woman
Day 2,134: Bif Bang Pow! The Twilight Zone Gremlin

See more Venture Bros. figures in Figure of the Day:
Day 3: Venture Bros. The Monarch Action Figure
Day 192: Venture Bros. Dean Venture Action Figure
Day 289: Venture Bros. Jonas Venture Action Figure
Day 297: Venture Bros. Rusty Venture Action Figure
Day 303: Bif Bang Pow! Venture Bros. Dr. Girlfriend Action Figure
Day 313: Bif Bang Pow! Venture Bros. Dr. Orpheus Action Figure
Day 362: Bif Bang Pow! Venture Bros. Hank Venture Action Figure
Day 439: Bif Bang Pow! Venture Bros. Phantom Limb Action Figure
Day 490: Bif Bang Pow! Venture Bros. Bloody Brock Samson Action Figure
Day 499: Bif Bang Pow! Venture Bros. Brock Samson Action Figure
Day 666: Bif Bang Pow! Venture Bros. Hank Venture Action Figure
Day 699: Bif Bang Pow! Venture Bros. Molotov Action Figure
Day 732: Bif Bang Pow! Venture Bros. Dr. Mrs. The Monarch Action Figure
Day 771: Bif Bang Pow! Venture Bros. Brock Samson Action Figure
Day 867: Bif Bang Pow! Venture Bros. Unpainted Test Shot Monarch Action Figure
Day 1,003: Bif Bang Pow! Venture Bros. Monarch Action Figure

Want to buy this figure? Check Venture Bros. availability at our sponsors:
Entertainment Earth