Commander Comet
The Man from Venus by way of Action Figure Xpress

Outer Space Men Beta Series Action Figure Xpress Comic Con Exclusive 2011
Item No.: n/a
Manufacturer: Four Horsemen
Includes: Two-piece helmet, winged staff, crossbow, bent elbows
Action Feature: n/a
Retail: $25.00 (sold as a set with Mystron)
Availability: October 2011
Other: Second release of Commander Comet in this line

PREVIOUS
RSS
NEXT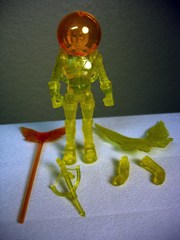 Arguably the least fanciful of the aliens in this line is Commander Comet, the Man from Venus who may as well be an angel or some dude from Earth. The bio on the packaging indicates his people visited ancient Earth and enjoyed Greece, so I guess there's an Icarus vibe. (He does remind one of Pit, who would come 20 years later and half a world away.) Anyway, where was I? Right. This Beta Phase version is limited to about 300 pieces and was sold at New York Comic Con first, and is cast in yellow plastic. The previous release was a clearish yellowy orange, so it's not exactly a huge difference-- compared to the contrast between 2010 releases, it's actually kind of disappointing it wasn't like black or green or something not closely related to orange.
At his highest point on his wings, Commander Comet stands about 4-inches tall, and a bit. His structure is similar to other figures in the line, with about 12 meaningful points of articulation plus a joint at the wings, which you won't be moving much. The space suit is feathered, but retains the accordion joints of the original bendable figures from Colorforms over 40 years ago. He retains the crossbow from the original, but the staff is new to the modern action figure. I should note, the crossbow in my set came through smushed-- I dipped it in boiling water to reshape it back to a more-or-less normal form. Unlike plastic toys from other companies, these seem a little more resistant to being treated with crazy hot water.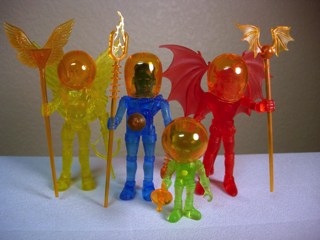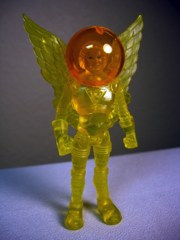 The staff is just as good as the previous release, although mine had a dent in the Alpha Phase-- this one is molded fine, but has a bubble in it and that's one of the downers of clear plastic. He can hold his accessories just fine, and the color looks great with the yellow figure.
While Alpha 7's Beta Phase figure is probably my least favorite of the wave, Comet is second-to-last. There's nothing really wrong with it if you missed the Alpha version, but it may not be different enough for those of us who picked up the entire collection to date. It's also pretty cheap, relatively speaking, so you shouldn't have to worry about overpaying for it if you want one.
--Adam Pawlus
Additional Images

Click here to see more Four Horsemen figures in Figure of the Day.

Click here to see more Outer Space Men figures in Figure of the Day.

Click here to see more Glyos Compatible figures in Figure of the Day.