SDCC 2012 Gold Vorin
Gold Premium Figure

Battle Beasts Minimates SDCC 2012 Exclusive
Item No.: n/a
Manufacturer: Diamond Select
Includes: Shield, sword, sheath
Action Feature: n/a
Retail: Freebie
Availability: July 2012
Other: Redeco 4 of 8 (known so far)

PREVIOUS
RSS
NEXT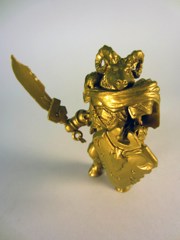 Since his mold was done first, it seems Gold Vorin is the go-to mold for exclusive Minimates this year. At Comic-Con 2012 in San Diego, blue clear figures were distributed to fans at the Diamond Select Toys booth and I'm not 100% sure everywhere this version ended up. There was an industry party for Heavy Metal Magazine (and others) which had some Battle Beasts involvement, and this was in the sack of goodies at the end of the night along with, awesomely, old Archie Teenage Mutant Ninja Turtles Adventures and Mighty Mutanimals comics. I loved those as a kid, but I digress. Gold Vorin! So far seemingly a party exclusive which I hear was also handed out to people who asked questions at the Minimates panel.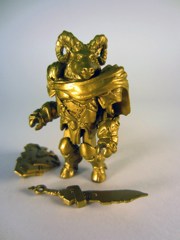 Cast in a white or milky-white plastic, this figure was painted gold for a consistent metallic color which brings the detail out quite nicely. While the grey "primer" color did a good job letting you see all the details, this gold paint makes everything pop.
By now I assume you've read the other Vorin reviews so you know the drill. His head, hands, and legs are placed on a standard Minimates figure body with an armor/costume piece with a cape. There's also a little armored bit over the crotch region. The sculpting is very good, and there's a removable sheath for the sword on his back. Overall it seems to hold together quite well, too, but gold paint feels more like a display piece than a toy. Given its limited nature that's really a virtue. I never thought about collecting gold repaints as a sub-category before but now I'm giving it some thought. They look nice together. I'd suggest grabbing Gold Vorin if you see one and you're willing to pay the asking price which, so far, seems a little high on the secondary market.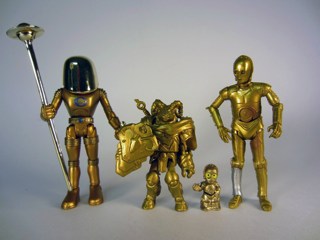 Vorin watch: Clear Red C2E2. Grey C2E2. Clear Blue SDCC. Gold SDCC. Painted SDCC. Stealth Incentive Figure. TRU Painted. Comic/Specialty Painted. That's a lot of Vorins! (They could probably do one to look like the original Ram figure from the 1980s line too still.) What's next, color changing? (That might be cool, actually. It worked for OMFG.)
--Adam Pawlus
Additional Images

See more Diamond Select Toys figures in Figure of the Day:
Day 76: Diamond Select Toys Black and White Wolfman
Day 82: Diamond Select Battle Beasts Minimates SDCC Gold Alligator Action Figure
Day 373: Diamond Select Battle Beasts Minimates Case Red Alligator Action Figure
Day 390: Diamond Select Battle Beasts Minimates C2E2 2012 Red Vorin
Day 395: Diamond Select Battle Beasts Minimates C2E2 2012 Grey Vorin
Day 450: Diamond Select Battle Beasts Minimates SDCC 2012 Vorin & Zik
Day 460: Diamond Select Battle Beasts Minimates SDCC 2012 Gold Vorin
Day 463: Diamond Select Battle Beasts Minimates C2E2 Exclusive Black Alligator
Day 610: Diamond Select Battle Beasts Minimates Gruntos the Walrus & Tate Reynolds
Day 720: Diamond Select Battle Beasts Minimates Shadow Merk
Day 1,324: Diamond Select Toys Aliens vs. Colonial Marines Figure Set
Day 1,756: Diamond Select Independent Comic Book Minimates Battle Beasts Ruminant and Spyrnus
Day 1,815: Diamond Select Battle Beasts Minimates Stealth Vorin
Day 1,905: Diamond Select Battle Beasts Minimates Antalor and Nychirix

See more Battle Beasts figures in Figure of the Day:
Day 82: Diamond Select Battle Beasts Minimates SDCC Gold Alligator Action Figure
Day 373: Diamond Select Battle Beasts Minimates Case Red Alligator Action Figure
Day 374: Hasbro Battle Beasts Sawtooth Shark Action Figure
Day 375: Hasbro Battle Beasts Wolfgang Walrus Action Figure
Day 376: Hasbro Battle Beasts Diving Duckbill Action Figure
Day 377: Hasbro Battle Beasts Spark Shark Action Figure
Day 390: Diamond Select Battle Beasts Minimates C2E2 2012 Red Vorin
Day 391: Hasbro Battle Beasts Anarchy
Day 395: Diamond Select Battle Beasts Minimates C2E2 2012 Grey Vorin
Day 417: Hasbro Battle Beasts Run Amuck Duck
Day 436: Hasbro Battle Beasts Horny Toad
Day 450: Diamond Select Battle Beasts Minimates SDCC 2012 Vorin & Zik
Day 451: Hasbro Battle Beasts Sledgehammer Elephant
Day 460: Diamond Select Battle Beasts Minimates SDCC 2012 Gold Vorin
Day 463: Diamond Select Battle Beasts Minimates C2E2 Exclusive Black Alligator
Day 451: Hasbro Battle Beasts Pillaging Polar Bear
Day 577: Hasbro Battle Beasts Slasher Seahorse
Day 610: Diamond Select Battle Beasts Minimates Gruntos the Walrus & Tate Reynolds
Day 639: Hasbro Battle Beasts Triple Threat Snake
Day 674: Hasbro Battle Beasts Hare Razing Rabbit
Day 720: Diamond Select Battle Beasts Minimates Shadow Merk
Day 723: Hasbro Battle Beasts Pillager Pig
Day 914: Hasbro Battle Beasts Rainbow Sam
Day 972: Hasbro Battle Beasts Pixilated Pointer
Day 1,084: Hasbro Battle Beasts Sir Sire Horse
Day 1,278: Hasbro Battle Beasts Hardtop Tortoise
Day 1,291: Hasbro Battle Beasts Tanglin Pangolin
Day 1,306: Hasbro Battle Beasts Eager Beaver
Day 1,313: Hasbro Battle Beasts Bodacious Bovine
Day 1,756: Diamond Select Independent Comic Book Minimates Battle Beasts Ruminant and Spyrnus
Day 1,815: Diamond Select Battle Beasts Minimates Stealth Vorin
Day 1,827: Hasbro Battle Beasts Sabre Sword Tiger
Day 1,890: Hasbro Battle Beasts Battling Deer Stalker Chariot
Day 1,905: Diamond Select Battle Beasts Minimates Antalor and Nychirix
Day 1,906: Hasbro Battle Beasts Killer Carp
Day 2,024: Fisher-Price Imaginext Series 11 Collectible Figures Triple Threat Snake
Day 2,074: Hasbro Battle Beasts Octillion Octopus

Want to buy this figure? Check Minimates availability at our sponsors:
Entertainment Earth