Sabre Sword Tiger
Japanese name "Platinum Tiger"

Battle Beasts Series 2
Item No.: #50
Manufacturer: Hasbro
Includes: Platinum Sword weapon, second randomly-selected figure
Action Feature: n/a
Retail: approx. $3.99
Availability: ca. 1987
Other: This sample has a "Wood" rubsign

PREVIOUS
RSS
NEXT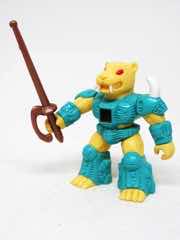 Of all the toys I expected to see remade in 2017, Sabre Sword Tiger was not one of them. Hasbro put one out in Transformers as "Fengul," a Titan Master companion to Grotusque. It's the second Battle Beasts head companion figure we've seen so far, and this was as good of a time as any to look at its inspiration from thousands of years ago, back in the 1980s.
Molded in the creamy fur color, the red-eyed saber tooth tiger has painted teal armor and looks pretty sharp. The figure came about in the late 1980s, when toys started transitioning from earth tones or muted colors to brighter colors - this figure's armor stood out among his peers, giving us a bright armored kitty cat of death. His big teeth are painted, as are ornamental fangs on his shoulders. Most figures didn't have two colors of paint on their arms, so this fellow is something of an exception.
It's almost a hairless cat, thanks to the limited detail of the time. Stories I've heard from Hasbro workers at the time indicated the toolmasters in China and Hong Kong rubbed their hands with glee when a toy had more lines, more fur, or other markings - that meant increased tooling fees, and it could get really expensive. A couple of leg muscles and some teeth bring the figure to life, with a lot of vents in the armor. There are no whiskers, or furry bits - it's just a typical, somewhat simple 1980s toy figure with robotic red eyes and articulated arms. And, for some reason, a fencing sword - an amusing sporty weapon for a creature famous for its razor-sharp fangs.
With jointed shoulders, a weapon, and a random rubsign sticker, it's a simple toy that aged pretty well. My sample was bought in a collection via eBay a few years ago, and they're still pretty cheap - about $5 with no weapon. It's a simple figure at only a couple of inches tall, but it has an open mouth with a lot of wide-eyed personality. It was fun to see Hasbro give this figure a bit of a nod, and I'd say it's a fun addition to any Battle Beasts toy box. I think it's also the only prehistoric creature to see release in the USA for this line... so far.
--Adam Pawlus
Additional Images

Click here to see more Hasbro figures in Figure of the Day.
See more Battle Beasts figures in Figure of the Day:
Day 82: Diamond Select Battle Beasts Minimates SDCC Gold Alligator Action Figure
Day 373: Diamond Select Battle Beasts Minimates Case Red Alligator Action Figure
Day 374: Hasbro Battle Beasts Sawtooth Shark Action Figure
Day 375: Hasbro Battle Beasts Wolfgang Walrus Action Figure
Day 376: Hasbro Battle Beasts Diving Duckbill Action Figure
Day 377: Hasbro Battle Beasts Spark Shark Action Figure
Day 390: Diamond Select Battle Beasts Minimates C2E2 2012 Red Vorin
Day 391: Hasbro Battle Beasts Anarchy
Day 395: Diamond Select Battle Beasts Minimates C2E2 2012 Grey Vorin
Day 417: Hasbro Battle Beasts Run Amuck Duck
Day 436: Hasbro Battle Beasts Horny Toad
Day 450: Diamond Select Battle Beasts Minimates SDCC 2012 Vorin & Zik
Day 451: Hasbro Battle Beasts Sledgehammer Elephant
Day 460: Diamond Select Battle Beasts Minimates SDCC 2012 Gold Vorin
Day 463: Diamond Select Battle Beasts Minimates C2E2 Exclusive Black Alligator
Day 451: Hasbro Battle Beasts Pillaging Polar Bear
Day 577: Hasbro Battle Beasts Slasher Seahorse
Day 610: Diamond Select Battle Beasts Minimates Gruntos the Walrus & Tate Reynolds
Day 639: Hasbro Battle Beasts Triple Threat Snake
Day 674: Hasbro Battle Beasts Hare Razing Rabbit
Day 720: Diamond Select Battle Beasts Minimates Shadow Merk
Day 723: Hasbro Battle Beasts Pillager Pig
Day 914: Hasbro Battle Beasts Rainbow Sam
Day 972: Hasbro Battle Beasts Pixilated Pointer
Day 1,084: Hasbro Battle Beasts Sir Sire Horse
Day 1,278: Hasbro Battle Beasts Hardtop Tortoise
Day 1,291: Hasbro Battle Beasts Tanglin Pangolin
Day 1,306: Hasbro Battle Beasts Eager Beaver
Day 1,313: Hasbro Battle Beasts Bodacious Bovine
Day 1,756: Diamond Select Independent Comic Book Minimates Battle Beasts Ruminant and Spyrnus
Day 1,815: Diamond Select Battle Beasts Minimates Stealth Vorin
Day 1,827: Hasbro Battle Beasts Sabre Sword Tiger
Day 1,890: Hasbro Battle Beasts Battling Deer Stalker Chariot
Day 1,905: Diamond Select Battle Beasts Minimates Antalor and Nychirix
Day 1,906: Hasbro Battle Beasts Killer Carp
Day 2,024: Fisher-Price Imaginext Series 11 Collectible Figures Triple Threat Snake
Day 2,074: Hasbro Battle Beasts Octillion Octopus