Neo Granthan Gladiator
Silver Plastic, Orange Face

Glyos Action Figures
Item No.: n/a
Manufacturer: Onell Design
Includes: Classic Armorvor helmet, backpack
Action Feature: n/a
Retail: $10.00
Availability: January 25, 2015
Other: Triple Granthan Debut

PREVIOUS
RSS
NEXT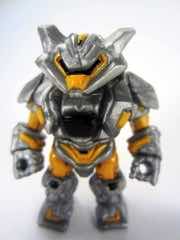 I shot this one a couple of years ago, but I forgot to tell you how much I dug the Neo Granthan Gladiator. The silver mold was one of three figures released when the dinosaur-like "Neo Granthan" head made its debut just over two years ago. Prior to that, the Armorvor molds came with wolf heads. I really dug the wolf head, the Neo Granthan is nice, but I've always wished we would see more animal noggins on a regular basis. Such things are not easily supported by artisanal batch action figures. There have been quite a few Neo Granthans since the debut, but not exactly an abundance of silver ones.
The 18-piece figure is basically the same as it ever was, and I know that you know that what you're really buying at this point would be Matt Doughty's eye for color. The swirly silver plastic looks gorgeous, and so far it's proven quite sturdy - swirly ABS plastic is the kind of thing that makes toy collectors nervous, particularly Transformers collectors, but so far these seem pretty solid.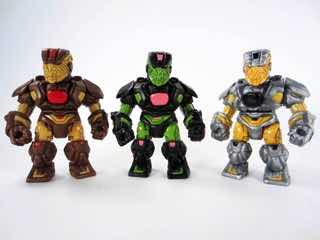 Space dinosaurs are a good idea, and I wish to see more of them in the future. This particular one has a silver suit, orange skin, and a black core at the middle of it all. The swirly silver does an acceptable job changing how you might perceive the sculpt of the figure - the swirls are more eye-catching than some of the physical grooves carved in the figure, although the orange paint does a great job of making sure you don't miss those details precisely as created.
The backpack is easily removed or installed, and you can swap a dinosaur head for a robot wolf helmet head. Added bonus: wolf robo helmet head has a dog on the flip side. You probably know this if you're a Glyos fan, but you are also probably not reading this if you're a Glyos fan - you know these are good, durable figures that reward futzing and customization.
The general "bubble" on Glyos toys seems to be short-lived, thanks to figures getting new colorways several times a year. You can snag this one on eBay for less than twice its initial asking price, which isn't really bad considering the run sizes are in the low hundreds. I think this is a stellar example of the toy with striking colors, but if you're color-agnostic Onell Design will probably have a new deco that will blow your mind in the coming months. I don't know how they do it, but they do - maybe it's glow, maybe it's pink glitter, but they come up with something you didn't know you wanted. This figure is notable in that it was one of three figures in January, 2015 that debuted the head sculpt - so if you have to have the first one, this needs to be on your shopping list.
--Adam Pawlus
Additional Images


Click here to see more Onell Design figures in Figure of the Day.
Click here to see more Glyos Compatible figures in Figure of the Day.