Neo Granthan Skaterriun Mimic
Skate Wars, but Armorvor Form

Glyos System Series
Item No.: No. n/a
Manufacturer: Onell Design
Includes: Alternate wolf head, backpack accessory
Action Feature: Pops apart
Retail: $12.00
Availability: April 5, 2017
Other: Exquisite Paint Guy

PREVIOUS
RSS
NEXT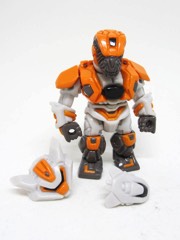 Refugees from the past! Standing about 3-inches tall, a Neo Granthan Skaterriun Mimic is named for Matt Doughty's elusive "Skate Wars" concept that he whipped up in the 7th grade. The sci-fi military figures looked pretty cool, and the Sketerriun figures are a nod to it. As usual, the nifty new color schemes got applied to many of the figures in the Onell Design catalog including the lovely Armorvor/Neo Granthan buck. It's good.
Unless I missed one, this figure debuts new paint masks - the lower legs and feet are painted, as are the shoulders and upper chest. The figure's build is exactly the same as previous releases, but there's a slight difference in how it feels as there's a little more friction on the joints where the sockets were painted. The paint is rather thick, so you might feel like the joints are stuck at first. This kind of problem is exceedingly uncommon on Glyos figures, but this kind of almost-stuck feel is something I've been dealing with more from Hasbro and Mattel as of late. Nothing snapped and no boiling water or hair dryers were needed to make them move, but I bet you'll definitely notice a slightly different feel when you start playing with the figure once you open the bag.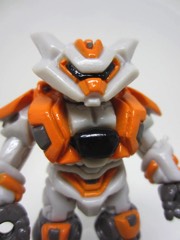 Onell Design cast this figure in a very light, pale grey color with tons of paint. Tons. I'm assuming this is costing Mr. Doughty a fortune, as the hands and lower legs are coated with dark grey and orange highlights. The head of the Neo Granthan is almost completely coated in paint aside from a tiny bit of the neck, complete with his grey face and orange helmet. The wolf head is mostly unpainted save for a couple of details and the eyes, and the backpack just has a bit of black on it. If you'll forgive the pun, it's an impressive beast.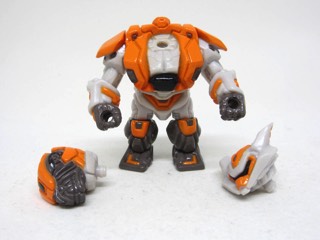 As always, you can pop apart the figure at each joint. I don't do this as much as I used to, because I'm not as keen to build things - but the option to do so has been appreciated. You can take a clear blue figure and pop in the arm and pretend he has ice powers, or just switch the two included heads to your liking, or remove a fist and slap on something in the wrist socket to serve as a cool weapon. These figures were future-proofed quite nicely, which is good given that the very first Venjorun Armorvor [FOTD #469] debuted in 2012 and the figure is still selling in new colors. Granted he has a new head these days, but the design remains sturdy and otherwise wonderful.
The greys and orange make me think of Portal and other Valve-adjacent properties, but I don't know what specifically inspired the Onell Design crew to use these colors. The orange is incredibly bright, but not black light reactive. It looks stupendously sharp to the naked eye, though, even in my deep dark basement. Since these guys tend to sell out quickly, I have to give you my usual advice: if you see it cheap on eBay, especially in a lot, go get it. Otherwise keep an eye on the Onell Design store for their next release, and buy the next new color edition if it suits your fancy. They aren't doing quite as many Armorvor/Granthan figures as of late, so be ready between now and the end of the year to get yourself the next new one.
--Adam Pawlus
Additional Images


Click here to see more Onell Design figures in Figure of the Day.
Click here to see more Glyos Compatible figures in Figure of the Day.