Decepticon Nitro
Headmeister

Transformers The Last Knight Premier Edition Voyager
Item No.: Asst. C0891 No. C2405
Manufacturer: Hasbro
Includes: Removable head, missile banks
Action Feature: Transforms from Robot to Jet
Retail: $29.99
Availability: July 2017
Other: Sorta Like Shockwave

PREVIOUS
RSS
NEXT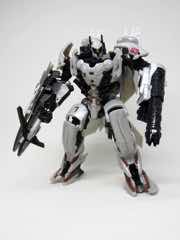 Sometimes when I get Transformers I take a ton of pictures and forget to write the review - like with Decepticon Nitro. I got him in July and mostly dig it - what Hasbro did here is really sort of great. It's a movie toy, but the head pops off revealing a Titan Master-compatible socket. You can give him heads from other figures if you like, including the recently-released Cogman or any Titans Return toy from the past year and change. The vehicle cockpit can seat a tiny robot, but the head cannot transform - so it's a nice extra feature, a real toy element.
Articulation of this 7 1/2-inch robot is pretty good. The left shoulder doesn't lock particularly well, which is a shame because a telescoping gatling gun requires some degree of pressure and you're going to shift it loose. The right arm has a fold-out crossbow of sorts. The figure's build has more movement than I would expect, and generally looks great with lots of grey and some silver paint. The robot has a lot of personality, but the face, not so much.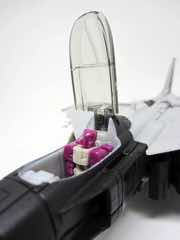 The cyclops looks a lot like a Shockwave, which makes me wonder what happened to the purple recolor. Ah well. The toy is pretty striking as is with lots of rounded bits, so it looks like it could easily fit in with the modern comic books just as much as the movies. There aren't any jagged bits to snap off, either. It's just a nice big robot.
Transformation is a pain - the backpack is made of the wings, and no matter what I seem to pop pieces off of it going from one mode to another. This bugs me, because it's a great toy as a robot and a fun toy as a jet - just getting it from A to B requires more patience and clearly some order of operations beyond my capability of understanding.
The plane is pretty - the clear canopy that seats a Titan Master figure (sold separately) really brings it to life. You've got a landing skid and a suitably plane-y thing to gawk at. I can't fault it - most jets just sit there, this one has some interactivity. You can even pop on those 5mm missile pods (or other accessories) if you like to keep it interesting. This one is notable in that it adds play features rather than merely transforming and collecting dust.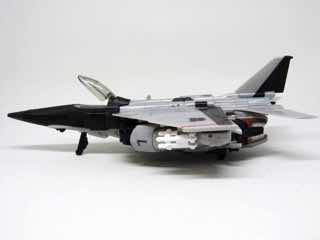 As the only Nitro Zeus toy, you may as well get it. I'd even say Generations fans might want it thanks to the compatibility with other toys. It's complex, fiddly, and interesting to look at - plus it's a new character. This may not sound like a big deal, but consider that the movie line had 6 toys in the Voyager class, and this is the only one that didn't have several other toys in the marketplace already. If you want something different, this is it.
--Adam Pawlus
Additional Images

Click here to see more Hasbro figures in Figure of the Day.
Click here to see more Transformers figures in Figure of the Day.

Want to buy this figure? Check Transformers availability at our sponsors:
Entertainment Earth