Megatron
Big, Mean, Neat

Transformers The Last Knight Premier Edition Leader
Item No.: Asst. C0897 No. C1341
Manufacturer: Hasbro
Includes: 1 sword, 2 flame projectiles
Action Feature: Transforms from Robot to Cybertronian Jet
Retail: $49.99
Availability: June 2017
Other: I'm sufficiently impressed.

PREVIOUS
RSS
NEXT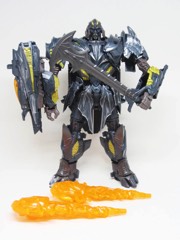 If you've been corresponding with me lately you no doubt know that I'm always looking to be surprise. Megatron was a surprise. Most action figures or collectible figures I could probably write up without opening. You can look at it - after hundreds of these, you know much of what it can or will do. Transformers have a built-in surprise by design, because you only see one of the two modes in the package. Hasbro also is fond of not documenting features, which means there are actual toy surprises you might discover as you play. Oh, and this one is big. Really, really big.
At 8 1/2-inches tall, the redesign of Megatron is really something. There are springy ram horns on his head. There's a lever on the back of the head that can rotate in a faceplate or his pointy-nosed, sharp-toothed malicious frown. His red eyes look vicious - there's so much personality in this robot head that I can't help but completely love it. The extra-pointy nose reminds me a lot of some of the comics, and it's such a radical departure from most Movieverse items - the first movie had heads that were a lot more abstract, with lots of roboty bits like visors and speakers but Megatron now seems to be a much more recognizably human look. Which, I admit, sounds like a load of garbage because it's a giant robot knight.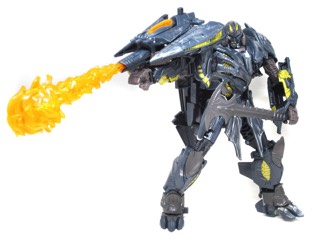 As accessories go, Megatron is a real winner. His giant sword appeared in stills from the movie, and it's superbly cool - I wish I had more of them! It looks good with other figures, even smaller ones. The blade has a big, heavy look while fitting perfectly in any 5mm hand. It's patently absurd that a giant robot from another planet would need a sword out of a fantasy video game, or it's telling that these robots are really just like us - giant dorks. For a character famous for being a gun and having an arm cannon, increasingly large and ornate melee weapons give the figure a sort of preposterous charm that I want to see on all of my toys. He has nearly two dozen points of articulation too, and while his range of movement is superb - really, truly fun - his sword is too small for him to grip with both hands.
Now the transformation, this was more complicated than I thought. Even with instructions, trying to figure out exactly where the robot arms go and how the wings form from the backpack was tough. The dark grey paper with the instructions are hard to read - they may look cool, but I need something more like an IKEA booklet, or maybe just a big zoomable PDF from the word "go." Wing pieces fold over themselves in a way I'm not familiar with, so be very aware there's a strong chance you're going to say "Am I going to break this? I feel like I'm going to break this." Other than that, it's fun.
The vehicle mode is big. Really, really big. The wingspan is about 16-inches. With the flame effects, he's even longer. I'm irritated because I had to tweak my photo studio just to get the dumb thing photographed! The toy itself even has a few action features in addition to its top-notch decoration. It looks cool, and it does stuff - this is what we all need.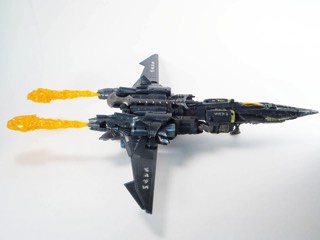 The dark grey metal body and orange cockpits look like something out of the 1980s, sort of, with brushed silver wear and tear and matching Cyberglyphics on the wings. You can plug a sword to the top of the jet, there's a landing skid, and you can plug in flames in those rear engines.
Oh, and there's an opening cockpit. Did I mention that? I didn't notice until I started taking photos, it wasn't on the instructions so I was carefully prying it open to see a weird, alien interior. It's lovely, unnecessary, and so much fun. This also describes the figure.
I don't completely understand why an alien would be able to turn into a weird space plane with a cockpit, but it looks cool. It looks sharp and pointy, with a button the front that causes a cannon to pop out and the front of the jet to split open. It's large and impressive - also complex. Obviously it's not as complex as a Masterpiece Edition toy, but it's pretty amazing with gold and silver detail painted in spots. Having said that, it's mostly grey so the sheer size of the item will probably convince you that you got your money's worth. I rarely go "holy cow, this is huge" but here we are.
I haven't yet played with the Voyager-class toy yet, but this is just magnificent. The transformation was troublesome, but both modes look great and I'm having a hard time finding fault in it as a toy unto itself. (Full disclosure: haven't seen the movie.) It can be hard to say a $50 Leader-class toy is really twice as good as most Voyagers or four times as good as a Deluxe, but this one is. I don't feel that Hasbro left a lot on the table - a spring-loaded cannon wouldn't have hurt, but I am not really missing it. I don't need pieces to fly off on a display shelf when the spring feels like it, so what I have here is pretty much a perfect display piece for collectors... unless you need a $450 statue, in which case you need to go buy that other kind of product. This works. This I love. If you see it on sale, buy two.
Kudos to Hasbro for embracing and constantly rethinking what a $50 Transformers toy can be. A few years ago, we would get one to three per year - this year alone so far I am guesstimating Hasbro will release at least ten of the giants. It's a lot - and some of them are really, really impressive like this one. If you can swing it, it's a great time to be a Transformers toy collector.
--Adam Pawlus
Additional Images

Click here to see more Hasbro figures in Figure of the Day.
Click here to see more Transformers figures in Figure of the Day.

Want to buy this figure? Check Transformers availability at our sponsors:
Entertainment Earth