Dreadwind
Combiner Wars Returns!

Transformers Generations Power of the Primes Deluxe
Item No.: Asst. E0595 No. E1124
Manufacturer: Hasbro
Includes: Rifle, blaster, combiner hand, 1 of 12 random cards
Action Feature: Transforms from Jet to Robot to leg/hand
Retail: $17.99
Availability: November 2017
Other: Darkwing Coming Soon

PREVIOUS
RSS
NEXT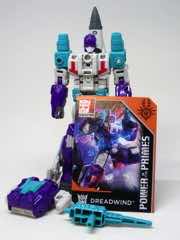 Pal of Darkwing, Dreadwind holds a secret! Several, actually - he can combine with Darkwing in jet mode, or other robots to make a combiner. He's also a hefty retool of Skydive [FOTD #1,095], with a lot of new parts on the upper robot mode and a lot of recycled parts almost everywhere else. Since this character hasn't had a lot of love in the modern era, so for that reason alone it may be worth picking this toy up if you're either a fan of the character or want someone to match Cyclonus [FOTD #1,190] for your own Galvatronus. It's a fun toy with nice colors, even though you'll no doubt recognize the parts.
The Powermaster gimmick is gone, and Prime Armor is a double-thumb fist worn as a vest. It's kind of dorky, but it also resulted in a nifty flip-down compartment on the figure's chest for a 5mm socket. I'm all for extra connectivity on my toys, so even though it's goofy it's delightful to see something hidden and optional like this in case someone comes up with a better use for it later.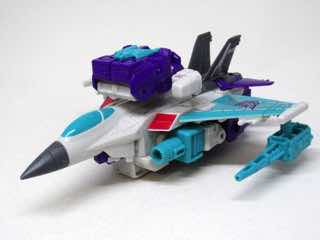 The plane looks familiar thanks to its use of recycled parts. The late-1980s G1 colors are here, with a lovely blue and a delightful purple that go nicely with the aforementioned combiner torso. I like the painted wing detail a lot, with a big Decepticon sigil plus a silver border to help make it pop. The retooled wings fold back on the robot mode, plus they sport tiny pegs so your Prime Masters and Titan Masters robots can hitch a ride. Obviously, there's no seating for robots this time around thanks to the Combiner Wars mechanism making a return and needing space. The plane itself doesn't do much, but but you can mount the Prime Armor on top and the blue rifle under one of the wings. It's lopsided, but so were the Combiner Wars jets. (Well, except Liokaiser, he got extra blasters.)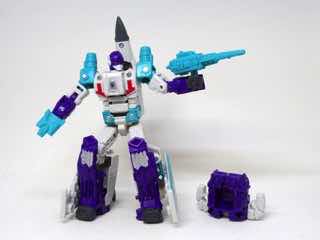 Transformation is easy, and since parts of this toy have been released about 13 times in the USA, you should know how this one works - just swing the wings back in robot mode. The figure has 16 points of articulation, which is pretty decent given that all of these guys seem to have to fit the same set of specifications for the combiner gimmick. A gimmick, I should note once more, goes wholly unadvertised on the box. I find this maddening because it's the greatest selling point if you're on the fence for a toy like this - sure, it's a good figure with decent articulation and a good head sculpt but it's also a leg. That's a heck of a bonus feature, and a whole lot more exciting than the Prime Armor. Of the first wave, the armor works best on this figure and comes complete with a cool opaque blue "blaster" plug that comes out.
| | |
| --- | --- |
| | |
As limb modes go, it's fun - you've seen it before, so you probably know the drill. The articulation of the robot carries over to the arm mode, and as a leg all it really has is a knee. As of its release the new Voyager toys - which contain foot parts - are unavailable. If you want to make a whole robot, you'll need to steal parts from the Combiner Wars toys. This figure is a great match for the G2 'cons as well as Galvatronus, but it should fit just fine with anybody. It's seemingly designed to go with Starscream, although Dreadwind's instructions pair him with Grimlock. Go figure.
I thought Combiner Wars ended too soon, and with each deluxe having sported a full-size comic book it was a pretty fantastic deal. Now we've got a goofy card with 12 variants, a weird armor gimmick, and a price increase. It's still pretty good, although looking at the shelf behind me with 15 combined 'bots and then I remember there are another 4 on a shelf in another room, maybe Hasbro can hopefully give us the Seacons and then just call it a line. Its not a perfect update, but it's fun enough and handy to build out new robots. I wouldn't be surprised to see Hasbro revisit him in a few years.
--Adam Pawlus
Additional Images

Click here to see more Hasbro figures in Figure of the Day.
Click here to see more Transformers figures in Figure of the Day.

Want to buy this figure? Check Transformers availability at our sponsors:
Entertainment Earth