Megatron
Get a Head and Be Wealthy

Transformers Generations Titans Return Voyager
Item No.: Asst. B7769 No. C0275
Manufacturer: Hasbro
Includes: Doomshot, cannon, seat, card
Action Feature: Transforms from head to robot, also robot to tank to plane
Retail: $24.99
Availability: November 2016 online, February 2017 in big box stores
Other: Not quite comic-ish

PREVIOUS
RSS
NEXT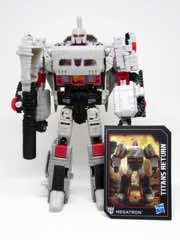 We expected Titans Return Megatron with Doomshot would be a little closer to More Than Meets the Eye comic books, wherein Megs has converted to the Autobots. Leaked Hasbro design documents showed a sticker sheet with both Autobot and Decepticon symbols, but the final product is pure Decepticon. Pre-applied labels are all you get, which is a mixed blessing - the mirrored foil stickers on his chest look pretty lousy, but the stripes on the wings aren't half bad. Before we proceed, it's worth noting that this is pretty obvious candidate to be retooled to Blitzwing in the near future. And it's a better mold than the last Blitzwing [FOTD #655], which has gone from "I don't think I like this" to "Man I hate this."
This 1.5-inch robot Titan Master Doomshot is a new mold and pretty cool. The body looks a lot like Blitzwing, with a head that looks sort of like Blitzwing's face and goggles inside a Megatron helmet. Since I assume the little robot won't get redesigned, it seems like a good figure to pull double duty as a couple of Titan Masters. There's no paint on the small figure, but the colors are vaguely Megatronnish and that's what you want. He has 5 points of articulation and is pretty much actually as good as the other little robot figures.
Megatron is a nifty Voyager-sized robot that would look fantastic in your The Lost Light dioramas if he were closer to the size of some of the other "leader" characters. The Hot Rods are too small. Ultra Magnus is too big. So he'll just have to be a good Megatron unto himself. He's about right for Voyager-sized toys, 7-ish-inches tall at the top of the head and colored to look a lot like Megatron. The stickers and paint highlight that the grey isn't as pretty as the Leader-class toy from a few years ago, but it's still a swell robot with about 19 points of articulation.
Sculpted detail is good, but subtle - the grey is light enough so that you don't see too many dark shadows. The stickers are a bit of a distraction - I assume ToyHax or whoever will come up with more subtle replacements - but the painted details are all wonderful. The red under the chest, the black around the waist, highlights on the arms and legs - everything is pretty clean and sharp, breaking up what could otherwise be a mass of grey. The face is good - grey with more grey and red eyes - but it's not going to change the world. It's good, though. I think you'll like it if you can find it. The weapon mounts to the arm nicely enough, and the range of motion is good - not fantastic, but acceptable given the limitations imposed on any toy that has three pretty distinctive modes.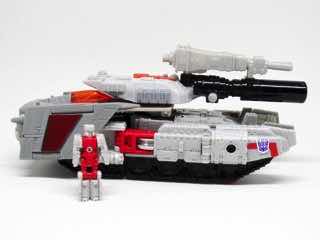 As with some other toys, I don't know if I really want to transform this one all that much - I worry about snagging stickers and generally mucking around with the many thin moving parts. The alternate modes are perfectly nice, with a decent tank and an acceptable jet. The tank is tankey. It looks like a tank with some jet bits slapped on the back, with a couple of places for the micro figures to pilot the goofy thing. The colors are nice, the Decepticon symbols are good, and you can see a number of the other modes here. It's not perfect, but it's pretty good. You probably won't hate the tank mode, but it's not as impressive as some other Megatron tanks you most likely already have. And, of course, it should be a perfectly adequate Blitzwing.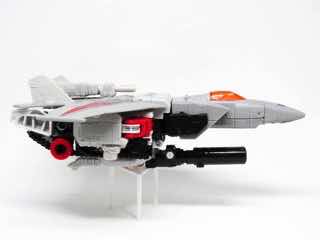 I like the jet a lot more. Form the top down, it looks mostly like a jet - and unlike Optimus, you can fit Doomshot in the cockpit! There are also pegs for placement of other Titan Masters, plus a bonus seat in the gun on the back of the jet. The wings look good, the stickers are applied cleanly on my sample, and aside from some undercarriage junk it looks like a plane. That's par for the course of these things. It's acceptable, but I'm not saying you're going to fall in love with all of the modes - it's fun, but you're ultimately buying this for a decent Megatron robot and not his alt modes.
I was going to write this review much sooner, my intent was to pen it as soon as I saw this figure and the companion Optimus at a store. I haven't yet as of my writing this in January. These showed up online in November, when I got mine, and I'm quite happy with them. I wouldn't say I love the Titans Return Voyager-class toys as much as I did Combiner Wars, but they're fidgety, interesting toys at an acceptable price that probably won't change your life in any meaningful way. The Deluxes, Legends, and Titan Masters are the most interesting, the Leaders are fun but are few, and the Voyagers seem to be too small to impress and too expensive to be surprisingly good. With that, I'd still say get a Megatron if you see one for retail price because it is interesting to play with - but you could also jut wait for the inevitable Blitzwing if you're all Megatronned out.
--Adam Pawlus
Additional Images

Click here to see more Hasbro figures in Figure of the Day.
Click here to see more Transformers figures in Figure of the Day.

Want to buy this figure? Check Transformers availability at our sponsors:
Entertainment Earth