Repugnus
Monsterbot Miniature

Transformers Generations Titans Return Titan Masters
Item No.: Asst. B4697 No. C1100
Manufacturer: Hasbro
Includes: Tiny head robot, small bug monster
Action Feature: Transforms from head to robot
Retail: $4.99
Availability: February 2017
Other: Smaller, Cheaper

PREVIOUS
RSS
NEXT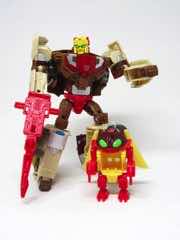 As characters to bring back, Repugnus is one that shows up a bunch. Well, more often than one might think - he was a bug monster who had sparks shot out of his face in the 1980s. In the 2000s, he was a little dinosaur - and then a Fuzors bug monster. Now he's a mini Titan Master - and fans aren't going to be happy until there's a full-size transforming version again. OK, I won't be. This is pretty neat though, because I like micro things, robots, and creatures. This one ticks all the boxes.
This 1.5-inch robot has paint on his face, which is something you don't see much as this line goes on. The yellow face on the red body is going to make you think of 1980s McDonald's Happy Meal toys. Articulation is the same as the rest, with shoulders and knees and hips and a neck. The paint adds a little to the figure, but it's also a little rough. With those smaller details and this low price point, it's pretty good. It's not sculpted to resemble anything immediately obvious, but maybe the tiny robot is a tribute to something that will reveal itself in a subsequent redeco.
The Repugnus head mode looks like the cartoon design head with colors similar to the toy. You have a yellow face, big green lenses for eyes, and something of a scowl. It looks good, and it fits on the other bodies about as well as any other. It definitely leaves you wanting a full body to go with it.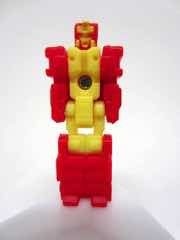 The monster mode is almost better than the original. Sure, the original one was taller, but it went from a two-legged bug monster to a two-legged robot. This one goes from a two-legged bug monster to a barely convincing blade weapon or a jet fighter plane thing. At least it's cheap. At $5, the deco is really great with green eyes, a dark red head, and a nice Autobot symbol on his head. The arms and legs move, and you can position the wings too - why you'd want to do that, I don't know. The Titan Master robot folds up to fill in the belly of this mode, and it's pretty convincing.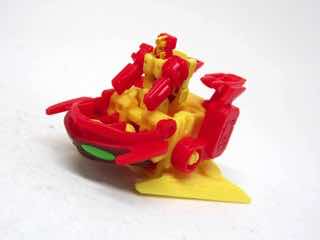 I'm not crazy about the jet mode - it's functional, sure, but it's one of those "this is a get because we say it is" modes. Other figures in this line have better dual vehicle modes, and in this case I can't help but think that giving the figure five modes actually hurt it a bit. I'm glad there are things to do with the toy, but without the instructions it doesn't seem like you would find the mode on its own. The figure has no problems piloting the tiny vehicle, were you so inclined..
Finally, there's a weapon mode - which is a bug monster with a broken neck, with blades coming out of its butt. Depending on the angle it might look acceptable, but it's not exactly great - I doubt you're going to want to display the figure in this mode when you could just go full on insect creature.
With no full-size Repugnus having been announced or confirmed as of yet, this is your best modern G1 bet for now. Unless the Universe Buzzclaw does it for you, that is. I'm a big fan of tiny toys that are cheap, so this is right up my alley - it's fun enough to deliver what it promises. Of course, if a full-size Repugnus were sold today I'd probably say "you can skip the little one and just get the big one," if only because I'm assuming it would have more articulation and be generally more impressive. This is good - but it could be better. Here's hoping this gets a repaint into Buzzclaw or another character, because its only real weakness is simply being different from the size of the remake which was expected.
--Adam Pawlus
Additional Images

Click here to see more Hasbro figures in Figure of the Day.
Click here to see more Transformers figures in Figure of the Day.

Want to buy this figure? Check Transformers availability at our sponsors:
Entertainment Earth