Groot
Build-A-Figure Collection Groot Series

Guardians of the Galaxy Marvel Legends Infinite Series Action Figures
Item No.: Asst. A7903 No. n/a
Manufacturer: Hasbro
Includes: Nothing, but you have to buy Iron Man, Rocket Raccoon, Star-Lord, Nova, Drax, and Gamora to build it
Action Feature: n/a
Retail: n/a
Availability: June 2014
Other: Build-A-Figure

PREVIOUS
RSS
NEXT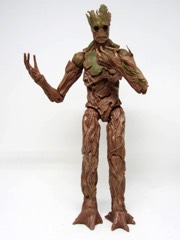 You have to build it, but Marvel Legends Groot is arguably one of the best (and most frustrating) candidates to have for a build-a-figure. He's popular, and in 2014 Hasbro really didn't make much Groot stuff - there was this figure, the 2-inch micro figure line, the Hero Mashers figure... am I forgetting something? There was no mask, no "Groot tree stab arms," or any indication that Hasbro or Marvel believed Groot could be a break-out hit. Rocket and Star-Lord were intended to be the most popular... and they did the same thing again for the new one. I'm surprised nobody was making a push for Groot roleplay toys, but at least this figure got made. Even if he looked a little more morose than his on-screen counterpart, the figure itself was pretty good. So good, in fact, Groot Evolution [FOTD #1,664] got a new head and deco just this year so fans could buy it again.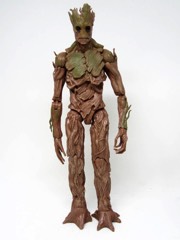 If you just want a Groot, get that Evolution pack. It's less of a hassle than collecting six figures and assembling it yourself. If you've got time and want all the figures, though, get this one. I really liked the entire series from the first movie, but as a stand-alone figure the 2017 Groot is a smidgen better. The 2014 release does a good job recreating the digital model with slightly less expressive eyes and a sadder face - for a relatively happy and innocent (murdering) character, the figure doesn't really express what you see in the movie.
28 points of articulation make this 9 1/2-inch tall figure one of Hasbro's better Marvel Legends build-a-figures. Yes, I like sizable figures. Toy Biz used to make veritable giants for a fraction of the price - their Apocalypse, Sentinel, and Galactus were impressive for the time. Doubly so given the relatively low price, as (I'm serious here) Marvel Legends could be had for six or seven bucks for a while. Groot has an excellent plant-like build, translating wood to plastic about as well as I would expect with a surprisingly light dusting of paint. There's not much you could do to make it amazing, so I can understand why Hasbro wouldn't necessarily want to increase the deco budget - the pennies were better spent on materials and articulation.
Groot can stand and sit without too much difficulty, sporting joints with swell little root covers that actually hide some of the joints. Hasbro also has elongated figures and various twigs hanging off the arms, giving us an above-average plant alien.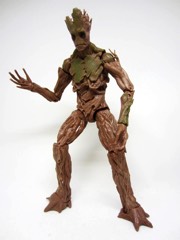 I like this figure's shade of brown more than the 2017 version, but I like the 2017 version's head better. You can't really mix-and-match thanks to the color change, but I do appreciate that we got a figure of the CG alien with the movie and that it looked really good, too. Back in the early 2000s - particularly in Star Wars - computer-animated aliens that got action figures near the launch window were generally based on early, incomplete designs. (I'm looking at you, Geonosians and Acklay. And Boss Nass. Maybe Jar Jar Binks too.) It's difficult for toymakers to ascertain personality from a CG model and minimal clips (if any), so this is an impressive feat given the lead time. Not considering the lead time, it's still very good - there are so many ways a character like this can go wrong, yet Hasbro more or less got it right the first try before the movie even came out. It's a winner.
--Adam Pawlus
Additional Images


Click here to see more Hasbro figures in Figure of the Day.
Click here to see more Marvel figures in Figure of the Day.