Blurr
Autobot Car

Transformers Robots in Disguise Warrior Class
Item No.: Asst. B0070 No. C1081
Manufacturer: Hasbro
Includes: Rifle
Action Feature: Transforms from Car to Robot
Retail: $14.99
Availability: February 2017
Other: Rescue Bots meets G1

PREVIOUS
RSS
NEXT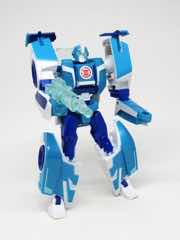 Because continuity is confusing, the Robots in Disguise Blurr is part of the "Prime" universe, which means that he's also the Rescue Bots Blurr. Confused? Me too. This is what happens when you don't have some goofy licensor breathing down your neck about keeping things straight. The toy incorporates elements of the original 1980s Blurr toy - animation colors, and the front of the car come to mind - while the racing helmet and spoilers (and general transformation) more closely match the Rescue Bots version.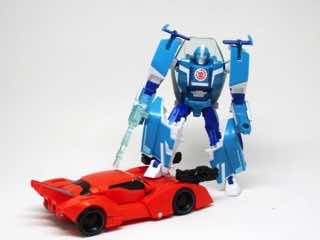 The robot has 15 points of articulation. Hasbro seems to be going back and forth on the Warrior class of toys, sometimes giving us toys with very little paint that seem physically hollow while as time goes on, seemingly giving us more paint and a little more "oomph." The bulky shoulders stand tall with all sorts of racing stripes and markings that just make it look like a fast robot. Recalling the colors of the original G1 Blurr help too - there's just something about him that screams "speedy." The helmeted robot has a clear blue visor that lights up from the back of the helmet, which has a crest that matches a design on the roof of the car mode. Having the spoiler clearly visible helps to make it look like a robot that turns into a car in a way that's better than just having a car door or spare tire hanging off the side. It turned out nicely.
His gun - clear blue for reasons I don't understand - looks vaguely like the blaster in Generations and the original toy line, with some notable modifications. The extra 5mm peg on the side helps it connect to the car mode, with a light clear blue that gives it an icy feel.
Transformation is a snap - the legs are the front of the car, the arms are the back of the car, and the backpack folds up and covers the head and torso. Presto chango.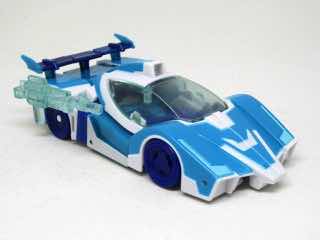 The car mode mashes up a typical colorful Rescue Bots design with elements of the original character, giving you something that's vaguely futuristic while also looking like what your dad or grandfather saw as being "futuristic" 60 years ago. A big bubble top, a giant spoiler, a pointy nose, and a nice air intake look like something that should appeal to anyone looking for a fun, fast, and ridiculous car. Opaque blue wheels are certainly a strange design choice, but they fit the body quite nicely. The mostly white and blue car looks charged by its paint job, although it characteristically lacks any faction markings. If you want to see an Autobot symbol, it's only on the robot mode as a sticker.
It's kind of amazing how many Blurr toys we're suddenly seeing, and they're all different enough to be interesting. If you're old, there are two throwback ones. If you're a toddler, there's a preschool version. If you're a kid in elementary school, you've got this one - or the one-step version - at your disposal. I love the retro throwback, but this is a nifty design unto itself. I enjoy the transformation, the various shades of blue with the white look stunning, and I can't complain about the vaguely metallic coloring on the body either. If you think it looks cool, go get it - it's sturdy and I didn't have to worry about pieces popping off. "Fun" isn't something I get to say a lot when it comes to these toys as they get more complicated, so Hasbro pulled off a big success with this one.
--Adam Pawlus
Additional Images

Click here to see more Hasbro figures in Figure of the Day.

Click here to see more Transformers figures in Figure of the Day.

Want to buy this figure? Check Transformers availability at our sponsors:
Entertainment Earth