Decepticon Octone
Optimus Prime Retool

Transformers Generations Titans Return Voyager
Item No.: Asst. B7769 No. C2396
Manufacturer: Hasbro
Includes: Murk, rifle, blaster, card
Action Feature: Transforms from head to robot, also robot to truck to jet
Retail: $24.99
Availability: May 2017
Other: Octane, Really

PREVIOUS
RSS
NEXT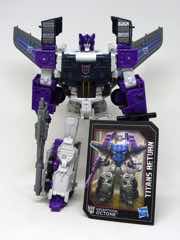 It's kind of funny to see almost-right names on toys for trademark reasons, like Decepticon Octone. (It's his Japanese name.) The last update of Octane was sold as "Tankor," arguably one of the worst robots - but a decent plane and an acceptable truck - since the whole classic revival kicked off in 2006. This toy may look familiar, because it was also Optimus Prime [FOTD #1,579] last year.
This 1.5-inch robot Titan Master Murk is Diac in new colors. There are 5 points of articulation and no paint to speak of on the front of it. The purple head looks fine, and the rest looks something like a Diaclone driver. It's cute. He can stand and sit, plus he pilots the vehicle modes of the larger toy through either the handheld weapon or the purple hatch on top of either mode.
Decepticon Octone is a pretty good update - you get some features you wanted, and some you didn't want. Vestigial Optimus elements include spring-loaded pop-up ear antenna, plus the shoulder stacks which weren't part of the original toy. Otherwise, the robot is pretty good and has been decked out in somewhat fragile foil stickers that do not hold up to simple handling, let alone rough play. I hope Hasbro abandons stickers entirely. I like that the face and overall build captures the feel of the original toy with things like hip joints and better arm movement, plus it stands over 7-inches tall. There is no tail fin weapon, but you do get a decent rifle and G2 Laser Prime's double-barrel cannon thing. The generous application of color through stickers is most appreciated, and this is probably the best of the three modes.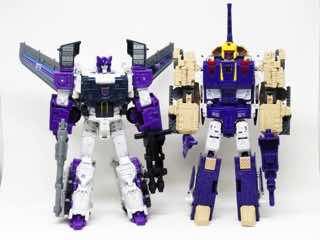 Transformation what it is - it's a little fiddly and nothing is perfect. The truck mode has tucked in wings. The plane is clearly a truck with wings on it. It's still a lot of fun, even though the parts don't fit together seemingly because of short-sighted deco tolerance issues. A layer of thick paint keeps a peg from fitting in a slot in the jet mode, hence a small opening in the front. The truck holds together fairly well, though.
The jumbo jet doesn't do much other than be a cool jet. There are holes for your 5mm weapons, plus a purple seating area for your Murk driver. There are no landing skids, nor are there any action feature in this mode - the only spring-loaded thing are pop-up earmuffs. Why they costed those in instead of better paint, I have no idea.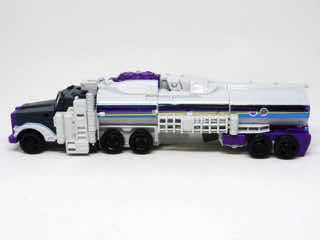 The truck has wheels that can roll a bit, but not freely. It feels small, but it's quite long and tucks everything in nicely. I wish Murk could drive it in the driver's compartment, but it reuses the same area from the plane mode because the physics seemingly would not allow for such a feature to work. I like the sticker deco, but the stickers were pre-rumbled before I opened the box. It's a pity, because the colors are nice and the artist behind them did a very good job.
As one of Hasbro's many pretools, we saw Octone coming as soon as we saw the triple-changing Optimus Prime last year. It's good, it's fun, and if you see it I assume you'll want it. You can safely toss your old Universe Tankor in a bin now, because this is bigger, better, and less shameful. Hasbro is capable of doing great things on a decent budget and this is at least a good thing. It wouldn't stun me to see it revisited should Hasbro decide to keep the line going - I don't have much hope it will continue beyond 2024, the 40th anniversary of the brand - but these are some decent improvements. Astrotrain, Blitzwing, and Octane have all received significant upgrades that are, on the whole, improvements. If we could get a better Galvatron, I'd be all set.
--Adam Pawlus
Additional Images

Click here to see more Hasbro figures in Figure of the Day.

Click here to see more Transformers figures in Figure of the Day.

Want to buy this figure? Check Transformers availability at our sponsors:
Entertainment Earth