Bit Figs Trophy Set
Golden 10-Pack

Bit Figs Mega Bit
Item No.: No. n/a
Manufacturer: Bit Figs
Includes: n/a
Action Feature: Pops apart
Retail: $10.00
Availability: September 2016
Other: First On-Sale of a Set

PREVIOUS
RSS
NEXT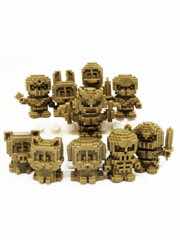 I didn't buy all of these - which I am sort of regretting - but I've got a bunch. I don't even know how many Bit Figs exist because there's no collector checklist, distribution of vending machines can be tough to track, and frankly there may be as many as 50 different ninjas in the first series alone - and buying bags of capsules doesn't guarantee you a complete painted (or unpainted) set. As such, ordering online may be the way to go. I got the Bit Figs Trophy Set because the idea of a matching set was appealing - also, the Culture Pirates store sells not only these, but also various records and music things. I can go through life not getting everything, but if you're an online store with some indie records and indie toys and also indie shirts, you're probably going to get my business.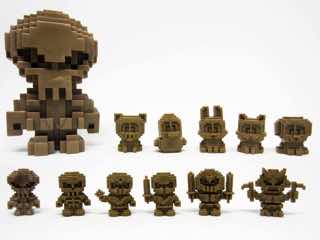 The first 10 figures are all here - Pig, Duck, Bun, Kit, Pup, Ku, Iken, Tana, Urai, and Oni. They're the same figures as the vending machines, but in this golden plastic with a hint of a swirl. I think they're great - the animals all seem to share the same eyes, although the ninja clan shares no such consistency. Pheydens were sold separately.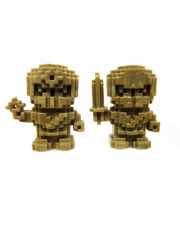 Onell Design, Culture Pirates, and SSM Vending created something that should be historically significant to future toy dorks, because you can look at these and see where all the wheels were spinning to create a toy line that's inspired. And you can see the inspiration. The pixel figure designs are very similar to the marketing graphics on the Onell Design blog. Vending machine toys love little plastic ninjas and animals - you can see them in the big red machines across the USA. Minecraft was and still is pretty big - and those figures are expensive at $3-$5 for a tiny piece of plastic. Onell Design worked with the Four Horsemen to create The Outer Space Men, one of the first and most famous "plays-with" lines. So here, these people got together to make a Minecraft-compatible series of toys at a fraction of the price that has the potential to appeal to non-players of the game like me. I'm not going to buy a Creeper for four bucks, but I'll throw some quarters in a machine for skeletons, ninjas, sea life, or a small pig. Thankfully for this set, I didn't have to - I just got one of each for ten bucks.
The detail is pretty amazing if you think about it. The classic "bad graphics" of the 1980s got translated to 3-D with a Glyos socket on the bottom of each figure, allowing them to serve as caps on canes or heads on a figure if that's how you want to go. It's pretty amazing to see the Glyos system find its way in stores through the retail backdoor, with a fairly high-quality figure under the guise of what my parents would generally have described as cheap junk. (Which, in the 1980s, was probably accurate.) Today we've got fairly durable little figures that are cute, easily lost, and look nice as a set on top of an old monitor or shelf.
There isn't a lot of room to bring a lot of life to these figures, but life will find a way. The big has a curly tail on his back. Kit has little whiskers. The Bun has buck teeth and a little tail. the ninjas are even more impressive with swords, a throwing star with a tiny hole in it, and simulated armor. Oni even has an exaggerated nose and big fangs, which really does wonders to show just how much you can fit on what is effectively a low-resolution action figure. The only thing missing is some sort of app to encourage kids to buy more.
One great thing about the gold set is the light reacts with it nicely. The recessed bits really look shadowy, giving the illusion of painted detail where none exists. Obviously paint would make them look even better, but I assume cost adds up fast and when you have a figure with a ridiculously low wholesale price like these, adding just one penny to each one could hurt your bottom line.
The only real problem I can have with these is the same I had with Mordles - knowing what exists, what I'm missing, and having no idea how to display a collection. Miniature figure collecting is a real discipline, so you'll have to come up with creative ways to display these guys until someone else markets something. They're sized similarly to Fighter Pods too, so if you're in that space this is a category worth exploring. You can put thousands of them in a shoebox, but as anyone knows the gamble of buying one is likely to yield duplicates - so if you have a chance to buy a set, do so.
To date, 10-packs were sold in blue, flesh, gold, clear green, and more colors that aren't glow in the dark. I can't wait for glow in the dark.
--Adam Pawlus
Additional Images

Additional Bit Figs Drop 1 Images

See more Bit Figs figures in Figure of the Day:
Day 1,510: Bit Figs Ninja Series 1 Ku Mini Figure
Day 1,531: Bit Figs Mega Bit Pheyden Trophy Set
Day 1,551: Bit Figs Animal Series 1 Pup Mini Figure
Day 1,555: Bit Figs Mega Bit Pheyden Standard Set
Day 1,689: Bit Figs Mega Bit Pheyden Flesh Set
Day 1,779: Bit Figs Trophy Set
Day 1,800: Bit Figs Matryx Pheyden
Day 1,805: Bit Figs Mega Bit Spectre Pheyden

Click here to see more Glyos Compatible figures in Figure of the Day.