Sky Shadow
Formerly Black Shadow, formerly smaller

Transformers Generations Titans Return Leader
Item No.: Asst. B4697 No. C1104
Manufacturer: Hasbro
Includes: Ominus, 2 blasters
Action Feature: Tank and jet combine to form robot or base
Retail: $44.99
Availability: April 2017
Other: Pretool of Overlord

PREVIOUS
RSS
NEXT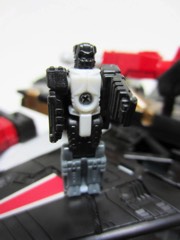 I was having a pretty iffy day - collector-y speaking - when the Black Shadow remake Sky Shadow showed up. The 1980s original toy never got released in the USA, and I rather like the Generations Sky Shadow [FOTD #283] from way back in 2011. Back when we thought the whole "classic" line was about to come to an end - over, finished. This turned out to not be the case, and we've been on a pretty strong and steady drip of Hasbro's collector brands for quite some time - and it's overwhelming. And in some cases, it's also repetitive with the same characters coming back in different sizes again and again, although in this case I'm pleasantly surprised. The pretool aspects of Black Shadow make this Leader-class toy a good toy. Not a nice collector toy for aging man-children, but a really fun and not-too-odious plaything that I think kid me would have enjoyed.
This time around, a tank and a jet (that looks like the original Black Shadow jet) can merge to become a single robot. It's a departure from the original Pretenders-style toy or the normal transforming 2011 release, and that's actually very acceptable. Hasbro gave me a robot that looks even more like the 1980s original while giving me a completely new play pattern. I admire this.
The 1.5-inch robot Titan Master Ominus is black and grey with minimal deco. Actually, none at all outside the face plate on the back. Ominus has 5 points of articulation and can master everything a Titan Master can master. The figure serves as a head for Sky Shadow as well as a driver for the tank or jet modes - it'd be even better if we had two figures so all of them could have a driver. But I digress - it's a fine little gimmick, but if they left it out I really don't think I'd miss it. It's just a nice extra on an already good toy.
As with the other Leaders, Sky Shadow has a head that's a helmet which can house Ominus in head mode. You can put anyone else in there too.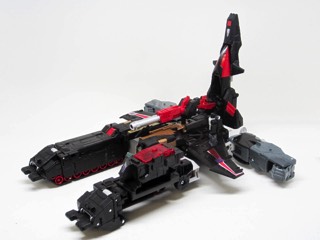 The base mode is a nice extra. It's hardly essential, but it does all the base mode things you need to do without getting in the way of the other modes. The ramp connectors extend out of the robot feet and the jet's nosecone becomes a tower for the base. The canopy turns into a gunner platform, and the legs are nice places for tiny Titan Masters to hang out. The mode works, but it's not as good as the ones we've seen on the other leaders in part because there are two vehicle modes to forge from this single toy. It's a fun thing to futz with and a great example of the creativity Hasbro and TakaraTomy pour into every toy - especially the better ones - but I enjoy the other modes too much to keep him as a small attack base.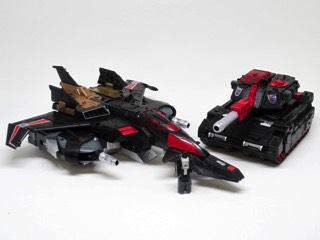 Not content to have one vehicle mode mode, Sky Shadow has two. One is clearly the tank needed to make up Overlord in a few months. The other is a good recreation of the jet mode of the original Black Shadow toy, and surprisingly the two can merge via a small clip. Why would you want to do this? I have no idea, but you can, and I'll never turn down my nose at any new functionality in my toys. I collect Star Wars, so I know all about toys that don't actually do anything but look cool. Having a jet that can pick up a tank and fly around with it is the kind of creative kick a toy like this needs. With Blaster or Soundwave, I have non-functional stereo equipment. Powermaster Optimus Prime's truck mode can store smaller cars inside, and that's nice. Six Show has five alt modes - many of which are good - so seeing Sky Shadow be able to be more than just a robot that turns into something was a lot of fun.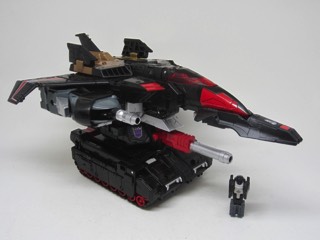 The jet mode is solid. The wings tab and peg into place on the arms, and the cockpit opens for a pilot. There are slick foil stickers preapplied (THANK YOU HASBRO!) so you can just clip a couple of sock ties and enjoy Sky Shadow right out of his box. It has no firing rockets or action spring landing gear or anything - it's just a good jet. It's bigger than a deluxe plane, but not by all that much. As prices continue to climb, it's interesting to see what forms the toys will take as we don't see an increase in action features, but we are seeing more articulation and more parts n' pieces. I think you'll like it.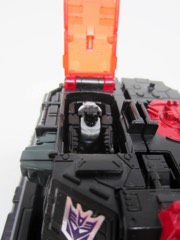 Tanks for the bonus vehicle! The turret doesn't turn because it has to also become the robot legs, and getting the gun out of the turret location is tricky. Not as tricky as getting the base mode connectors out of the feet, but it's still a challenge for even seasoned toy manipulators. There are little rolling wheels under the treads, but they don't do a lot to help movement. They're small but nifty, leaving the tank mode as a not-too-meaty armored vehicle with a clear red seating area for a Titan Master of your choosing. The colors are perfect, and for some reason the clear red parts send a signal to my brain that this toy has electronics. (It does not have electronics.) A firing rocket would've been nice, but I assume they can't factor in everything and still make a profit. A pity.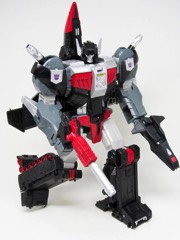 Last and hardly least is Sky Shadow's impressive robot mode. Standing about 9-inches tall, he looks a lot like the original toy from the waist on up. It's notable that the aforementioned 2011 Generations Sky Shadow does a better job of replicating the original G1 toy's legs and skirt elements. Both of the 21st century toys lean on the fiction representations of Black Shadow's head, as they had sizable horns rather than itty bitty ears. They're impressive, andtuck nicely into the jet mode when transformed. Angled shoulder cannons are now decorated - unlike the original toy - and foil stickers are back once more. His chest layout is also much closer to the original toy, although there are bits that may seem truer to the original on the other take on Sky Shadow. I prefer the newer one.
Depending on how you count, the big robot has 21 points of articulation including the rocker ankles! You can spread his legs out a bit and still have the feet flat on the shelf or floor or desk. The joints all move pretty nicely, although the hip joints often move in unison - so be careful about that. Thanks to his big chunky robot boots I've been able to get him standing in all sorts of action poses, and he doesn't look too awkward in any of them. Jet kibble on the back closely resembles the older toys, while the tank mode is almost entirely hidden in Sky Shadow's pants. It's kind of amazing.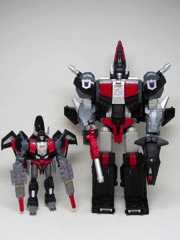 On a day when I was left feeling that creativity had left the building, a toy like this did all the difference to renew my aging, tenuous grip on a collector line. By their very nature, Transformers toys demand to be engaged in the same way you played as a child. If you aren't entertained converting the robot figure to its car or jet or dinosaur forms, it's sort of a dismal failure of a plaything. Generally speaking the Leader toys had complicated transformations or bits that jsut weren't fun to futz with, whereas Sky Shadow is a rare treat to split at the waist and shuffle him around until he becomes a tank and a jet. I'm not saying this is the best toy Hasbro ever made for Transformers, but the simpler direction with few parts that feel like they might pop off and everything more or less going where it belongs feels exceedingly rare. Even on good toys, I've got something that bugs me most of the time but here I'm just generally happy with the entire thing. Strongly recommended. Six stars.
--Adam Pawlus
Additional Images

Click here to see more Hasbro figures in Figure of the Day.
Click here to see more Transformers figures in Figure of the Day.

Want to buy this figure? Check Transformers availability at our sponsors:
Entertainment Earth