Optimus Prime
Grey Brick to Panely Optimus Prime

Transformers HasCon Exclusive
Item No.: No. C3614
Manufacturer: Hasbro
Includes: USB cable, sword, instructions
Action Feature: Transforms from brick to robot
Retail: $49.99
Availability: September 2017
Other: For This Hasbro Uses a SKU Slot?

PREVIOUS
RSS
NEXT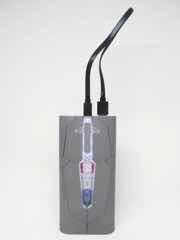 Rarely has the disclaimer "Not a Toy" been more apt. This Power Bank Optimus Prime is kind of a waste of money. I got a bundle of kicks out of Hasbro's Xiaomi Mi Pad II Soundwave [FOTD #1,505] because it was fun, weird, and had a transformation into a flat slab I've never seen before. It was different - indeed, it looked different. This felt like a sequel, except this time it was functional. Only sometimes "functional" isn't good, and functional kind of stinks.
It's satisfyingly heavy when you take the grey brick out of the box, which is an efficient package with a nice illustration tucked under an unassuming cardboard sleeve. It's really nice packaging, and the alt mode looks like a no-nonsense (if large) device to charge your other devices. It's a bit too big to travel with, making it kind of pointless. Hasbro says it's not a toy - and they're right. It's too big to fit in a pocket or a purse to be useful on the road, unless maybe your kid wanted a travel charger - but again, it's not a toy. It goes from Voyager-sized brick to slightly-bigger-than-Voyager-sized robot in a few easy steps, making it very simple, very hollow, and a whole lot of not much fun. The bank mode is what you see - it does nothing other than charge, or if you plug the cable in to the sword, that will light up.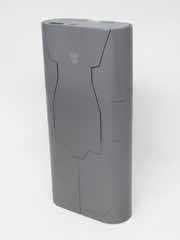 Transformation is easy - pull off the sword/shield/wings panel, pull out the legs, pull out the arms, twist a couple of things, do a Mad Magazine fold-in to get the Optimus Prime head, and you're done. He has weird, awkward hands to hold the strange sword and you can pop some panels off his shield/phone stand to get a winged Optimus mode for some reason. It's one of the simpler toys I've purchased with the Transformers brand, giving you about what I would consider the complexity - give or take - of a Robots in Disguise Warrior-class release.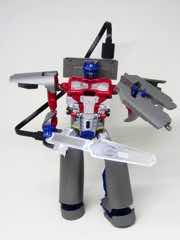 The robot is a bore, with panels folding to sort of make a robot chest and you get a lot of hollow bits. A heavy battery backpack doesn't prevent him from falling over as he has big feet, but the legs are incredibly plain and dull with a chest that recalls other, more fun toys with truck alt modes. Optimus' hands are strange claw things that almost look unfinished, and while his eyes light up as part of the power level indicator it's not superbly fun. The sword lights up white quite brightly, to the point where I would say it's impressive. Articulation is acceptable, but all the joints are quite thin - you might feel like something could snap.
This toy does two things awkwardly. Arcee and Ultra Magnus delivered a decent package at a few bucks above what I would've deemed a great price - it was OK, what you got was perfectly fine. Optimus Prime just kind of sucks. I would steer you far away from it, and I'd suggest you get the Soundwave instead. Or spend it on a leader-class toy of your choosing. Or buy a regular power bank of some sort. I'm sorry I bought it.
I try to minimize my armchair quarterbacking, but do you know what would have been better? A smal toy truck, with a G1-style grey trailer container as the charger. It wouldn't have to transform or anything - it can just be a rectangle that an Optimus toy can haul around. This weird oval obelisk certainly looks technological and modern, but the robot looks like a first draft, a fast food toy, or an accident. I get a little excited and nostalgic for Generation 2 when I see a light-up sword, but the good functionality of the accessory wasn't enough to offset what I hope is the most boring alt mode we'll ever see an one of the more fragile Cybertronians I hope to ever have pass through my office. Generally I give them props for trying, but this may be my least favorite Optimus toy. And there have been a lot of dubious Optimus toys.
--Adam Pawlus
Additional Images

Click here to see more Hasbro figures in Figure of the Day.

Click here to see more Transformers figures in Figure of the Day.

Want to buy this figure? Check Transformers availability at our sponsors:
Entertainment Earth