Megatron
It's like the Leader one, but different

Transformers The Last Knight Premier Edition Voyager
Item No.: Asst. C0891 No. C2355
Manufacturer: Hasbro
Includes: 1 sword
Action Feature: Transforms from Robot to Cybertronian Fighter Plane
Retail: $29.99
Availability: June 23, 2017
Other: Smaller, but different, and maddeningly good in different ways than the bigger one.

PREVIOUS
RSS
NEXT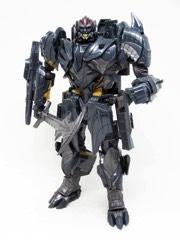 Why settle for one Megatron when you can have two at twice the price? This time around Hasbro made two very similar toys, at the same time, at pretty close to the same price with different feature sets and transformations. The Decepticon despot includes pretty much the same sword, same robot mode, and same alt mode with different transformations and gimmicks - specifically, the Leader-class toy has some, and the Voyager is a simpler, smaller take on it. Which one is better? Uh... it depends.
The head is significantly different from the Leader-class toy, thanks in part to a different gimmick. The Leader one has horns that move and changing faces - the Voyager one has clear red plastic that doesn't really add much to the proceedings. Normally clear plastic sings because you can light it up from the back, or a window on top of the head. Since the forehead is the "window" of this one, the head has to be brightly lit from the front to get any action on the eyes or the red on his neck - which kind of defeats the purpose of it lighting up. Also, Megatron's chin is partially painted gold for some reason. Since this matches his teeth, it looks a little weird compared to the tooth-only deco on the other toys. It's not bad, but if Hasbro left that bit of paint off it'd be significantly batter.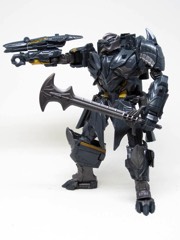 Articulation of this 7 1/2-inch robot is about the same as his larger counterpart, minus the wrist joints. Rocker ankles move easily, allowing you to fudge variations on classic "Megatron aims arm cannon at somebody" poses that have comprised so many interpretations of Megatron and Galvatron over the years. I had a much easier time getting cool poses out of this smaller toy, most likely due to weight distribution and there being less mass upstairs. There's no denying that the Leader-class toy is going to look better if you leave it alone on a shelf for a few years, but I'm able to get more out of the smaller toy with less fuss and no joint slippage under the weight of Leader Megatron's bonkers cannon, which is largely absent on the smaller toy. The whole nose of the plane assembly was moved to the Voyager toy's back, which actually does wonders for keeping it upright.
In terms of coloring, it's a lot like the other toys - almost exactly like them, with a few notable exceptions. The first thing I noticed was that the cyberglyphics are absent on the Voyager toy, while the Leader had them both sculpted and painted. The grey plastic and gold are close, but don't quite match. Considering both toys came from the same basic time frame and factories, I'm a little surprised they don't match exactly - but that's life for you. Some of the gold parts on the Leader are black on teh Voyager, and others are unpainted. Hasbro can apparently do a lot between size classes, and it's enlightening to see what a 50% larger retail price can deliver on the toy. Voyager Megatron is good, but there's just so much more going on with his big brother.
Transformation is still somewhat difficult - I needed instructions because there was a lot of "I think this is right... is this right?" moments during the conversion process. There was no real elegant solution to the placement of the robot shoulders, so what you wind up with is a decent jet with robobits underneath. It's not bad. It's a little tricky. It certainly feels like Hasbro went out of their way to make these a little more complicated with other scales being even more simple, so I assume the average adult fan looking for puzzle play will enjoy this. At no time was I concerned I might be breaking something like I was with the Leader.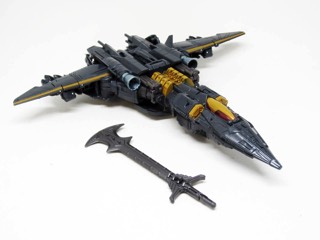 The jet mode is good and sturdy - there are no landing skids, but you do get a vehicle that can stand on a flat surface with no problems. There aren't any gimmicks to speak of - and from the back, you can see shoulders and hands - but from most angles it looks like it could be Beast Machines Jetstorm's aging uncle. It's a decent size - not ginormous, like the Leader - so it won't occupy a big shelf or require suspension from the ceiling. I like the various techie bits on the top, plus the engines and all look good. It's just not big. I do wish it had some sort of articulated neck like the aforementioned Jetstorm, just because the design looks sort of like a creature. The canopy of the Voyager has more paint on it, giving it "eyes" around the "head". It's not as detailed as the larger toy, but the back does still look cool with a nice enough slot to store the giant Autobot cleaver.
The Leader-class Megatron is a larger, more imposing toy with a more impressive feature set and better articulation - also rubbery armor bits, and maybe some balance issues thanks to the arm cannon. The Voyager toy is a simpler, straightforward toy with an easier-but-still-complex transformations which I needed to consult the instructions to get right. If the toys follow the usual pattern - Leader class toys eventually dip thanks to a sale or weirdness on a major online selling portal - you should get the Leader if the price is basically the same. I'm hesitant to say "get both," but I'd give a slight edge to the Leader just because of the flames, the head gimmick, and the arm cannon being more impressive. If these things are of no interest to you, get whatever is cheaper (or available to you). There's a lot to like between both versions, and it's kind of frustrating that they each offer something great that the other one doesn't. I'm so fond of the big giant Leader-class robots, but it's so much easier to find a home for Voyagers.
--Adam Pawlus
Additional Images

Click here to see more Hasbro figures in Figure of the Day.
Click here to see more Transformers figures in Figure of the Day.

Want to buy this figure? Check Transformers availability at our sponsors:
Entertainment Earth