Aurustell Elite Armorvor
Golden Armorvor

Glyos System Series
Item No.: No. n/a
Manufacturer: Onell Design
Includes: Backpack/blaster, alternate head
Action Feature: Pops apart
Retail: $8.00
Availability: December 12, 2012
Other: Gold, Black, Red

PREVIOUS
RSS
NEXT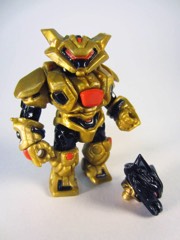 Sometimes things stay unfinished for a while, like this look at the Aurustell Elite Armorvor. I shot these pictures over four years ago when it showed up in the mail, but I'm only just now getting around to writing about it. This is a shame, because it's a good one. The Armorvor (and later Neo Granthan) mold has since come out in dozens of flavors, but I think this is the only golden one so far. (There is also a bronze one.)
Aurustell Elite Armorvor is cast in gold plastic with a generous slathering of black to make the unmasked "fur" head. Red highlights on the hands, black core, and eyes look great as do the black bits on the arms, legs, wrists, and elsewhere. There's a lot of paint here, and it all serves the overall look of the figure.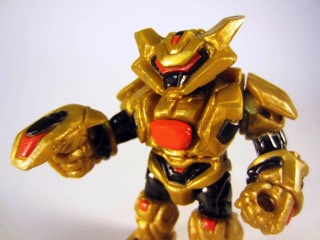 I hope you've picked up one of these battling beasts so far, but if you haven't you should take special care to note the sculpted detail and nifty lines on this one. The team at Onell Design let deep grooves serve as paint-free decoration, breaking up the body in ways that you could do with paint, but appears more consistent with their house style. The legs have al sorts of lines and panels, with armored fists and big, broad shoulder pads. That's how you know it was inspired in part by the 1980s. The eyes on both heads remind me a lot of the original Battle Beasts, and the extra dots of red do a lot to bring out a little more personality for, I hope, minimal added cost.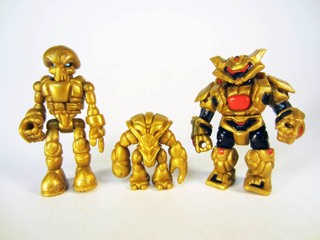 The nearly 3-inch action figure comes completely unmarked of any manufacturing or date markers, but is notable in that every point of articulation is a piece which can be separated and swapped out with other Glyos-compatible figures. If you want pink fists, go buy a pink figure and switch them out. If you want a custom head, hire Marty Hansen to make one - he does good work. It's a malleable form and you can see why it was popular with customizers, although it seems there's less customization going on with these guys lately.
Only a few hundred of these were made, and they do show up on eBay on occasion - they're not too expensive. At the going rate of $15 or less, you may as well snag one. That cool wolf head is permanently out of production, so if you do want one the secondary market is your only shot. I personally think this is one of the best figures out of that whole Battle Beasts revival that went nowhere from 2010 to 2016, and it could have been even better if they changed over the heads more frequently. This was one of the first wolf heads, so I still love it. If the figure shows up for sale on the cheap, get one. If you're not particular about the furry wolf head, Onell Design tends to put out a new Armorvor or Neo Granthan every few months for about ten bucks - and you can get one of those.
--Adam Pawlus
Additional Images


Click here to see more Onell Design figures in Figure of the Day.
Click here to see more Glyos Compatible figures in Figure of the Day.