Mattel Hot Wheels Motosaurus
Mattel, 2017

Day #1,740: July 5, 2017
Motosaurus
HW Street Beasts - #264 / 365

Hot Wheels 2017 Street Beasts Basic Cars
Item No.: Asst. L2593 No. DTX24
Manufacturer: Mattel
Includes: Light blue slug figure
Action Feature: Rolling wheels
Retail: $1.00
Availability: ca. Spring 2017
Other: First release, green with yellow and orange

PREVIOUS
RSS
NEXT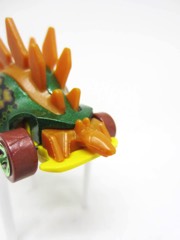 When it comes to Hot Wheels I love crazy, and Motosaurus I didn't know existed - I bought it on sight. It reminds me of a more refined version of the Speed-A-Saurus [FOTD #786], which I can best describe as a toy dinosaur violating a car. This new one is more like a Stegosaurus as a car, which is a lot less funny but it's pretty neat.
It's a metal body with a plastic undercarriage and flexible orange plates. You could say it's a platonic ideal, but that's not what that word means. The thagomizer has little pumps, there's a tiny head - insert your own joke here, folks - and painted scales on the sides.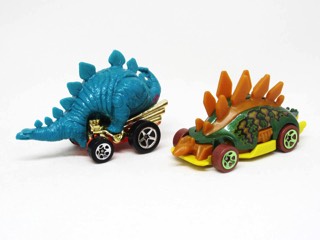 Given the size of the head, the car must be absolutely huge. The positively tiny noggin has a tiny window in it, and the yellow part is pretty underdetailed. There's not a lot of sculpted detail on the green part, but the deco makes up for it. The plates are also pretty plain - but they are plates, so that counts for something. If you told me this design came from 1984, I'd believe you - it feels like a distant cousin of Tomy's toy robots like Starriors and Zoids. Looking at it, I love the colors - but I'd run out and buy it if it was a white-bodied thing with gold accents, some black bits, and a blue canopy. That would be super cool.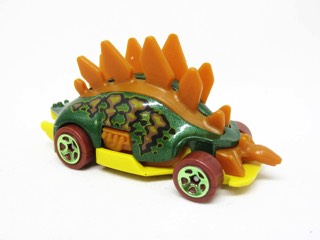 It's a buck - you know the drill. Even if you buy it and donate it to a thrift store, the few days of joy you get out of this are more than worth the dollar. It's a little rolling desk dinosaur car! It's not as wacky as the older design (which I will never, ever give up) but it's charming and I look forward to seeing it in new colors. If it gets retro, I won't be able to resist buying another one. Get it if you see it, it's fun.
--Adam Pawlus
Additional Images


Click here to see more Mattel figures in Figure of the Day.

See more Hot Wheels in Figure of the Day:
Day 670: Mattel Hot Wheels Fig Rig Car
Day 675: Mattel Hot Wheels Star Trek U.S.S. Enterprise
Day 685: Mattel Hot Wheels Batmobile (Tim Burton, 2013)
Day 708: Mattel Hot Wheels Batman Live Batmobile
Day 718: Mattel Hot Wheels T-Rextroyer Die-Cast Metal Vehicle
Day 727: Mattel Hot Wheels Ratmobile (White) Die-Cast Metal Vehicle
Day 742: Mattel Hot Wheels Batcopter Die-Cast Metal Vehicle
Day 750: Mattel Hot Wheels Arachnorod
Day 770: Mattel Hot Wheels The Jetsons Capsule Car
Day 779: Mattel Hot Wheels Hiway Hauler
Day 786: Mattel Hot Wheels Speed-A-Saurus
Day 797: Mattel Hot Wheels Express Lane
Day 803: Mattel Hot Wheels Zombot
Day 817: Mattel Hot Wheels Scooby-Doo The Mystery Machine
Day 845: Mattel Hot Wheels Carbonator
Day 1,060: Mattel Hot Wheels Skate Punk
Day 1,116: Mattel Hot Wheels Let's Go
Day 1,157: Mattel Hot Wheels The Homer
Day 1,290: Mattel Hot Wheels Back to the Future Time Machine - Hover Mode
Day 1,321: Mattel Hot Wheels Loopster
Day 1,334: Mattel Hot Wheels Nintendo Cool-One (Super Mario)
Day 1,366: Mattel Hot Wheels Mars Rover Curiosity
Day 1,383: Mattel Hot Wheels Dawn of Justice Batmobile
Day 1.532: Mattel Hot Wheels Minecraft Mine Cart Die-Cast Metal Vehicle
Day 1.533: Mattel Hot Wheels Tankinator Die-Cast Metal Vehicle
Day 1,716: Mattel Hot Wheels Roller Toaster
Day 1,740: Mattel Hot Wheels Motosaurus
Day 1,768: Mattel Hot Wheels Aisle Driver
Day 1,831: Mattel Hot Wheels Radio Flyer Wagon
Day 1,873: Mattel Hot Wheels Glow Wheels Loopster
Day 2,284: Mattel Hot Wheels Screen Time Teenage Mutant Ninja Turtles Party Wagon


Want to buy this figure? Check Hot Wheels availability at our sponsors:
Entertainment Earth