Megatron and Optimus Prime
and Hi-Q and Spacewarp

Transformers Generations Subscription Service 5.0 Box #2
Item No.: No. n/a
Manufacturer: Hasbro
Includes: 4 figures, 2 Pretender shell figures, 3 blasters, 1 sword, 1 join piece thing
Action Feature: Transforms from car/tank/jet/space shuttle to robots
Retail: $330ish for the set of 3 shipments or $159.99 for just these toys
Availability: May 2017
Other: Delayed, a bunch

PREVIOUS
RSS
NEXT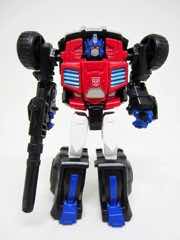 At first I thought I wouldn't hang on to them, but the box of Pretenders Megatron and Optimus Prime are pretty cool. I only had one of the Pretenders as a kid, so when Oilmaster [FOTD #1,238] hit I had to get it. And I assumed I wouldn't need the Optimus Prime Pretender, since it's a redeco. But here we are.
The set is a magnificent parade of mostly old tooling. The Optimus Prime gorilla shell was Oilmaster. The Optimus Prime mold was used for Swerve and Gears. Hi-Q was also Eclipse and Quickslinger and Flanker. Megatron's shell was sold in Japan as part of the Grand Maximus suite, previously unreleased in the USA. Megatron's tank mode was sold as Megatron a few times, and as a Warpath. Spacewarp was previously Payload, Cybaxx, also Astrotrain. The only new pieces here are Optimus' head and the weird gun-like piece to combine Metatron and Spacewarp to fit in the shell.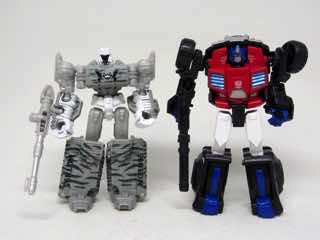 Let's start with Megatron. This is kind of amazing - it's a toy from the 1980s that you don't have in new colors. The arms are a little rubbery, but the body is hard plastic. Only the arms move - you can open the shell, and that's it. The hands have 5mm holes, so he can hold the included sword (repurposed from Titans Return Optimus Prime) and gun (from Sentinel Prime and Astrotrain and Leoprime) with no fuss. It's a wonky design, but I love it - the arms are perfect, with a body that's elongated to hold the Fortress Maximus/Grand Maximus head inside it. You can fit the Megatron and Spacewarp figures in there, kinda, sorta. I don't think it works very well, but it can be done. It's just an excuse to deliver you some great toys, and that shell is pretty fantastic to futz with. I'd love to see if Hasbro would bring the format back, because you get a lot of plastic in the set. It's priced ridiculously, but if you figure this mailing at $110 you get 6 figures in it. It's not a total loss.
The tank toy is based on an unreleased G2 Megatron Arctic Tank deco on the Megatron [FOTD #899] that was seemingly sold forever starting in 2013. The white helmet looks great with the dark face, and the metallic green stripes disguise the "MGTN95" lettering on the legs. The tank turret swivels, the hands are nicely painted white, and it works. You won't feel that you got your money's worth from it, but it does have a cool Generation 2 tampo on it that will probably make you feel at least slightly better about your very expensive purchase.
His sidekick is Spacewarp, released in name for the very first time since her debut on eBay as an unproduced Armada Jetfire redeco. Now a repainted Payload, this stunning redeco sports metallic purple, a red helmet, yellow chest markings, and white patterns on the wings. This is one of my absolute favorite club-made redeco figures. It can form a shuttle, a blaster, or a small robot - and there aren't many moving parts to futz with. It's simple, it's gorgeous, and it works. I was heartbroken when I found out Hasbro was dropping the sidekicks in favor of trading cards.
A new piece was included that doesn't work so well - a "joint" piece snaps on to Megatron's robot chest. It has 2 pins to connect to Spacewarp, and this supposedly holds them all in place when placed in the Pretender shell. Things don't stay connected well for me, plus getting Megatron (the tank/robot) posed just-so to fit in that shell is tricky. The sum of the parts is weak, but the parts are mostly cool. This piece seems like debris, though, because I don't know what to do with it when the toys are on display separately. I can't use it as a toy weapon, so I can throw it in the shell and ignore it.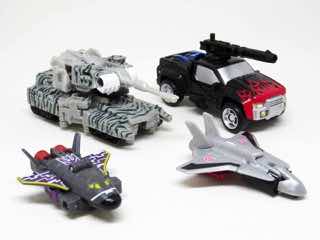 On the Autobot side of the box, you have a great idea with adequate execution. Optimus Prime (the gorilla) is an ode to many things, like Optimus Primal from Beast Wars but more specifically an unproduced double pretender shell from the late 1980s. This deco - and Oilmaster's deco - were both shown at BotCon as prototypes, so it's nice to see the club actually produce both flavors. It's a shame we also aren't seeing the bandido tarantula. His neck swivels and his arms move, plus the backpack opens up to store his Legends-scale robot. In his hand, you can place a grey blaster which came from Orion Pax. It's a nice big ape, and I hope you got one. It's fun, and with a couple of tweaks the Optimus easily fits in his backpack. You can even hold weapons on the back via the 5mm holes. It's not a complex thing, but it's nicely executed.
The smaller Optimus transforms, and is based on Swerve. The new head is classic Optimus, with yellow eyes and a grey face plate. I love the white thighs and faux window vents on his chest, as well as the decent range of articulation. Transformation's a snap, and the blaster - recycled from an existing Legends Optimus Prime - fits perfectly in his fist or in the roof of his vehicle mode. The adventurous vehicle has flames on it, recalling various movie-based and Laser Optimus Prime toys. It's an homage sandwich. You're going to like it.
Filling out the set is the value-add Hi-Q. You've sen this mold before and it's a nice jet/robot/weapon. It just works - transformation is a little stiff thanks to some of the form fit pieces being painted, thus thickening the walls, but it all fits together with a little effort. The coloring recalls the original Powermaster Optimus Prime's buddy, with a white head and bright blue eyes. And red arms. And some grey. And black legs. They did a good job mimicking the original colors, is what I'm saying.
And that's the second crate of loot for the final FunPub subscription program. I went into it not necessarily caring, but the mold choice and execution all worked pretty well. It's not cheap, but you got some neat stuff including some molds you may not already have - that's a good suite of toys. Nicely done, and I assume with time people wanting complete Optimus or Megatron collections will cause their prices to become painful. As such, get them if the price is in your comfort zone. They're nifty, they're fun, and they're arguably interesting enough to warrant a few bucks.
As of right now, the former Fan Club is selling this set for $159.99 and I begrudgingly would say it's not a rotten price. It's more or less comparable to eBay these days.
--Adam Pawlus
Additional Images

Click here to see more Hasbro figures in Figure of the Day.
Click here to see more Transformers figures in Figure of the Day.

Want to buy this figure? Check Transformers availability at our sponsors:
Entertainment Earth