Autobot Hound
Little, Green, Different

Transformers The Last Knight Premier Edition Voyager
Item No.: Asst. C0891 No. C2357
Manufacturer: Hasbro
Includes: 5 weapons, removable helmet
Action Feature: Transforms from Robot to Mercedes Unimog tactical vehicle
Retail: $29.99
Availability: June 23, 2017
Other: Not a lot of paint, but still pretty cool

PREVIOUS
RSS
NEXT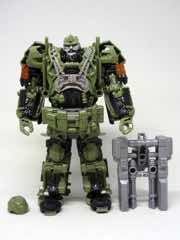 Sometimes these Transformers are fabulous toys, and sometimes they're nifty puzzles for man-children, collectors, and very careful tots. Autobot Hound is the latter. There are tons of moving parts, lots of accessories, and a curious transformation with a paint job that's good, but not as ornate as earlier press imagery. You'll still want one, of course, because it's neat.
Articulation of this 7 1/2-inch robot is chunky and sturdy with a tricky center of gravity. I would advise using a display stand or leaning him against something on your shelves. The joints aren't particularly floppy, it's just that the feet are not conducive to keeping this figure upright for long. You can get him to stand fairly easily, but keeping him that way may prove to be something of a challenge.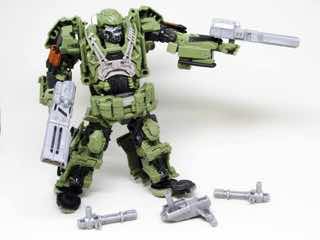 The head is cool because it includes an oh-so-throwable removable helmet, and a beard, and blue eyes. The red Autobot symbol on the helmet and doors has been completely removed, sadly, removing faction symbols from an Autobot - which isn't very common these days. The silver in his beard has some dark grey mixed in, and the helmet can be moved a bit so you can give him some expressive personality via how much of his face you can actually see. The mostly green figure has painted ammo belts, car details, and a mechanical vest that bring to life a robotic version of Walter from The Big Lebowski. It's pretty great, and partially mistransformed in the packaging - you'll want to flip out the tire feet, otherwise he will definitely face plant. Otherwise, he just might face plant - they're not terribly sturdy flat feet.
Transformation is fairly easy, interestingly involved, and full of enough twists and turns that I just went to the instructions right off the bat. It's a fun process and the only part that felt like I might be forcing something was getting the rear of the truck rotated in place next to those back wheels.
The tactical vehicle fits together nicely, and there are lots of 5mm ports on which to add weapons. The wheels spin, but the fact that they turn in to feet keep them from being perfectly round and able to roll as well as you might want on some surfaces. The design allows the gun assembly to rotate relatively freely, but other than that it's a big green truck brick - action features on automobiles are scarce. The green is keen, and while there are elements that could benefit from more paint like the Mercedes logo or the lights on top of the cabin, most of it comes together about as well as you can hope for. I think. For $30 I would have loved just a little more color in this mode, and I'm sure we'll start seeing better deco as Hasbro starts balancing what the best product you can get out of its factories at these new higher price points. The sculpt is about as good as they've always been, and the plastic feels sturdier and thicker than some of the other toys we got for Age of Extinction and The Last Knight. It's good, is what I'm saying.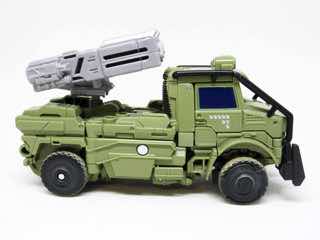 With the missing Autobot symbols from the prototype renders, I have no doubt that the reproduction sticker community took one look at the final toy, high-fived, and made a "ka-ching" sound. It's not the plainest vehicle I've ever seen, but that red really did tie the truck together, did it not? We still have black bars, yellow lights, blue windows, and silver Decepticon "kill marks" on the doors - plus the wheels have painted mud on the treads! That's a feature we rarely see, especially not on the part of the tires that actually touches the mud. It's sharp, and it works nicely. I also like how the guns were sculpted with grooves so deep that it gives that assembly the illusion of deco - it's just a shadow, but at first glance you might think it's actually paint.
As of my writing this, it's the biggest and most ornate release of Hound in a The Last Knight transforming toy configuration. Maybe we'll see a Platinum one in an exclusive box. Maybe we won't - and you'll just need to order some stickers. The bones are good, but the exterior could use some extra finishing touches from a customizer. I'm having fun futzing with it, and I appreciate that the toy is closer to the "classic" toy aesthetic in that there aren't as many jagged metal shards on the robot body. Movie purists may not agree. I assume if I'm getting interested in movie toys, Hasbro must be departing from what movie fans want. If you have a few bucks, go ahead and get this one - it's interesting and worthwhile.
--Adam Pawlus
Additional Images

Click here to see more Hasbro figures in Figure of the Day.
Click here to see more Transformers figures in Figure of the Day.

Want to buy this figure? Check Transformers availability at our sponsors:
Entertainment Earth