Autobot Cosmos
Just different enough to make you mad!

Transformers Generations Titans Return Legends
Item No.: Asst. B7771 No. C2398
Manufacturer: Hasbro
Includes: Card
Action Feature: Transforms from robot to UFO
Retail: $9.99
Availability: May July 2017
Other: A redeco of the 2014 figure

PREVIOUS
RSS
NEXT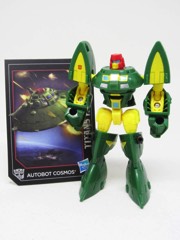 Allegedly brought back because he was hard to find (while Swerve was made in the exact same quantities), 2014's Autobot Cosmos returns here in a different shade of green with superior deco and without his pal Payload. Thrilling 30 Autobot Cosmos with Payload was around (a lot) at Targets in my neck of the woods, and I bought a second one because the paint had issues with scraping. The original toy's cannons were damaged by mounting Payload on them, while the red paint on the head was easily scratched off to reveal white plastic. Hasbro fixed both problems in smart ways - now the 2017 Swerve is cast in red plastic, and there's no Payload to scratch it up.
The toy is packaged as a robot, complete with about 14 points of articulation. You probably are familiar with the original, which was a largely pleasant and chunky toy with a nifty sculpt. Cosmos wasn't as rotund as his 1980s toy or as thin as the one for the 25th Anniversary, but the personality of the character shines through pretty well despite having no eyes or mouth.
To use the phrase I used a lot in my Star Wars reviews, it's just different enough to make you mad. It's visibly different and the forearms/Autobrand/neck areas are dead giveaways without having to compare them side by side.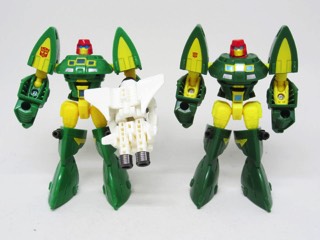 The robot mode looks identical at first glance, but a side-by-side comparison reveals a bunch of changes. First: the green plastic is much darker, the original one was a light green. Second: the forearms are now yellow, the previous version was green. Third: the head and neck assembly were white (due to being molded with Payload), and are now molded in red plastic. Fourth: the eye visor is metallic blue, as opposed to flat light blue. The windows also now match the eyes. Fifth: The Autobot symbol is much, much smaller on his shoulder. I would say that the reduced symbol is really the only step down of the new release.
There's no weapon, but he has giant fists for all your Mini-Cons or BMOG accessories. The robot is lightly detailed, mostly flat with some grooves and panel lines in spots.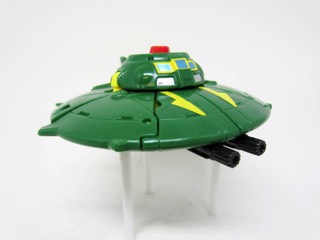 The transformation felt a little trickier to get aligned just correctly, but maybe it's just me. I had to fiddle with it to get it to the flying saucer form, which looks a lot like the previous one save for the green color. The only physical difference I could notice was that the head goes up and down a lot easier, which probably would have prevented paint scrapes the last time too.
Because Cosmos is an existing mold from 2014, there's no Titan Master compatibility. Also, along with Seaspray, the figure has artwork of his alternate mode rather than his robot mode on the packaging and trading card. Not a bad idea, I'd say. If you're happy with the 2014 Cosmos, you have absolutely no reason to buy this one. If you scraped yours up or missed it, it's basically the same price - minus the Payload figure. That mold has been used for Cybax, Spacewarp (TFSS 5.0,) and Astrotrain (Japan's The Lost Age line) so you can get it in other colors if you like, too.
--Adam Pawlus
Additional Images

Click here to see more Hasbro figures in Figure of the Day.
Click here to see more Transformers figures in Figure of the Day.

Want to buy this figure? Check Transformers availability at our sponsors:
Entertainment Earth